Assessments
It is important to consider a wide range of assessment methods to ensure that students are being assessed with a focus on the goals you want them to attain. This assessment pages contains the following topics:
Types of Assessment
Assessment (re)design with integrity in mind
8 standards for designing online assignment instructions
Rubrics
---
Types of Assessments
There are two types of assessments: formative and summative assessments.
Formative assessments are an important part of the learning process. They provide information needed to adjust teaching while learning is still happening. They offer students an opportunity to check their understanding of the material and permit instructors to find learning gaps. Formative assessments may be ungraded. Examples of formative assessments are discussions, surveys, low-stakes group work, weekly quizzes, reflections, writing assignments, and homework assignments.
Summative assessments, in contrast, are used to evaluate student learning and knowledge at the end of an instructional period, such as the end of a unit, course, or program. Summative assessments are usually graded. Examples of summative assessments are exams, final projects, final essays, final presentations, and final reports. Formative assessments should be used in conjunction with summative assessments.
Consider using a cycle of Formative and Summative assessment to maximize student success.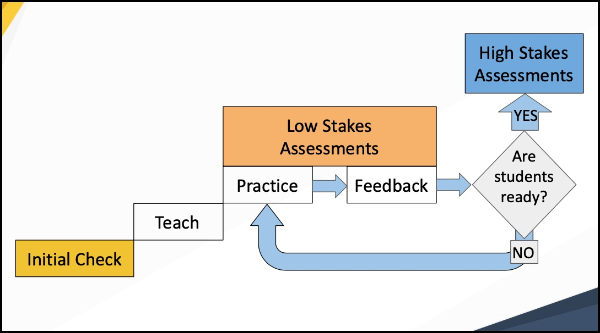 ---
Assessment (re)design with Integrity in Mind
Instructors sometimes combine two or more strategies to redesign their assessment activities to make the assessments relevant and manageable for students.
Project-based learning and problem-based learning
Alternative assessments such as project-based learning and problem-based learning require students to demonstrate their achievement of learning outcomes by applying the new knowledge and skills and solving complicated problems. Such projects usually last several weeks. Therefore, it is recommended that faculty provide scaffolded assignments and quality feedback to support student learning. Read more on alternatives to the traditional exam as measures of student learning outcomes.
Individualized assignments
When students are required to apply the course content to their real lives, it is almost impossible to cheat. In addition, students are more motivated and engaged in the learning process when they can 1) draw on their personal experience and 2) see the connection between the course and the real world problems or needs. Some examples include case studies, research projects, student-proposed projects, and service-learning projects.
Presentations or reflection videos
Instructors can require students to present their final project by presenting to the class or just the instructor. The presentation can be synchronous via a web conference tool (e.g., WebEx) or asynchronous (e.g., Kaltura video). It is recommended that instructors use specific guiding questions or structures and grading rubric to communicate their expectations. The presentation or individual reflection videos also provide valuable opportunities for students to organize their ideas and elaborate on what they have learned.
Many alternative assessment methods last from several weeks to a whole semester. To make sure students are on track, instructors often use scaffolded assignments. Scaffolded assignments can break down the large assignments into smaller and more manageable steps that build on each other. Instructors can also provide high quality feedback at the early stage and provide opportunities for students to make improvements. This strategy allows the instructor to:
identify struggling students to provide the necessary support,
identify the most challenging knowledge and skills, and
focus on the learning process, instead of the final product.
For each assignment or exam, stating clearly how much collaboration is permissible will help students understand the instructor's expectations. Some departments or course instructors also arrange online help sessions or group study sessions to help students better prepare for assignments and exams. This is especially important for group projects. Instructors need to clearly communicate which part can be group work and which parts need to be individual work.
---
8 Standards for Designing Online Assignment Instructions
To avoid confusion and questions about your assessments, it is important to design clear instructions for student assessments. There are some standard items to include in your instructions for all types of online assessments:
Name of the assignment (this should be the same name as listed in the syllabus)
Learning objective(s) to which this assignment relates.
Date and time when the assignment is due.
Any resources that you recommend using to complete the assignment.
Expectations (length, level of effort, number of citations required, etc, number of questions for multiple-choice questions...).
Level of group participation (individual assignments, group or team projects...).
Process (how students turn in the assignment, how you will give feedback...).
Grading criteria (include rubric if you are using one).
By including these items, you give students a better idea of what you want them to do.
---
Rubrics
Rubrics are used to fairly and efficiently assess student performances. Rubrics help instructors:
Assess assignments consistently from student-to-student.
Save time in grading, both short-term and long-term. Most rubrics should be designed for repeated use.
Give timely, effective feedback, and promote student learning in a sustainable way.
Clarify expectations and components of an assignment for both students and course TAs.
Refine teaching skills by evaluating rubric results.
Rubrics help students:
Understand expectations and components of an assignment.
Become more aware of their learning process and progress.
Improve work through timely and detailed feedback.
For help creating Rubrics in Brightspace, visit our Brightspace Guides.