Mission, Vision, Values,
and Principles
the Heart of PFW
Mission
We educate and engage our students and communities with purpose by cultivating learning, discovery, and innovation in an inclusive environment.
Our Vision
Empower every person, every day, to improve our world.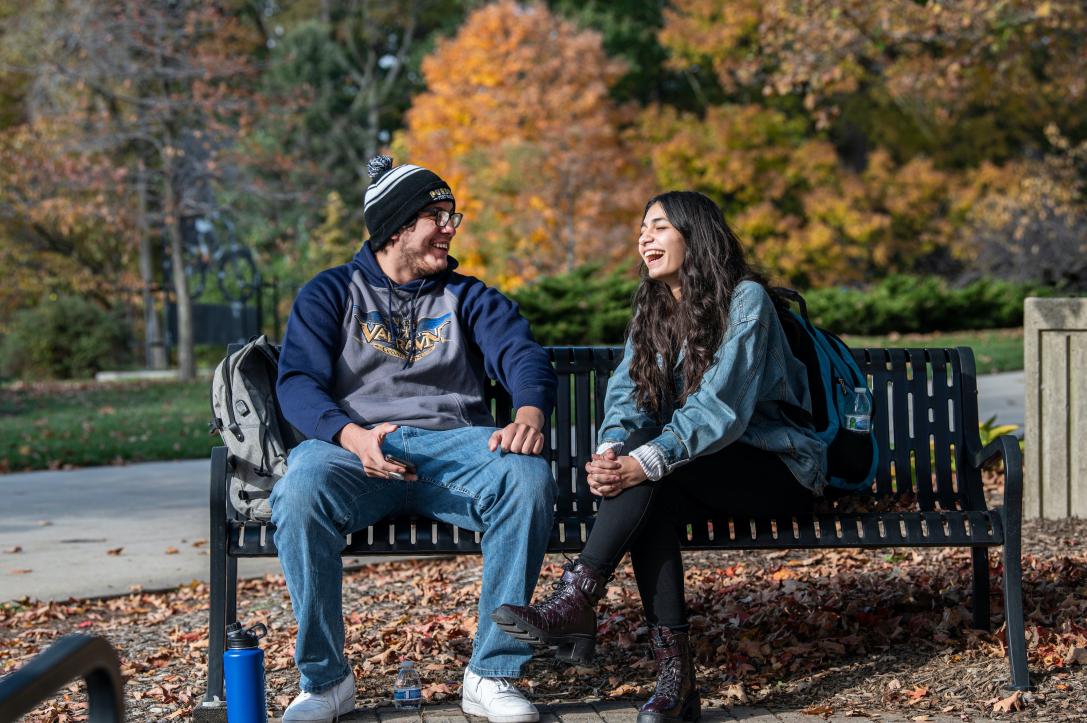 Core Values

1 
Students First
2 
Excellence
3
Innovation
4 
Diversity and Inclusion
5
Engagement
Purdue University Fort Wayne is committed to creating an environment that enhances learning by recognizing the inherent worth of all individuals at the university. Diversity stimulates creativity, promotes the exchange of ideas, and enriches campus life. The term diversity encompasses differences of culture, background, and experience among individuals and groups. Such differences include, but are not necessarily limited to, differences of race, ethnicity, color, gender, sexual orientation, gender identity or expression, class, age, and disabilities, as well as political and religious affiliation, and socioeconomic status.
Purdue University Fort Wayne is committed to the goals and ethics of academic investigation and education. The foundation of academic pursuit is the process of free inquiry, in which individuals may openly explore and express ideas. Free inquiry requires an environment that encourages open investigation, as well as the educational growth and positive social development of individuals. Therefore, it is important to state explicitly the ethics that define our academic community.
Prominent among the values that define the academic community is civility, which includes mutual respect, fairness, and politeness. Membership in any community requires a concern for the common good for all who belong to that community. Each individual may possess different ideas, as well as different ways of communicating those ideas, particularly in a community as varied and diverse as a university. Because of these differences, respect and civility are integral to maintaining the quality of the academic environment and free inquiry. Respect and civility should therefore be afforded to all individuals regardless of race, ethnicity, gender, age, sexual orientation, gender identity or expression, disability, religion, family status, socioeconomic level, educational background, veteran status, or position at the university.
Because it is not possible to establish a set of rules or guidelines that will address every issue of civility, all members of the academic community are called upon to promote and value this ethic of common respect and civility. Ultimately, such a community-wide concern will assure the continuation of a free and open exchange of ideas.
We, as a university community, are committed to integrity and ethical conduct. We foster an environment that nurtures and supports the complementary concepts of freedom and responsibility. Paramount to our commitment is continued validation and support of the highest ethical standards of equity, fairness, and confidentiality. We respect differences and embrace diversity. We are committed to equitable treatment and mutual respect for all members of the Purdue Fort Wayne community.
We respect both individual rights and the public interest. We encourage a learning environment in which open and free pursuit of knowledge takes place and individuals share their personal convictions without imposing them on others. Additionally, we embrace the ideal of freedom of expression for students, faculty, and staff in their academic work and as citizens of the university. The professional contributions of all individuals involved are fully and accurately acknowledged.
It is the responsibility of the entire university community to honor the principles of ethics and academic integrity. Students and faculty have the right to expect their work to be assessed on its academic merit. All members of the university community are expected to espouse academic honesty, and every individual is responsible for upholding this expectation. Ethical and honest behavior is required in all actions that support the university's academic mission.
The university takes seriously its responsibility to the citizens of Indiana. All faculty, students, and staff of the university will be responsible stewards of the public trust.
Working with our community partners, we share knowledge and resources for reciprocal benefit and advancement. The university's faculty and staff pledge to uphold the highest ethical standards while providing an education of the highest academic quality.
The university is committed to treating all members of the community with dignity, care, and respect. Any individuals affected by sexual harassment, sexual violence, sexual exploitation, stalking or relationship violence, whether as a complainant, respondent, or third party, will have equal access to support consistent with their needs and available university resources. The university encourages any individual who has questions or concerns to seek the support of campus and community resources. These professionals can provide information about available resources and procedural options and assistance to either party in the event that a report and/or resolution under the policies or the procedures are pursued. Individuals are encouraged to use all available resources, regardless or when or where the incident occurred.
Freedom of thought and expression are the lifeblood of our academic community and require an atmosphere of mutual respect among diverse persons, groups, and ideas. The maintenance of mutually respectful behavior is a precondition for the vigorous exchange of ideas, and it is the policy of the university to promote such behavior in all forms of expression and conduct. The university reaffirms its commitment to freedom of speech as guaranteed by the First Amendment to the United States Constitution. Accordingly, any form of speech or conduct that is protected by the First Amendment is not subject to this policy. The university reaffirms its commitment to academic freedom, which is essential to its educational mission and is critical to diversity and intellectual life.