Purdue University Fort Wayne
Be in the Know

Mastodons to Join Horizon League
Purdue Fort Wayne will officially become a member of the Horizon League athletics conference on July 1, 2020. Fifteen of the university's 16 NCAA Division I sports will make the move, as the men's volleyball team will continue to compete in the Midwestern Intercollegiate Volleyball Association.

Doermer School of Business to Get New Home
Purdue Fort Wayne recognized the Doermer Family Foundation, the Purdue Fort Wayne Foundation, and two anonymous donors for their generous contributions of $2.8 million during an open house in the new Richard T. Doermer School of Business building. The funds supported the building's purchase.

74%
Of Students Receive Financial Aid
10,139
Current Total Enrollment
Explore Your Passion
Find inspiration for your heart and mind. Whether you see yourself experimenting in a lab, sharing your art with the world, or growing into a titan of business, your future begins here with more than 200 degrees and programs.
Explore your options
Unleash Your Curiosity
Imagine what's possible, then achieve it. Indulge your interests with guidance from expert faculty members. Learn biology, English, history, math, physics, Spanish, and more. Learn how to lead. Learn how to make the most of your education.
Browse the Catalog

Start This Fall
Get an education as unique as you are. Small classes, top faculty, and a degree that moves you forward.

Finalize Your Financial Aid
Check your financial aid, verify your awards, and set up direct deposit for your refund. Now is the perfect time.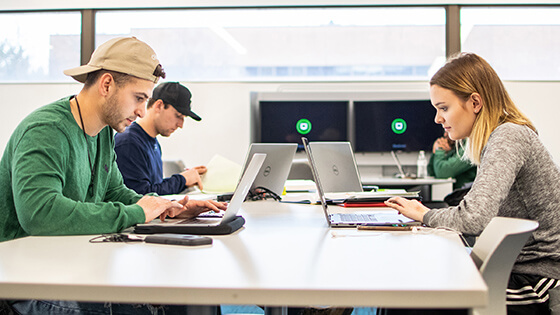 Help When You Need It
Perfect your paper, master your math, and untangle your talk with a boost from the free campus learning centers.

Mastodon Campus Store
Visit your campus bookstore for official Purdue Fort Wayne apparel and gifts, class supplies, and books. Now open!

Make your connections
Explore more than 140 recognized student organizations on campus. You'll find your people and interests here.