Purdue University Fort Wayne

COVID-19 Info
PFW Ready is home to the latest information about our plans, policies, and procedures for campus regarding COVID-19.
Currently, the university has decided to extend the temporary requirement for everyone—regardless of vaccination status—to wear face masks indoors while on campus through the end of this calendar year on Friday, December 3. See the PFW Ready website for details.
1,996
New Students in Fall 2021
8,298
Current Total Enrollment
There's Support in the Herd
You have dreams, and we're here to help you realize them. Choose from more than 200 academic programs to get started. There's never been a better time to be a Mastodon.
Get Started Today
Challenge Yourself
You're ambitious. You're ready for what's next. Discover how a master's degree will challenge you to turn your ideas into reality and your research into solutions. This is where scholarship meets innovation, and where you'll realize a greater future.
Explore Graduate Programs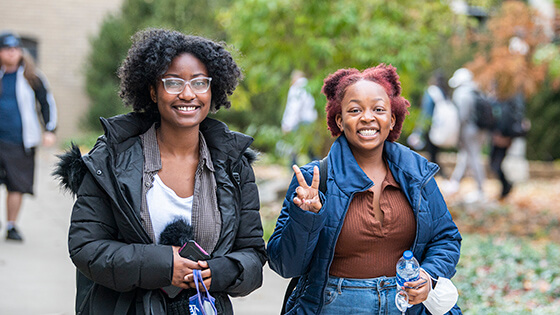 Visit Purdue Fort Wayne
Take a campus tour to see the life of a Mastodon.

Explore Financial Aid Options
Scholarships, grants, work-study, and loans all make college more affordable—and they all start with your FAFSA.

Enhance Your Writing
Get help at the Writing Center to help improve your writing skills and make every paper shine.

Ask a Librarian
Working on a big project or paper? Remember, our expert research librarians are always here to help.

Free Fitness Membership
De-stress, build strength, and make time for yourself by taking advantage of your free access to the campus fitness center.
Mastodons are Social Creatures