2020-2021 Performance Evaluation Timeline
The Performance Assessment Form is now available in SuccessFactors, launching the 2020-2021 evaluation season. Employees and managers can create and capture performance goals, and record and evaluate performance activities and achievements for 2020-2021.
Employees and supervisors are encouraged to take advantage of the many tips, resources, and tutorial videos, available to help in navigating and completing performance assessments. Supervisors can assess departmental progress toward performance management milestones through the performance management data reports on their SuccessFactors landing page.
The 2020-2021 performance evaluation timeline is outlined below.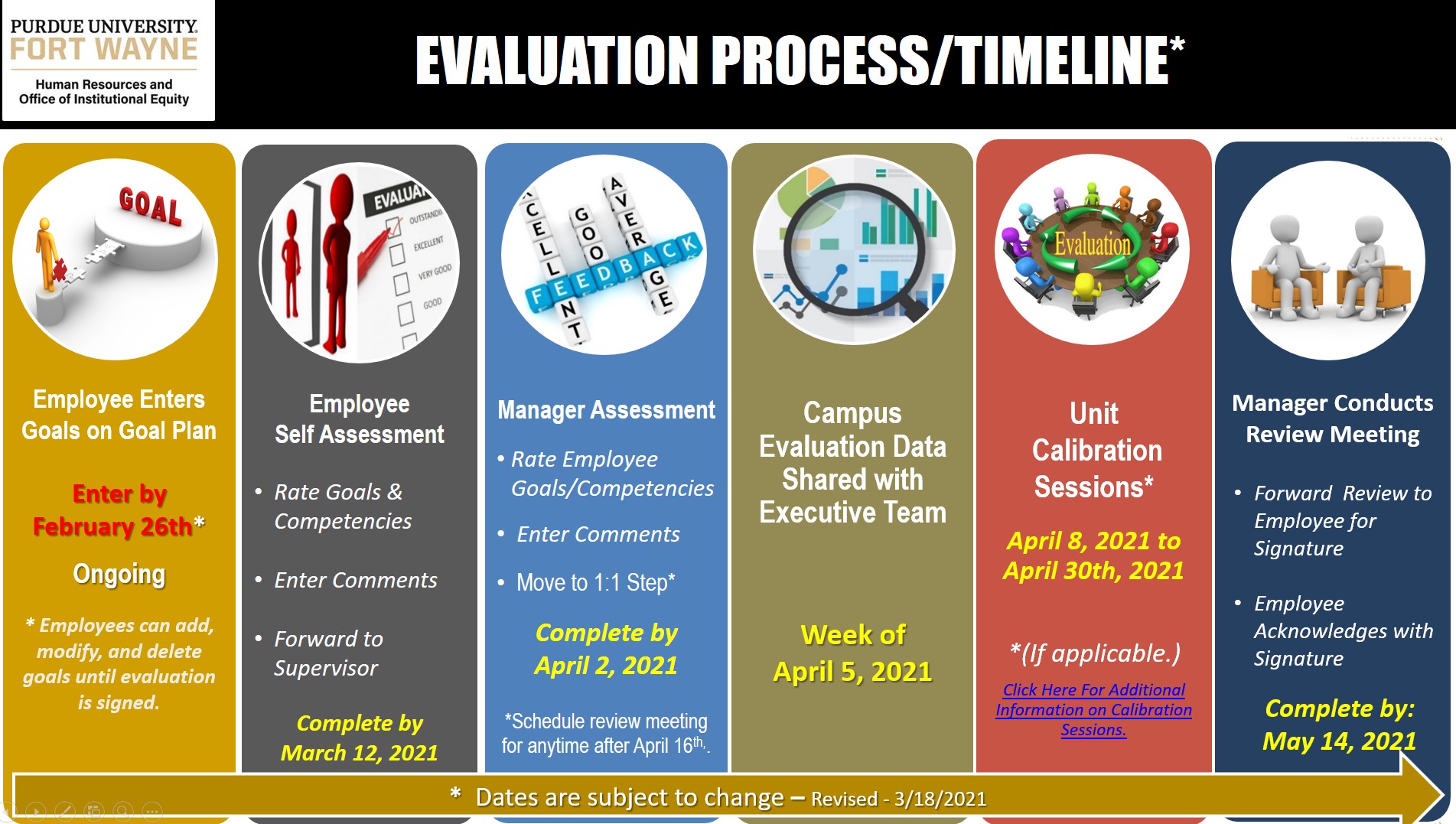 Annual Performance Evaluations
Purdue University has established that each benefited staff member will receive a written performance evaluation annually. Complete policy details are in the Performance Evaluations for Staff (VI.F.7) Policy. The system-wide evaluation timeframe is May 1 to April 30.
We are proud of how our employees embraced change to get work accomplished and strived to ensure they responded to the needs of students, the campus community, and the customers they serve. Employee success is important, and we will continue to provide best practice tools, tips and information that support employee achievement and engagement.
Evaluation Components
The Annual Performance Evaluation consists of two components: a "Goals" section and a "Unit Competencies" section.
Goals: Benefitted staff employees in all Career Streams are required to enter individual performance goals. These goals will appear on the annual evaluation. When entering goals, goals should have a cumulative value of 100%.
Unit Competencies: Each benefitted staff employee will be evaluated against three system-wide competencies: Overall Job Performance, Professional Development, and Culture and Values. Supervisors will be evaluated against one additional competency, titled Supervision.
The process flow for annual evaluations is outlined below.
Evaluation Resources
Several guides are available to assist employees with completing their annual evaluation. Resources for both managers and employees are available and can be accessed by clicking the links below.
Performance Planning Checklists
The following checklists will help you plan for your evaluation: