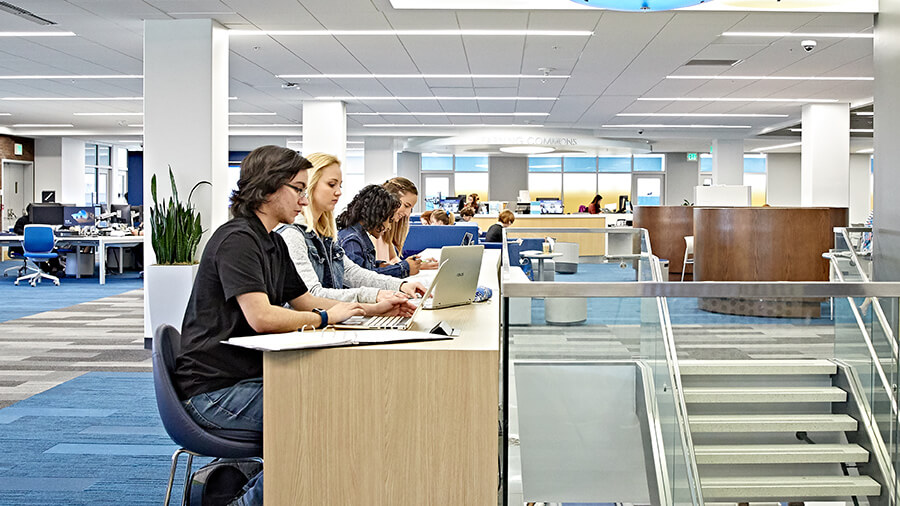 Choose How to Make a Difference
Every gift helps students succeed. As a donor, you can make a general gift to the university, or you can choose from among hundreds of focused areas in the various colleges and programs. The choice is yours.
You can give your gift as a one-time lump sum, or you you can break it into reccurring monthly, quarterly, or annual payments.
Start giving today and make a difference.
Endowments
These gifts serve as the university's long-term "savings account." The gift itself stays safely invested for the future, while the interest generated by the gift is applied according to the donor's wishes.
An endowment may focus on a specific purpose or be general so that it can fill whatever needs arise. Endowment earnings can support scholarships, fellowships, academic seminars, curriculum development, chairs, professorships, visiting lecturers, and research initiatives. You can also create endowments to support faculty, initiate pioneering research, develop new teaching programs, invest in new technologies, and maintain libraries, laboratories, and other physical assets.
Endowments start at $25,000. They can be paid out over five years or in one lump sum. You have many options for funding endowments to make them more affordable, including using your required IRA distribution, potentially reducing taxes on those investment proceeds.
Share your vision with our Development team, then let them help you bring your endowment to life.
Contact Development at 260-481-6962 or giving@pfw.edu for the details about creating an endowment.
Planned Giving
Legacy gifts provide benefits to future generations of Purdue Fort Wayne students—and to you and your heirs as well. These gifts can sustain key academic and research programs, or provide scholarship funds to help attract and retain exceptional students.
If you choose to list Purdue Fort Wayne as a benefactor in your will or estate plan, you will be honored as a member of the Oscar and Ophelia Weitzman Legacy Society.
We can work with you to help make informed decisions about the right type of planned gift for you.
Here are some of these types of gifts:
Estates
Bequest in a will or living trust
Gifts of life insurance
Charitable gift annuities
Charitable remainder trusts
Beneficiary designation IRAs
Other opportunities (based on federal regulations)
To learn more about your planned giving options, arrange a meeting with Development by contacting us at 260-481-6962 or giving@pfw.edu.
Securities Transfer
Gifts of securities that have appreciated in value allow you to avoid capital gains taxes while receiving a tax deduction.
To learn more about this, contact Development at 260-481-6962 or giving@pfw.edu.