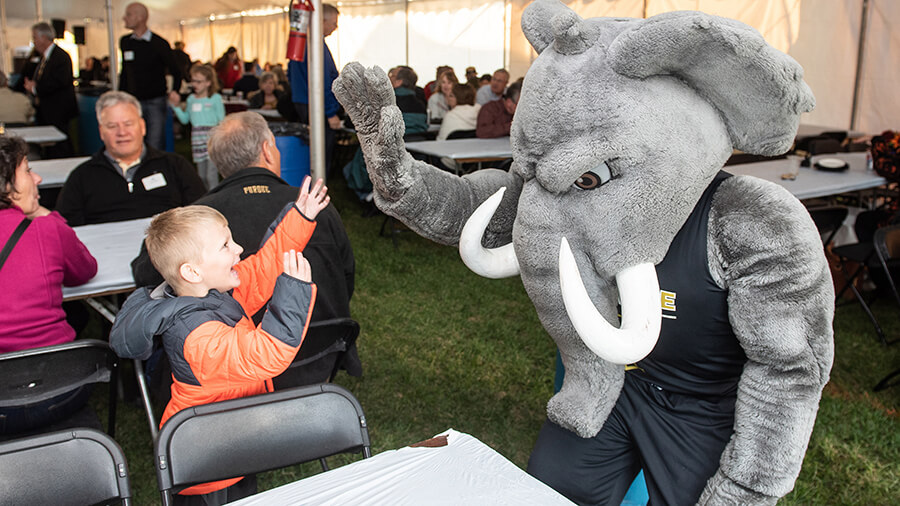 Fun Activities—All Year Round
Check out some of the annual events hosted by the Mastodon Alumni Association. Reconnect and have fun with old friends, professors, and faculty at events such as the Mastodon Roast, homecoming, and Alumni Night at the TinCaps.
Mastodon Roast
This year's Mastodon Roast will include dinner, drinks, live music, and a gift for all attendees who register online prior to October 10. The Mastodon Roast is on October 17, 2019 at 5:30–7:30 p.m. Admission is free for you and your family.
Homecoming
You don't need to be a current student to celebrate homecoming—get involved as an alumnus for a week of activities and gatherings in the winter. Learn more about homecoming week.
Mastodon Alumni Night at the Coliseum
Thursday, January 30
Women's Basketball vs. North Dakota State, 5:00PM at Memorial Coliseum
Men's Basketball vs. North Dakota, 7:30PM at Memorial Coliseum*
*Join the Office of Development and Alumni Relations in the Budweiser Suite at the Allen County War Memorial Coliseum and feel the rumble as our Purdue Fort Wayne Mastodons take on the North Dakota Fighting Hawks on January 30, 2020 at 7:30PM.
Your ticket price includes: ticket to the game, parking (if tickets are purchased prior to January 23, 2020), premium seating, and food/beverages. There is a cash bar on site.
Alumni Night at the TinCaps
Get together with fellow alumni and cheer on the TinCaps during Alumni Night. This enjoyable annual gathering will take place this year on June 6.
For more information, contact Alumni Relations at 260-481-6807 or alumni@pfw.edu.