Student resources
Department of Electrical and computer engineering
support
The Herd is here for you.
You need what you need when you need it. We get that, which is why we offer loads of resources for every stage of your academic journey.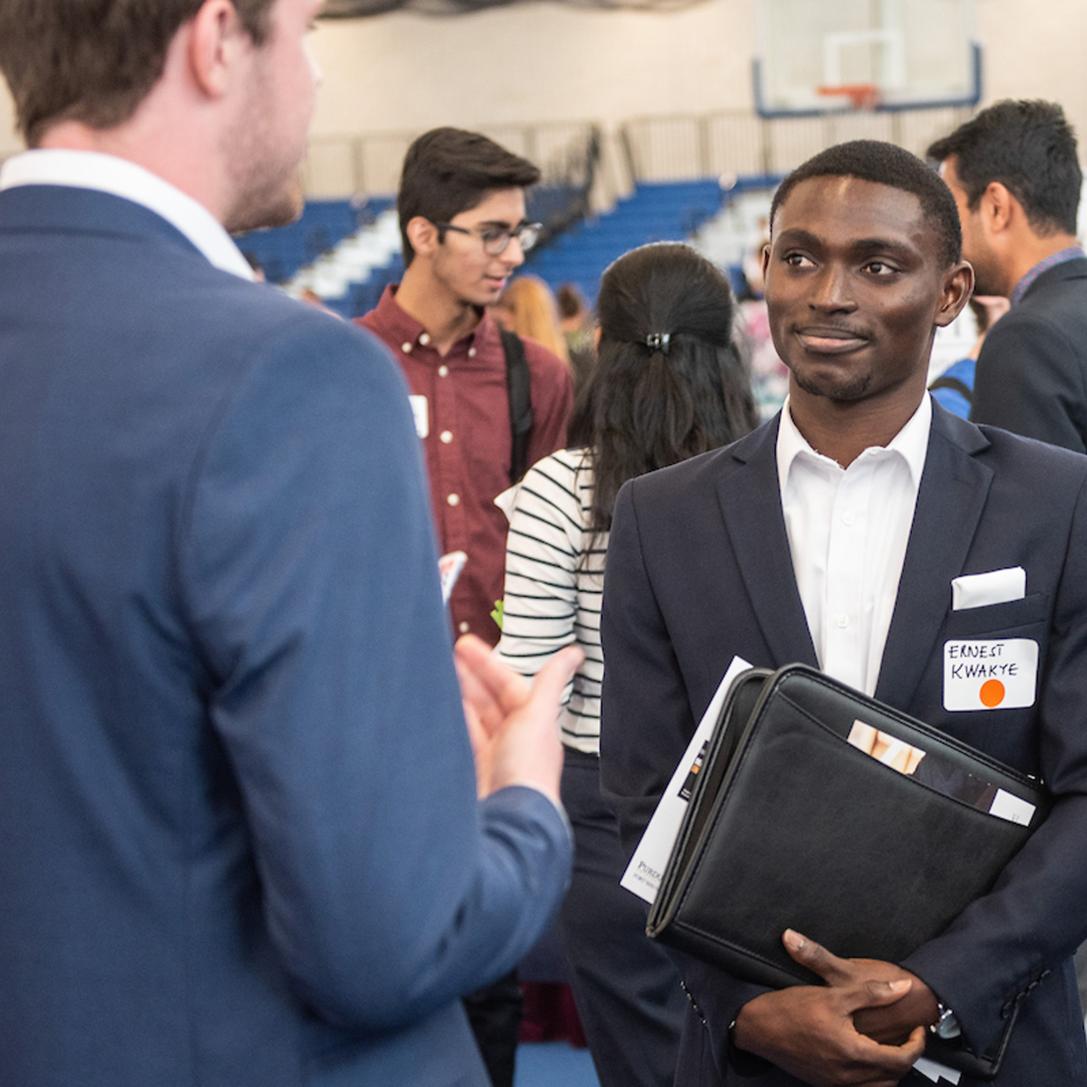 Advising
Your success matters. 
Advisors keep you on track to graduate, and they're also a great resource for things like creating class schedules, giving you insider info about campus, and getting you the help you need. Visit the College of Engineering, Technology, and Computer Science's Student Success Center for all your advising questions. Peer Support
Peer Support
Content
From our LEAD peer mentors (junior or senior ETCS students who have a dedicated interest in helping freshmen and sophomores navigate the university and the engineering program) to the Help Corner (tutoring services for ETCS students offered by ETCS students), the support you need is always close by.
prospective ece students
Future Electrical or Computer Engineer
The Department of Electrical & Computer Engineering offers bachelor's and graduate degree programs, providing students with a high quality education to prepare them for success in their careers and communities. We offer undergraduate degrees in the following areas: Computer Engineering and Electrical Engineering
Computer Engineering
You've shown interest and an aptitude for computing. You enjoy hands-on creation of devices that maximize the possibilities of their hardware components and software capabilities. You're interested in working in telecommunications, robotics, embedded system or new product development. Computer Engineering could be the right fit for you.
Electrical Engineering
Electrical engineers helped invent the electronic circuits, motor/engine, power electronics, electronic-magnetic, industrial automation and control systems, etc. 
Computer Engineering vs Electrical Engineering
While computer engineering and electrical engineering are two different fields, there's a significant amount of overlap in responsibilities and areas of study. Both disciplines are equally technology-focused, lucrative and exciting. In the Department of ECE at PFW, you also have the option to pursue dual majors of Computer Engineering and Electrical Engineering.
Engineering is a profession in which knowledge of mathematics and science is applied with judgment to solve practical problems for the benefit of society. Engineers are involved in such diverse work functions as research and development, design of new products and processes, construction and operation of facilities, and management.
Engineering technologists must have knowledge of the materials and equipment needed to design, construct, operate and maintain technical products. They often estimate project costs, prepare work schedules and suggest ways to improve productivity. For instance they may perform computer analysis, provide measurements, and collect data. They identify safety and environmental concerns, and they specify ways to eliminate or reduce potential problems. Because they often coordinate people and assist with managing projects, technologists must understand decision-making strategies and problem-solving methods.
The Engineering/Technology Spectrum
Image

Engineering and engineering technology majors are concerned with the full range of technical issues from design, development & theory through construction & operation. However, the engineering majors place more emphasis on the advanced design, development, technical management and theoretical end of this spectrum; while engineering technology majors focus on the manufacturing, routine design, construction and operation end. Because of this difference the engineering majors requires a significantly higher level of training in mathematics. Purdue Fort Wayne computer engineers majors earn a minor in mathematics automatically. Purdue Fort Wayne civil, electrical, and mechanical engineering majors can earn a minor in mathematics by taking one additional mathematics course.
Engineering and Engineering Technology Careers
Two Different (but overlapping) Paths
Image

Four degree programs: civil engineering, computer engineering, electrical engineering, and mechanical engineering.
Classes are taught by professors.
Excellent professor-student ratio. Students enjoy personal attention from faculty.
Faculty is focused on teaching.
Active student organizations: ASCE, ASME, IEEE, SAE, and SWE.
An innovative curriculum that emphasizes design projects and "hands-on" laboratory experiences.
The civil engineering, computer engineering, electrical engineering, and mechanical engineering programs are all accredited by the Engineering Accreditation Commission of ABET.
Class schedules rotate between day and evening to accommodate working students.
Co-op and intern programs - students can earn money and gain valuable experience during their studies.
PFW engineering graduates are in demand.
Welcome to Purdue University Fort Wayne's joint Engineering and Engineering Technology Program. This 2 + 3 program is specifically designed to increase the options and success of students with mathematics placement score of 40, i.e. placement in MA 15300, and who are initially interested in an Engineering degree. Students start with a year of Engineering Technology coursework while they complete the mathematics preparation to start calculus. If they perform well and would like to move to engineering, their second year is a transition to engineering. At the end of this second year it will take three years to graduate in engineering or two years to graduate in Engineering Technology. In many cases students can also complete an associate's degree in Engineering Technology.
Image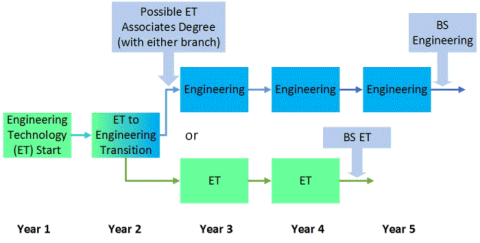 The diagram below shows the required mathematics sequence and an essential physics course to get to sophomore engineering.
INTRODUCTORY MATHEMATICS SEQUENCE FOR JOINT ENGINEERING TECHNOLOGY AND ENGINEERING
Image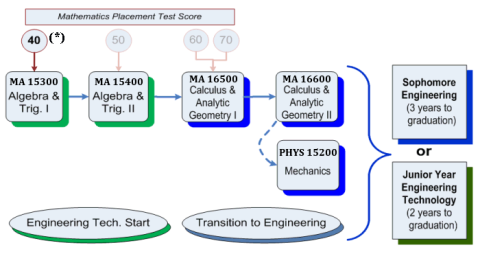 (*) A Math Placement Test Score of 40 means placement in MA 15300. 
Engineering is much more than mathematics. However, mathematics is an important tool and successful completion of the initial mathematics sequence is necessary to take most engineering classes. A "C -" or better is required to move on to the next mathematics course in the sequence; a C grade should be a warning that you are likely to have difficulty in the next course.
Men and women from varied backgrounds and with many different skills can be successful engineers. However, to become an engineer you must have an unusually strong interest and ability in mathematics and science, be able to study efficiently for long hours, and understand what you read. You should be curious about how and why things work. You must also be concerned with the social implications and consequences of everything you do.
In its 2022 rankings of the best colleges and universities in the United States, U.S. News & World Report deemed the engineering programs at Purdue Fort Wayne to be one of the best undergraduate engineering programs in the country (of those that do not offer a doctoral degree).
Visits to Purdue University Fort Wayne are arranged through the Admissions office. Prospective students and parents can directly contact the Department of Electrical and Computer Engineering through email: [email protected] or call (260)481-6032 to arrange for a visit and a tour of the department at a mutually convenient time including evenings and weekends.
The main offices of the ECE Department are located in the Engineering and Technology (ET) building, ET 327.
FIRST-YEAR ENGINEERING
This is the beginning of your success story.
This is the entry point for all beginning engineering students. You must complete the first-year engineering requirements before entering the engineering program of your choice. This core curriculum includes courses in math, chemistry, physics, computer programming, and communication skills, as well as an introductory to engineering design course.
Each semester the ECE Department will put a registration hold on all MSE students. MSE students need to send their advisors a list of courses they plan to take the next semester and get the approval before this department hold can be removed.
Students should prepare a Registration Advising Form, discuss with their faculty advisor about the courses to be taken in the coming semester and their progress towards their plan of study. Once the faculty advisor approves the courses, the completed Registration Advising Form should be returned to the administrative assistant, who then will lift the hold and the students will be able to register online.
Note:
•    It is the student's responsibility to check course offerings, co/prerequisite requirements, and time conflicts.
•    Please use Acrobat Reader to edit the fillable Registration Advising Form and save it as a pdf file, and then email it to your advisor.
•    If you are planning to graduate in the coming semester, please make sure that the plan of study is filed and approved online before the start of the semester and graduation application is done before the deadline.
Preparing Plan of Study
All Master's students are advised to file a draft of plan of study early in their program. If necessary, changes can be made to the plan of study at a later date. The plan of study must be appropriate to meet the needs of the student's chosen area of concentration as determined by the advisory committee. The plan of study must be approved latest before the start of the graduating semester. 
Procedure
The plan of study must be filed online through the Purdue Graduate School Web Database, which can be accessed through http://go.pfw.edu under the "Academic Success" tab via the Graduate School Plan of Study link. 
The following are guidelines and instructions to prepare the plan of study.
1.    Review the list of graduate-level courses to determine the degree requirements for the particular area of concentration you wish to pursue, and the courses of most interest to you which will enable you to meet the degree requirements.
2.    Only 500-level courses and above can be used in the plan of study.
3.    Fill out a draft of your plan of study (preliminary).
4.    If you are a thesis option student, select an engineering faculty member to be your major professor who will also serve as the Chair of your graduate advisory committee. Then, in consultation with your major professor, select the remaining faculty members to serve on your graduate advisory committee.
5.    If you are a non-thesis option student, select your major professor with the Director of the graduate program.
6.    Confer with your advisory committee for advice on the plan and submit your plan of study.
Please visit the detailed instruction before you file online plan of study. A primer file has been prepared for your reference.
Your plan of study will be reviewed by the Director of the graduate engineering program to ensure that it meets all requirements. It will then be submitted to the Purdue Graduate School for final approval.
Filling Plan of Study
1.    The department code is "ENGR" and the degree code is "MSE".
2.    The thesis or non-thesis option box should be checked.
3.    The space for indicating the research area is left blank in most cases.
4.    The area of concentration should be one of the following: Computer Engineering, Electrical Engineering, Mechanical Engineering,  Systems Engineering. The AOS code should be left blank. Only First Concentration is needed.
5.    Only list the four core courses in your concentration area as "primary" area courses. All other courses are "related" area courses. The "Course currently being taken or those previously completed..." link will bring up a list of courses for which you have already registered.
6.    If you have courses to transfer from another institution to Purdue, select the second "Transfer courses..." link on the main course page. Transfer courses must be "B-" or better equivalent, not used for a degree elsewhere, and at graduate level. Course names should be entered exactly as they appear on the transcript from that institute.
7.    Enter courses to be taken in the future at Purdue using the third "Courses to be taken in the future..." link. Enter the information exactly as it will appear on the Purdue transcript.
8.    If you are in an approved combined degree program, for example, the combined BS/MSE degree program at the ECE Department, use the "Purdue Combined Degree..." link to add the 500-600 level courses to be dual counted between the Purdue undergraduate and graduate degrees.
9.    Please note that ECE 69800 M.S. Research Thesis should not be listed on the plan of study.
10.    When adding Advisory Committee, for each member of your committee, designate the participation level of that member, and enter their department and faculty ID. The faculty ID code can be found through the search faculty function on the page.
11.    Please note that non-thesis option students can have as few as one committee member, whereas thesis option students require at least three members.
12.    You can add notes (e.g., the number of research credits you expect to take, approved substitutions, etc.) via the "Comments and Special Notes" link.
13.    Click "Save without Submitting" to preserve the information entered for editing at a future time.
14.    If you would like your advisory committee to see your plan while you still have direct access to make changes, click the "Submit as Draft" button.
15.    If all key components have been included on the plan, click "Submit as Final." This will submit the plan for signature. Students must submit their plan as "Final" and receive all department signatures on the form before the start of the session of anticipated graduation.
Limited graduate teaching assistantships may be available for MSE students. Please contact the department if you are interested. 
If you wish to take an engineering graduate level course without enrolling in the degree program please list your educational goal as non-degree while applying.
MSE students at Purdue Fort Wayne campus are able to take online courses from Purdue West Lafayette campus and count those courses towards their plan of study. Please contact Purdue EPE office using general email address [email protected] if you have any questions.
If you have general questions about the M.S.E graduate program, feel free to contact Director of the Department of Electrical and Computer Engineering Graduate Program, Dr. Chao Chen.
If you have questions about M.S.E Degree in Computer Engineering please contact Dr. Chao Chen.
If you have questions about M.S.E Degree in Electrical Engineering please contact Dr. Chao Chen.
If you have questions about M.S.E Degree in Systems Engineering please contact Dr. David Cochran. For detailed information of Systems Engineering program, please download and view this MSE-SE booklet. Faculty Office Hours
Faculty Office Hours
Content
Need to contact a faculty member? Looking for the best time to drop by their office? Check out the ECE faculty office hours chart.
If you have been academically dropped from Purdue Fort Wayne and wish to reapply, you should review the following information carefully. This material will help you understand the readmission process and requirements to get you back on track to Purdue Fort Wayne. 
Readmission to the electrical engineering or computer engineering program is not automatic or guaranteed, and it's your responsibility to understand and complete all the steps in the readmission process.
There is no appeal process for academic dismissal. Make sure that all your assigned grades are accurate. If a grade is changed because of a reporting error, your GPA will be recalculated, which may affect the drop decision.
You may be eligible for an exception if
you have 15 or fewer credit hours to complete your degree and can take all your remaining courses in a single semester, and
there are extenuating circumstances beyond your control, such as serious health issues.
A student is allowed to attempt ENGR 12700 Engineering Fundamentals I and ENGR 12800 Engineering Fundamentals II only three times, each. This includes all attempts that have earned a withdrawal, letter grade, or pass/no pass. If a student fails to earn a successful grade (C– or higher or pass) after three attempts in either course, the student is removed from the mechanical, civil, electrical, and computer engineering programs at Purdue University Fort Wayne and is not eligible for reentry.
Academic Resources
The support you need.
Your education is not a singular pursuit, and we recognize that. You'll have plenty of support from the Mastodon community.