 Move-in Day
Student Housing
Start packing for an unforgettable experience.
Move-in day can be a little overwhelming, but we have all the info you need—from packing suggestions to move-in times—to make things go smoothly.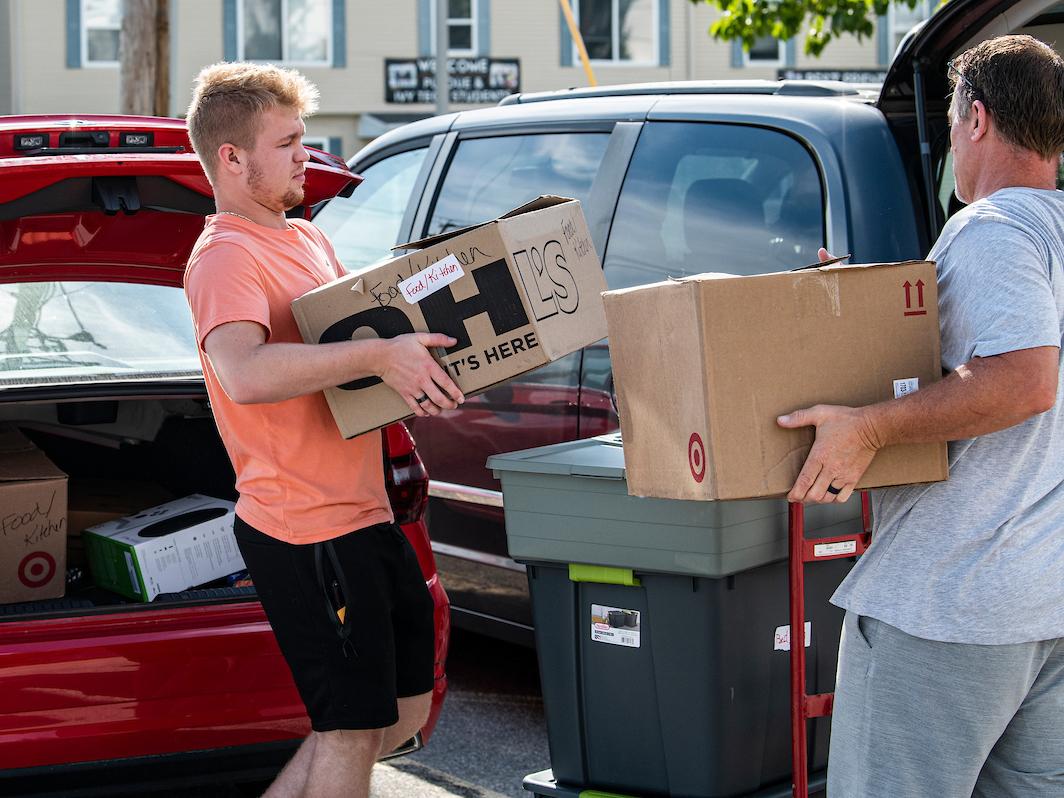 Move-in Guide
Get all the details.
Check-in is where you get your keys! Please bring your photo ID. You can have two guests with you during your assigned move-in day, but each guest must be over the age of 16. If you're moving into St. Joe Place, please note that only students should enter the building.
Looking for something to do after you unpack? Take a look at some of the student housing amenities such as the sand volleyball courts, basketball courts, and recreational items. You'll also have access to building lounges and our pool and Ping-Pong tables.
Just moved in and having internet troubles? The Help Desk is all you need. Reach out to IT at 260-481-6030 between 8 a.m. and 5 p.m.
Waterfield Campus mail is delivered on Monday through Saturday and is sorted and placed in mailboxes by midafternoon, depending on mail volume. Resident mailboxes are located in the Clubhouse.
Packages are delivered, logged, and stored at the Clubhouse. To retrieve a package, bring the package slip from your mailbox with a photo ID to the front desk and follow the instructions in the package notification email you are sent after each package. Times allotted for pickup will vary depending on the Clubhouse hours, but students will usually be able to pick up packages before 11 a.m. and after 5 p.m. We cannot accept packages for individuals who have not yet moved in. 
Please be mindful that we receive a very high volume of packages during the first few weeks of school. This may result in delays in package processing. We ask that you come to retrieve your package during the times allotted.
Suggested And provided items
What to bring along.
Unsure of what you should bring to student housing? While your space comes furnished, there are still some items you should pack. Check out the lists of what we provide, along with the following suggested items to help you decide what to bring.
Suggested
Bedding (full XL or queen)
Mattress pad
Small lamp
Desk chair cushion
Nonadhesive decorations*
Provided
Full XL bed
Dresser
Night stand
Desk and chair
Miniblinds
High-speed internet
*Any damages to the unit will be charged to you. Please refrain from wall hangings, curtains, adhesive lights, or other damaging decorations.
Suggested
Dinnerware and cutlery
Pots, pans, and utensils
Wastebasket
Toaster
Can opener
Oven mitts
Trash bags 
Provided
Full-size refrigerator
Stove/oven
Dishwasher
Microwave
Table and counter seating
Suggested
Bath towels and rugs
Toilet brush and plunger
Shower curtain, liner, and rings
Individual toothbrush holder
Small wastebasket
Provided
Bathtub/shower
Toilet
Vanity sink
Suggested
TV/electronics
Floor lamps
Surge protector
Ethernet cable (if you're bringing a gaming console and want the best connection)
Ethernet-cable adapter hub
Provided
Couch and chair
Coffee and end tables
Entertainment center
Cable connection
Miniblinds
Suggested
Cleaning supplies
Laundry basket and detergent
Paper goods (toilet paper, paper towels, napkins)
Mop, broom, and vacuum
Snow shovel
Ice scraper (for your vehicle)
Winter coat and apparel If you have questions about student housing, please contact us at [email protected] or 260-481-4180.