Dedicated People
Past experiences allow counseling professor to help prepare his students
Joel Givens, assistant professor of counselor education
In the very early morning of July 20, 2012, Joel Givens was working as a crisis mental health counselor in a Denver hospital when his computer posted notifications that 22 gunshot wounds were coming in. During a midnight showing of "The Dark Knight Rises," a 24-year-old man set off tear gas grenades before firing his four weapons— including a tactical shotgun, a semi-automatic rifle, and a handgun— killing 12 people and injuring 58 others. At the time, it was the largest number of shooting victims in modern United States history.
"We walked down, and we were right in the middle of it," said Givens. "We met with a lot of the victims and the family members."
As he tells his Purdue University Fort Wayne counseling education classes now, the job was essentially to connect victims and family members, be present for them during a horrific time, to show them that someone cared, and provide support.
His job now, and the reason he tells this story every year, is to help prepare counseling students for the unpreparable in case they ever face similar situations. They must be taught how to act and what to do, just in case.
"There are several things about the experience that are relevant to the course material," Givens said. "I'm a better teacher overall from that experience."
That night's results provided various opportunities to meet and study with local and state officials as they attempted to respond and answer unanswerable questions, discussions that pushed Givens ahead in his work.
"My experiences in the emergency room especially helped me realize that sometimes you only get one meeting with a person," Givens said. "I would say where I focus is on presence. Showing that presence, more the sense that you are really there for somebody."
Not only did the experience teach Givens about himself, but it helped him become a better professor eventually, something he can say about his other counseling experiences before joining a university. He worked at Riveredge Hospital in downtown Chicago, which specialized in behavioral health services, then a residential facility for adolescents, and in private practice for two years before joining the hospital staff in Denver for seven years.
At the time of the shooting, Givens was finishing his doctorate, and two years later took a teaching position at Adams State University in Alamosa, Colorado. Givens moved his family to PFW in 2019.
Empathy and compassion are two critical needs for a counselor, and Givens adds warmth, engagement, and passion for social justice, trying to help his students learn to use those qualities. He encourages that by continually searching philosophy for new ideas and tools he can implement. 
Givens' passion for social justice is one of his favorite topics and ongoing class discussions, though they are sometimes challenging. Counselors, he tells his students, can lead the ways to positive change and societal evolvement.
"When we talk about things like racism, sexism, and other forms of oppression, I want the students to be advocates," Givens said. "I want them to care for people and think bigger picture about what is going on. We're going to need voices for people who have mental health concerns, and if that gets pushed to the side, then who is going to fight for that?"
Just as there's been an increase in younger people accepting counseling as a positive in their personal lives, Givens sees more students interested in entering the counseling field.
"I think there's an interest in working directly with clients and helping them through problems, depression, anxiety, things like that," Givens said.
One of Givens' favorite quotes about teaching comes from Cal State-San Marcos professor Alison King, who said, "Be a guide on the side rather than a sage on the stage." In other words, get involved and get to know students on a personal level that won't end after they leave class or graduate. Be a true mentor.
Givens loves PFW because Fort Wayne is a great place to raise his family and because he loves his colleagues. He also appreciates that the university allows him to interact so much with his students personally.
"That's the favorite part of my job, getting to know students and working with them," Givens said. "I watch them grow from the beginning all the way through. It's really amazing to watch."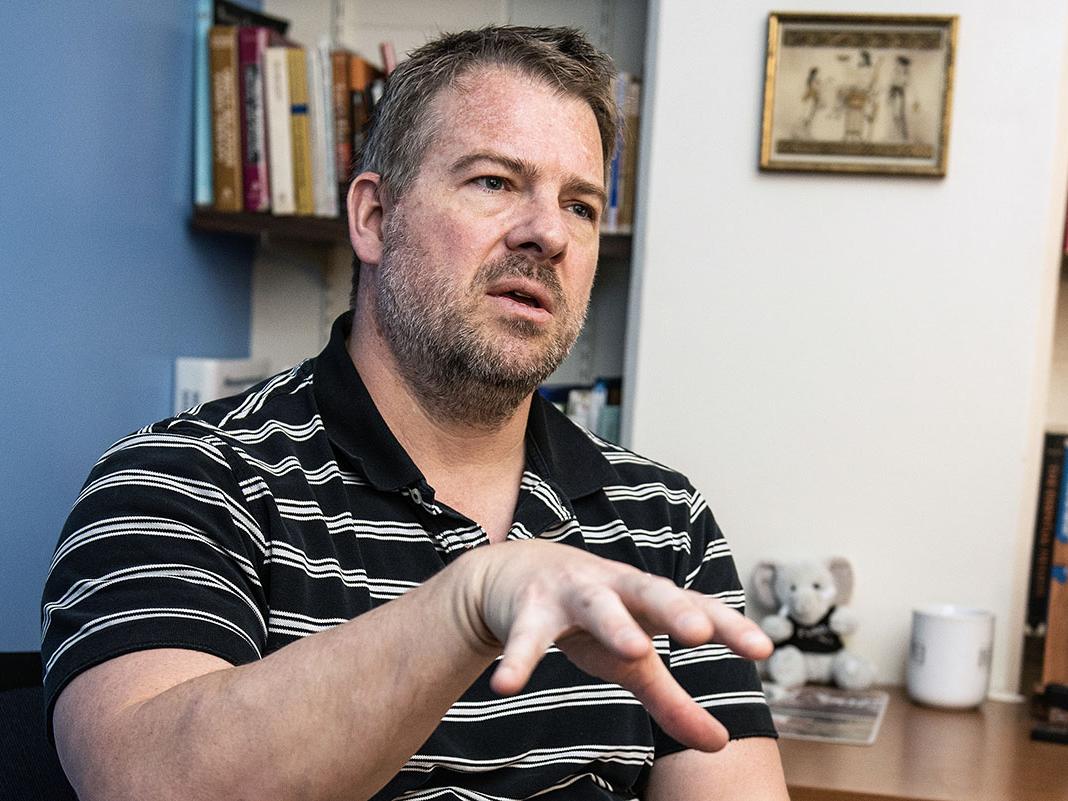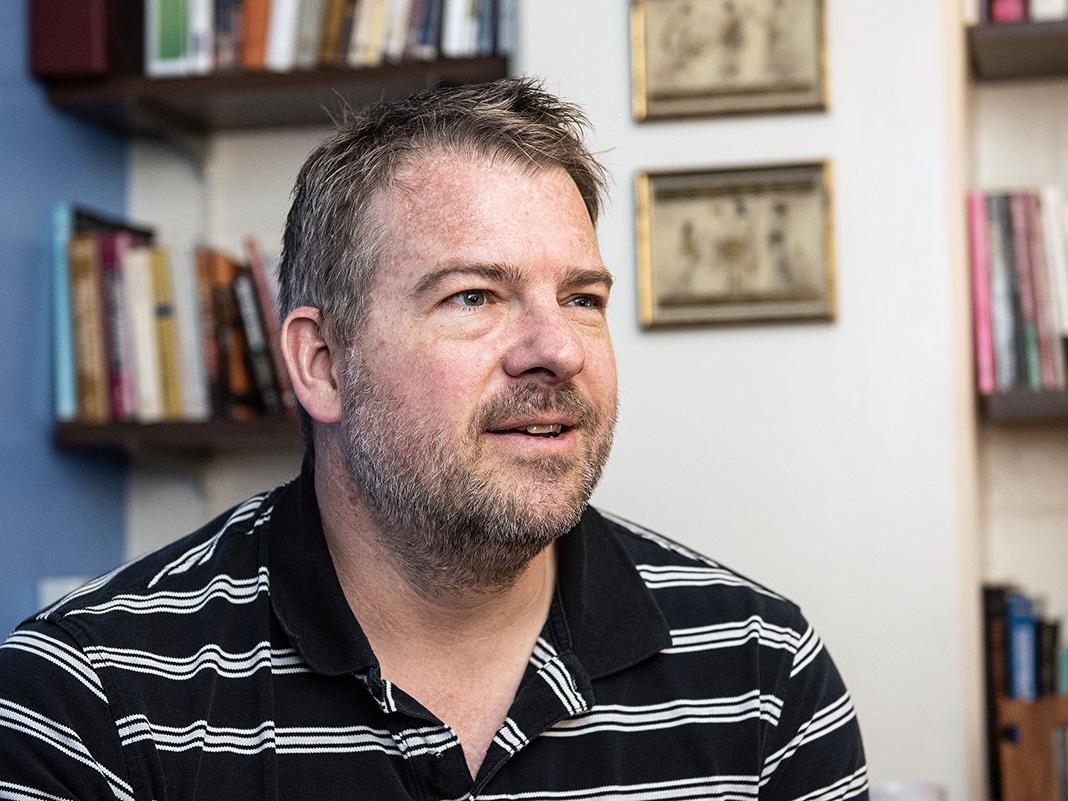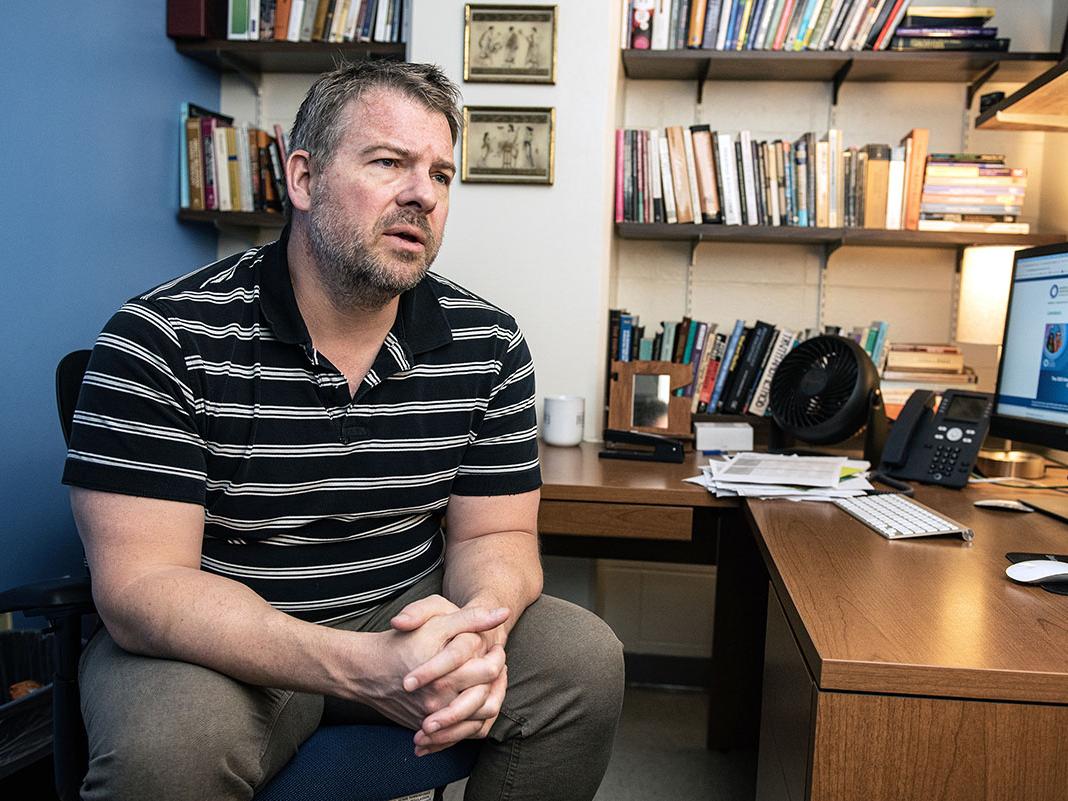 Portrait of Joel Givens
Portrait of Joel Givens
Joel Givens in his office.