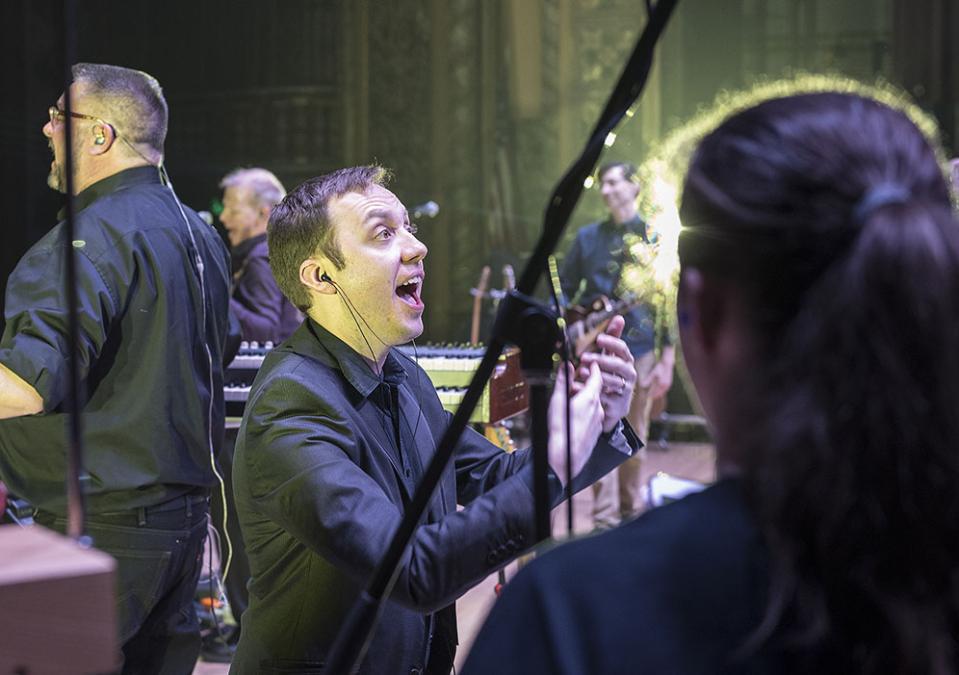 Dedicated People
Sauerland, students helping teach, inspire each other
William Sauerland, assistant professor of music and director of choral studies
Recently, William Sauerland sat down with his parents in his hometown of New Paris, Ohio, to ask them an important question: "Does the world feel worse than it used to be, or is it because I'm 41 now and my perspective of the world is different?"
Sauerland's parents told him indeed, the world does feel worse than it used to be, that it is more politically divided, and feels less safe to them.
It could be assumed Sauerland is pessimistic about everything going on but actually, it fuels his optimism and invigorates his work as a Purdue University Fort Wayne assistant professor of music and director of choral studies for the School of Music.
"Teaching is my calling because it is the one way that I have any opportunity to change the world for the better," Sauerland said. "A classroom is an exciting space where we can discourse on almost any topic through music, a book chapter, or an article to foster critical thinking skills that reach beyond music making."
Understand that Sauerland has also seen positive change during his life. Growing up a gay kid, he faced bullying constantly, and though he wasn't shy was one of the school's least-popular students.
"I think it was one of those things that everybody knew, but it wasn't one of those things that was articulated beyond somebody calling me a faggot in the hallway," Sauerland said. "It impacted me that I could see two paths for myself. It could have made me intensely shy and not want to do anything, to fly under the radar, or I could become outspoken and an advocate for myself and the LGBTQ+ community."
The constant bullying pushed him to immerse himself into his singing, starting in the seventh grade when a choir director informed Sauerland a nearby professional opera company was looking to hire a boy who sang soprano. Supported by his parents and school music teachers, he started singing professionally as a child with multiple different theatre and opera companies. 
"If I hadn't had something to run away from, maybe I wouldn't have run so intensely to music," Sauerland said. "My life was about music and singing."
Calling his undergraduate studies at Miami University (Ohio) marvelous and transformative, Sauerland maintains close ties with the university and regularly sings recitals with one of his favorite professors. After his time in Oxford, Ohio, Sauerland moved to San Francisco to join the award-winning male chorus vocal ensemble Chanticleer. His academic journey continued to the Royal College of Music in London before returning to San Francisco, where he started teaching.
Knowing he always wanted to teach, Sauerland started working part-time in a middle school and high school, working with community choirs, and eventually teaching at a community college and San Francisco State before completing his doctorate at Columbia University. Though he continues singing professionally and privately every day ("If I didn't sing, I'd be worried I'm not learning"), Sauerland says teaching was his ultimate calling.
"Before coming to PFW, I worked with choirs as young as second grade all the way through older adults in a community choir, and it gave me this breadth of knowledge on what is similar in teaching," Sauerland said. "Then you find out how it is different and unique, not just for age ranges, but different populations and learners. That was very valuable."
Sauerland has continued to grow and learn since coming to PFW in 2019. As he says, if he continues to learn, so will his students, and that happens by providing them agency and autonomy. A leader and not a lecturer, he builds authentic relationships with them.
"I listen to them," Sauerland said. "I choose the repertoire with them. I make them a part of investigating the music. I'm not there to tell them how the music goes, but I'm with them there together to explore how the music goes. I am learning and they are learning, and I am teaching and they are teaching, not always in that order. That is what fuels me. I want to journey with them."
After all, Sauerland believes singing is a vulnerable experience and also a way to make the world a better place.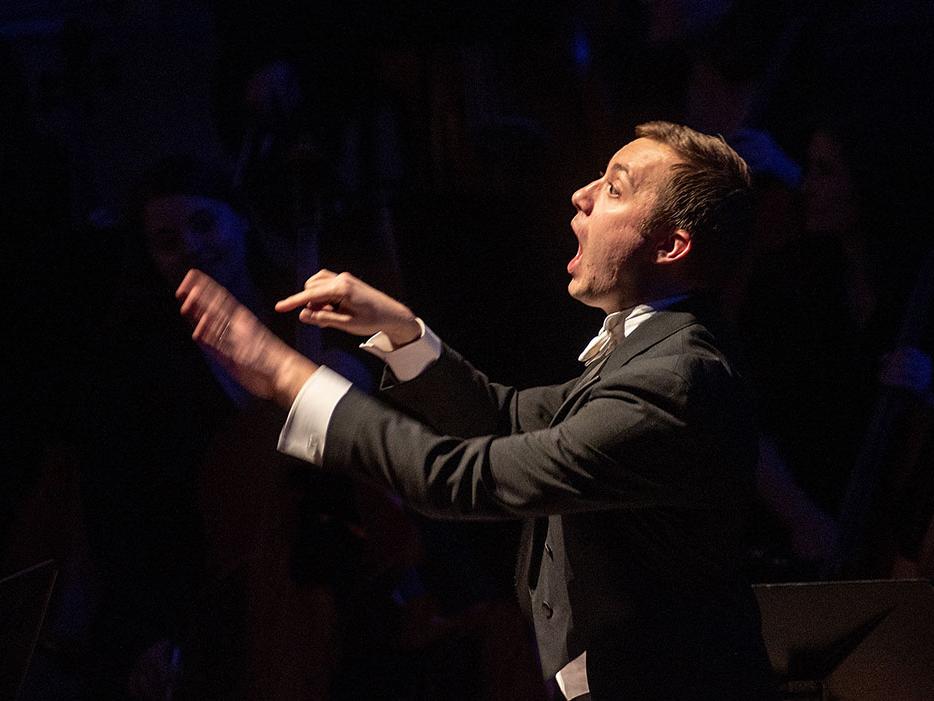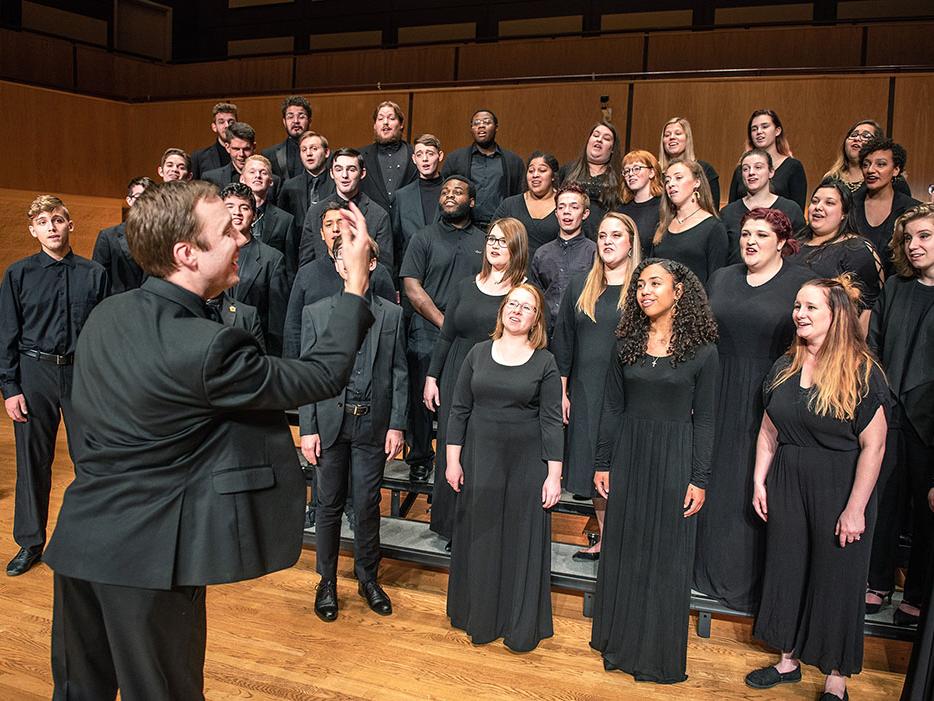 William Sauerland leads the choirs at the 2019 Home for the Holidays concert in Auer Performance Hall.
William Sauerland conducts a choir on the stage of Auer Performance Hall.
William Sauerland leads the choir at a Pink Droyd concert in the Embassy Theatre.