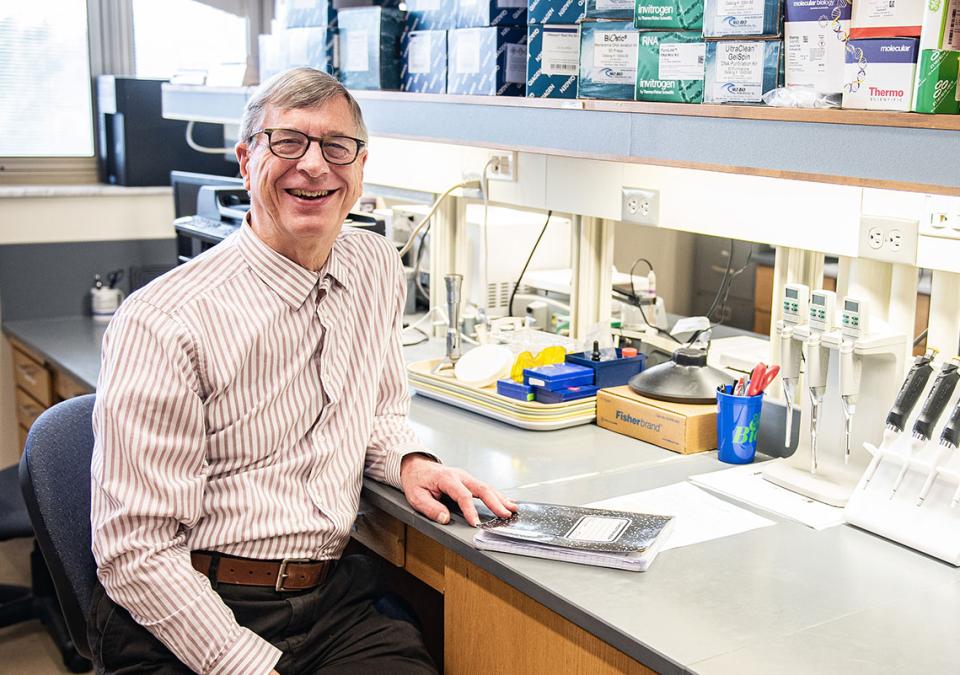 Dedicated People
Arnold's passions continue to benefit PFW and the community at large
Bruce Arnold, manager of life science support service
When Bruce Arnold says his family has lived in Fort Wayne since 1840, take it as gospel.
The Purdue University Fort Wayne manager of life science support service has a passion for a few things, including genealogy, where he has built an incredible hobby and developed databases that may outlast us all and help others examine family timelines for generations.
Arnold has been part of the university community for 37 years, starting in the biology department as a lab tech after graduating from here and doing his graduate work at Texas A&M. There he studied immunoparasitology and the blood flukes Schistosoma mansoni that expanded from the Nile River across Africa, China, and South America. The human body can't kill the worms, so Arnold was working to find a cure, or a way to detect them. 
For the past 20 years, though he prefers to operate in the background, Arnold has become a cornerstone, touching so many different parts of the biology department and campus because he's good at many things. He's a glue guy who makes sure everything works and helps everyone's jobs function. Unless it has to do with classes, he's a person everyone asks for help.
"Bruce is kind of like the dad of our department, really," said Mark Jordan, chair of biological sciences, who has worked with Arnold for 18 years.
As Jordan describes it, Arnold's role is the person who orders supplies for classes and research, helps maintain equipment, coordinates with facilities on maintenance, and also is involved in purchasing large scientific equipment. Arnold also branched out into computers and became the department's IT person. He's also involved in lab safety, translating Purdue policy, and making sure everyone complies with all the related regulations.
"Most of the department dreads it when Bruce takes a day off or he goes on vacation," said Arlis LaMaster, laboratory technician. "Bruce does like to joke around with people and is always ready to show people how things work and explain things to them."
Arnold loves the place and works to help it by being willing to pitch in. He's even been known to run a sweeper through classrooms. It's difficult to encapsulate all that he does in part because he never wants credit for it, Jordan and others said.
Arnold is just as passionate about Komets hockey, where he was born into his fandom as his parents took him to games as an infant, and he continues as a season-ticket holder. 
He was also drafted into studying genealogy, in a way. His daughter wanted to study it in a fourth-grade summer class, so he bought some software. Though the class was canceled, he helped her with it anyway – except he was the one who got hooked.
Arnold studied his wife's entire family line, tracing them to their arrival from England to Connecticut in 1635. One was a gravedigger.
"Then I went on to other things," Arnold said. "In genealogy, nothing is ever like you think it is."
One of his wife's aunts was from northwest Ohio, and there was a legend that an ancestor from several generations earlier had run off with a trainman and left her kids behind. She would ride the rails with her husband and throw candy at her kids off the train.
"Some of it was probably true, and some of it probably wasn't," Arnold said. "You go through whatever records you can find. You start at courthouses and hope you can find information. There's a lot of it you can't prove. There have been so many courthouse fires, and when you get too far back, you're lucky to find anything.
"It can become an obsession. You are never done, and you are always looking. It takes a lot of time."
With perhaps his biggest project, Arnold developed a database of Mennonite families, starting with his wife's genealogy. He's taken it as far back as the 1820s and continues to add information from obituaries.
His database includes about half the people listed in the MennObits database, an incredible amount of work and accomplishment – not to mention a legacy that will be used for generations by genealogists.
"If you know anybody who is Mennonite, I probably have their whole family line," Arnold said.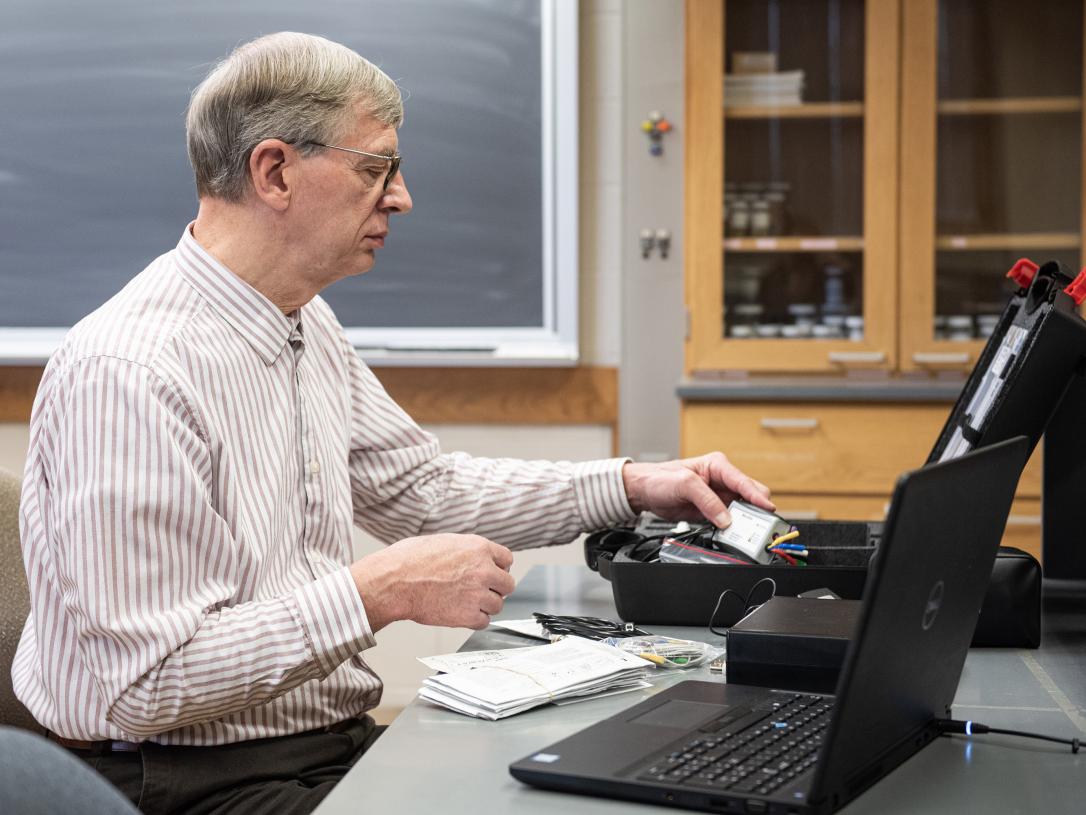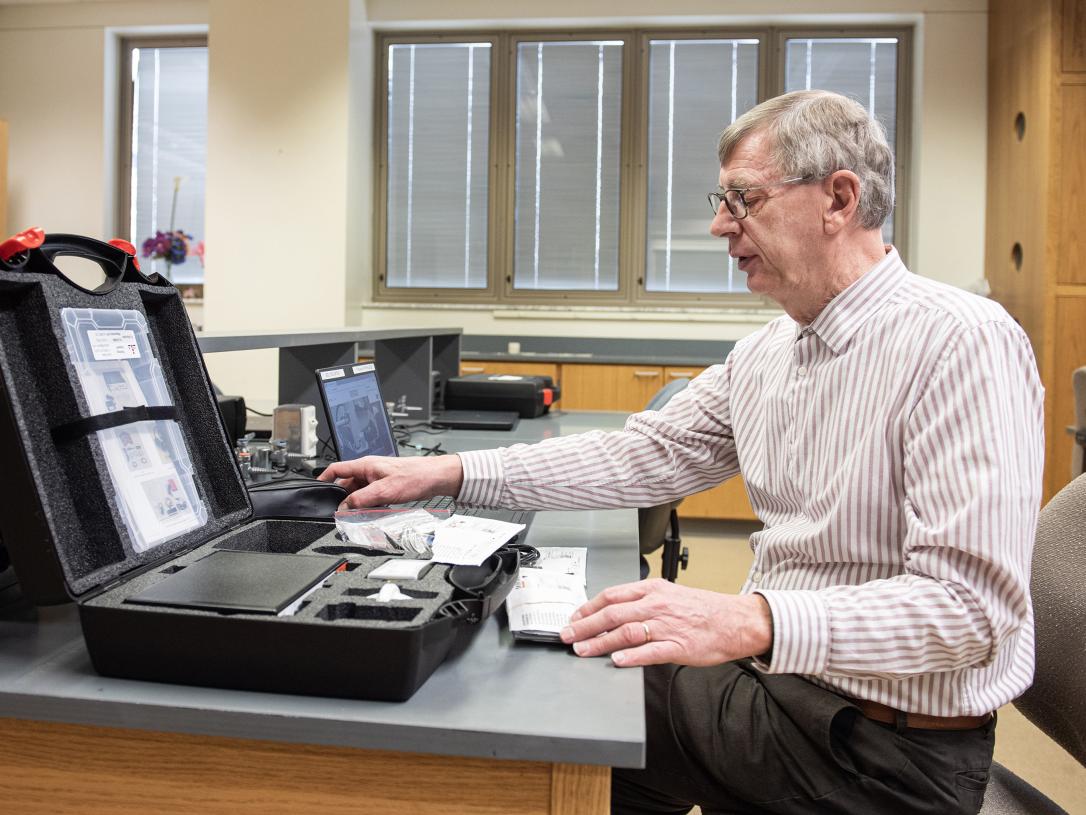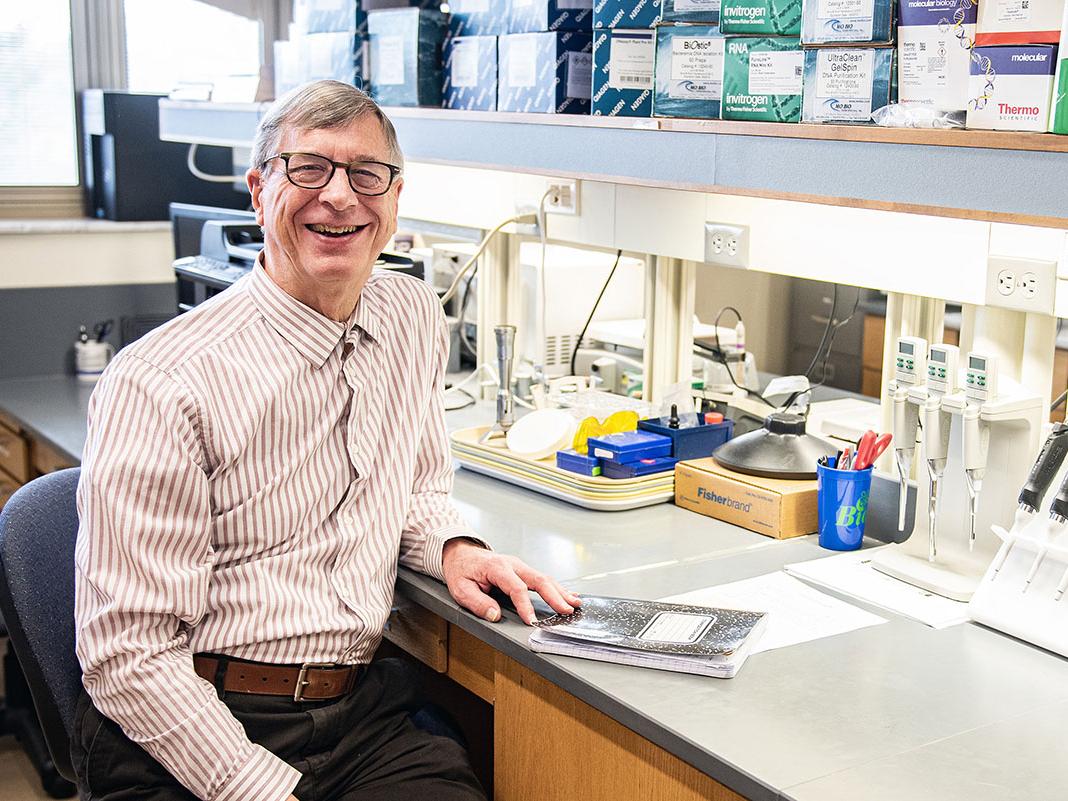 Bruce Arnold is working in his office
Bruce Arnold is working in his office
Bruce Arnold in his office