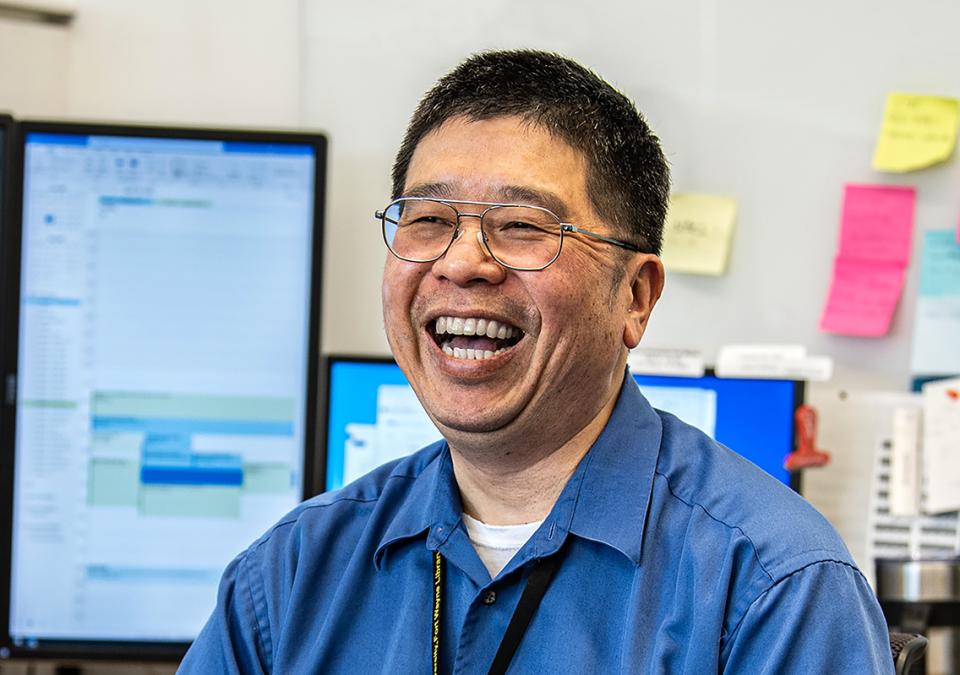 Dedicated People
Remembering his past, Lin mentors international students
Daniel Lin, Helmke Library information services technician
Because he vividly remembers his own challenges, Daniel Lin always works to connect with and show compassion for international students coming to America. He also knows the remarkable impact Purdue University Fort Wayne can make on their lives.
A Helmke Library information services technician, Lin has worked here since 2005, but there's a lot more to his story before that. Hoping for a better life, Lin's family moved from Taiwan to Brooklyn, New York, in 1984 when he was 14.
"Even though I was with my parents and two sisters, it was a culture shock because everything was different, including the language," Lin said. "It was very challenging and I was isolated because of the language barrier. If you can't communicate with other people, it's very hard to make friends."
It took about three years until Lin said he felt comfortable, crediting a Puerto Rican friend who reached out to help. After high school, Lin attended the nearby Kingsborough Community College and worked at the computer lab help desk, which built his interest in computer science. He eventually worked at a bank full-time while taking classes part-time but decided to quit working and found his way to Fort Wayne and a school he had never heard of before.
It took Lin two years to finish his degree, but things happened along the way. For one, he met accounting professor Mike Slaubaugh, who has always looked out for his students, especially those with international backgrounds.
"I first met Daniel when I was a faculty advisor of an international group on campus, and over the years, I have witnessed him meeting his wife, beginning his career on campus, and having kids," Slaubaugh said. "It's been great to see Daniel's professional career and family grow, and I'm glad he's stayed at PFW. His positive attitude and eagerness to help others is definitely an asset to our community."
As for the wife, Lin was talking with a friend one day in Kettler Hall when the friend asked where he was from. As soon as Lin said "Taiwan," a female student sitting a few chairs over stood straight up and said "Taiwan? I'm from Taiwan!" Her name was Christy and her family had moved to America in the late 1990s.
"I was kind of surprised to find Chinese girls in Fort Wayne, and then to see one from Taiwan was shocking," Lin said. "We found a connection there. My parents were really surprised because the Chinese population of New York is much larger, and they were not expecting I was going to find someone to marry here."
The Lins have two sons, ages 7 and 11. Christy graduated from the College of Liberal Arts and now works as a teacher's assistant at Northwood Middle School, while her husband has become a Helmke Library mainstay.
"I'm trying to think of how to describe him because he's just fabulous, and how do you put that into one sentence," said Amy Harrison, the library's lead business assistant. "He's cheerful, he never complains, he goes above and beyond, and he does so much. How do you encapsulate that?"
Lin and his wife share a passion for helping international students. They host some for Thanksgiving dinner and sometimes take them out for wings and a serious hot sauce challenge.
"He has been an amazing friend helping me during times of need, and I can honestly say that he was my go-to person for anything," said India-native Souvik Mazumber, who met Lin while working in the library. "Having a person like him made the transition to this new country and this new way of life much easier. I have seen him go above and beyond to help international students by providing them with resources and support to help them succeed academically and socially. His dedication to helping students is truly inspiring."
Lin said he often meets students during his job and opens discussions or offers to help. 
"I talk to them to understand the kind of things they are having trouble with," Lin said. "I remember what that was like, and I tell them to focus on the positive side, and that there is always a future in the United States.
"In Taiwan, you had to have some kind of family background, finances, or know somebody of power to advance in the workforce. Here, as long as you work hard and have some talent, there are things you can accomplish."
Lin admires the students' courage, determination, and strength, saying they essentially buy a one-way ticket and live by their commitment. 
"They need mentors, to be friends with them and encourage them," Lin said. "I love the people at PFW because it's like a family and very close. You share things and help each other, and it's wonderful how the staff works together there. I've worked in a lot of places (in the private sector), and you lose that kind of bonding. It's a great part of PFW."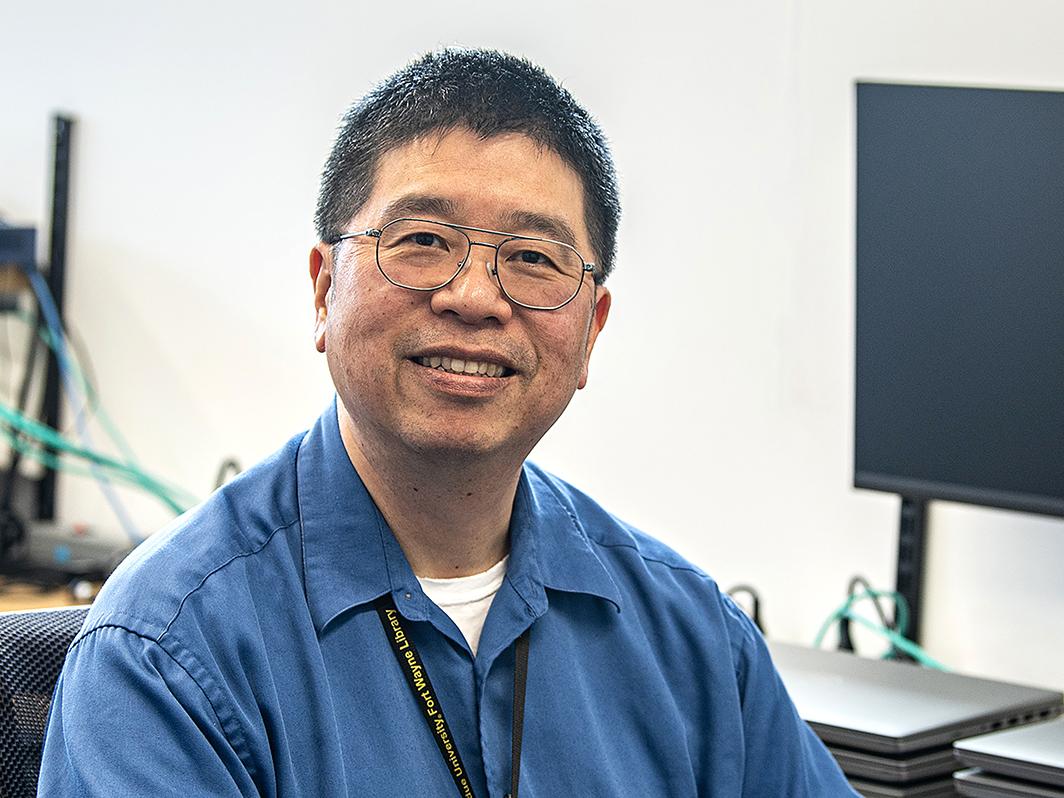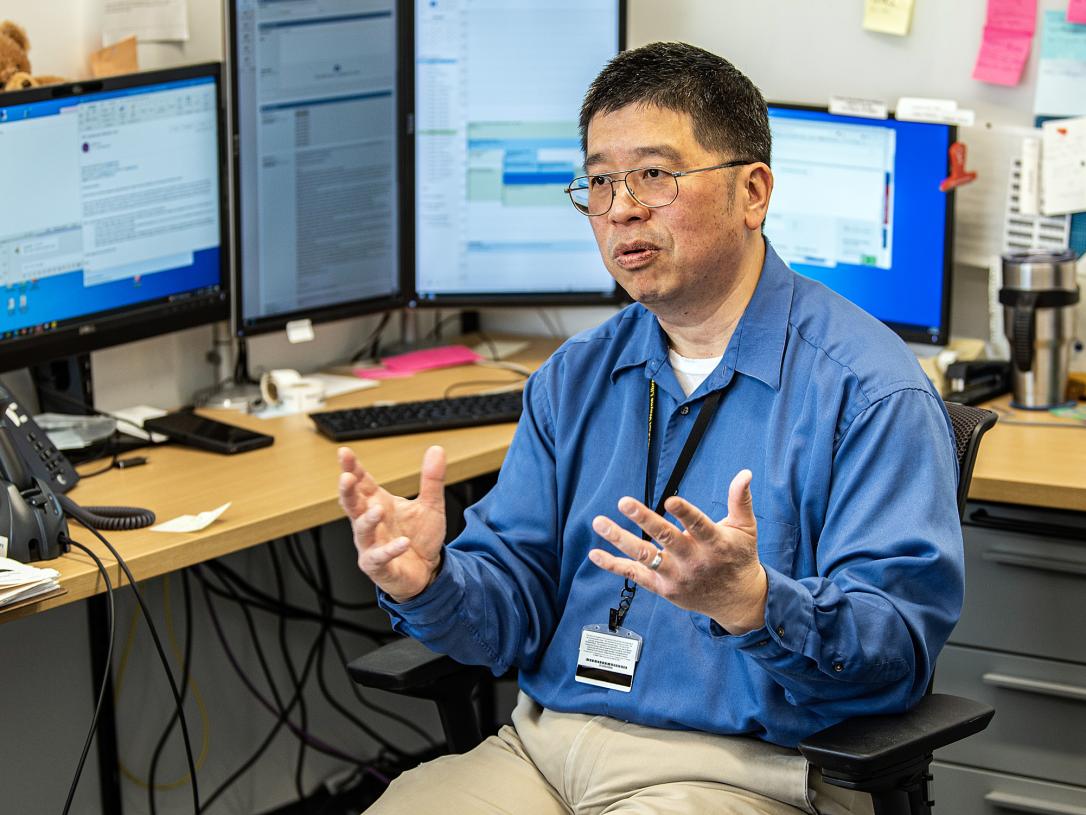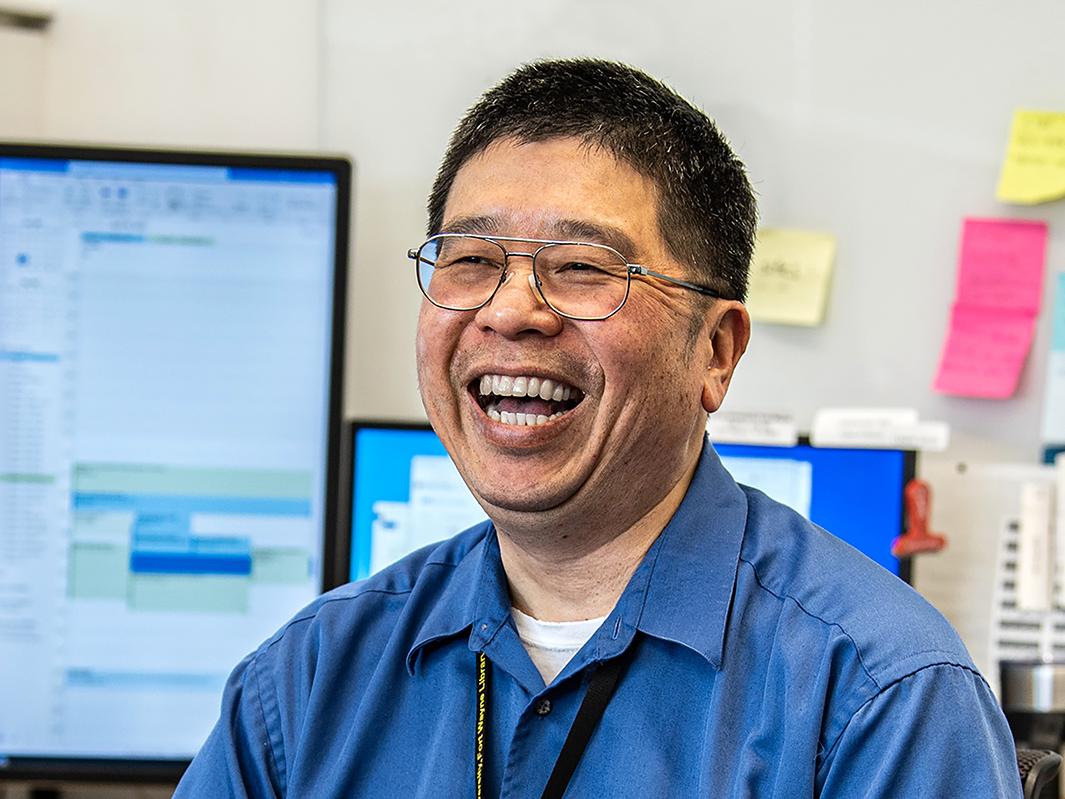 Portrait of Daniel Lin
Daniel Lin is talking in his office
Portrait of Daniel Lin laughing