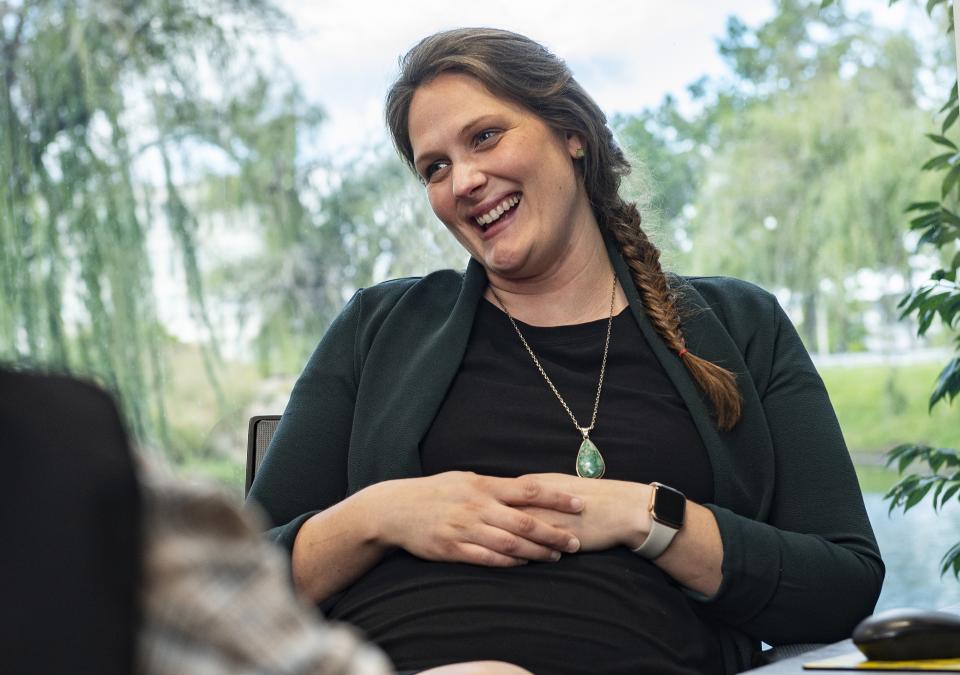 Dedicated People, Positive Progress
Helping business students find their niche in job market
Meg Underwood, director of professional development and outreach, Doermer School of Business
As a sixth-grader, Meg Underwood's mindset was so detail-oriented she could recite every schedule of her 15 classmates. As a high school junior, she gave a presentation on where the students in the class were going to college and what they planned to study. After the original editor quit, as a high school senior, Underwood organized and produced two yearbooks in the same year. 
It's Underwood's gift that she can quickly spot situations and problems, while at the same time suggest solutions and act on them. She thrives on fixing challenges, meeting people, figuring things out, and then making them work. 
"The reasons Meg is so good at her job and she thrives at everything she does are her enthusiasm for life, her sense of humor and fun, and her immense passion to help others," said Melissa Gruys, dean and professor of management at the Doermer School of Business. "Meg does everything with gusto; she's an 'all-in' person. She uses her talents and energy for good in so many ways every day."
Underwood's LinkedIn page says she's a professional educator, but maybe not in the traditional sense. During a Leadership Fort Wayne class, the assignment was to introduce yourself without using your job title. Underwood said, "I'm a circus ringleader who helps students go from 'I don't know' to 'I'm ready to grow.'"
That almost covers her duties as the business school's director of professional development and outreach. Her job description is inadequate in comparison to what she accomplishes, helping students with career counseling, résumé review, mock interviews, salary negotiations, running the Passport to Success professional development program, presenting workshops and events, recruiting, setting up internships, and understanding employer needs.
"The magic is when you have an employer call and say, 'I'm looking to add to my team,' and the next day or so you have a student say, 'Here's what I'm looking for,'" Underwood said, "and you can introduce them."
She's really a connector, an agent, an organizer, a launcher, and often a mentor. She knows most of the employers in town, what they want, and how they should recruit prospective employees. She's always hungry to add more skills, to keep pushing herself so she can help the students and the business school.
"I want to be a decision maker, but I always want to see it through and make it happen," Underwood said. "This role is good for me because I get to see a problem, find a solution, and try it out and fail or succeed."
And that's her role with students, to help them come up with solutions or make a career plan. 
"Meg is great at her job because she has such a positive attitude and helps you any way she can," said business marketing major Ayana Garcia. "She has always been reliable, and I know I can count on her if I'm having trouble with classes, or work. I feel that we both have a mutual respect for one another as I am also always willing to help her when she needs it. I look up to her leadership skills because she knows how to motivate students and give honest and helpful feedback." 
If she could ask students anything, it would be "What's your superpower and how are you going to find it?" In other words, if you don't know what you want to do, what are you good at and how can you turn that into a career? What is it about accounting that you love? How do you know you're supposed to be in banking or marketing? 
It's helping students focus their goals to find what they'll be happy doing. 
That may sound incredibly difficult, but it sure is easier than publishing two yearbooks in one academic year.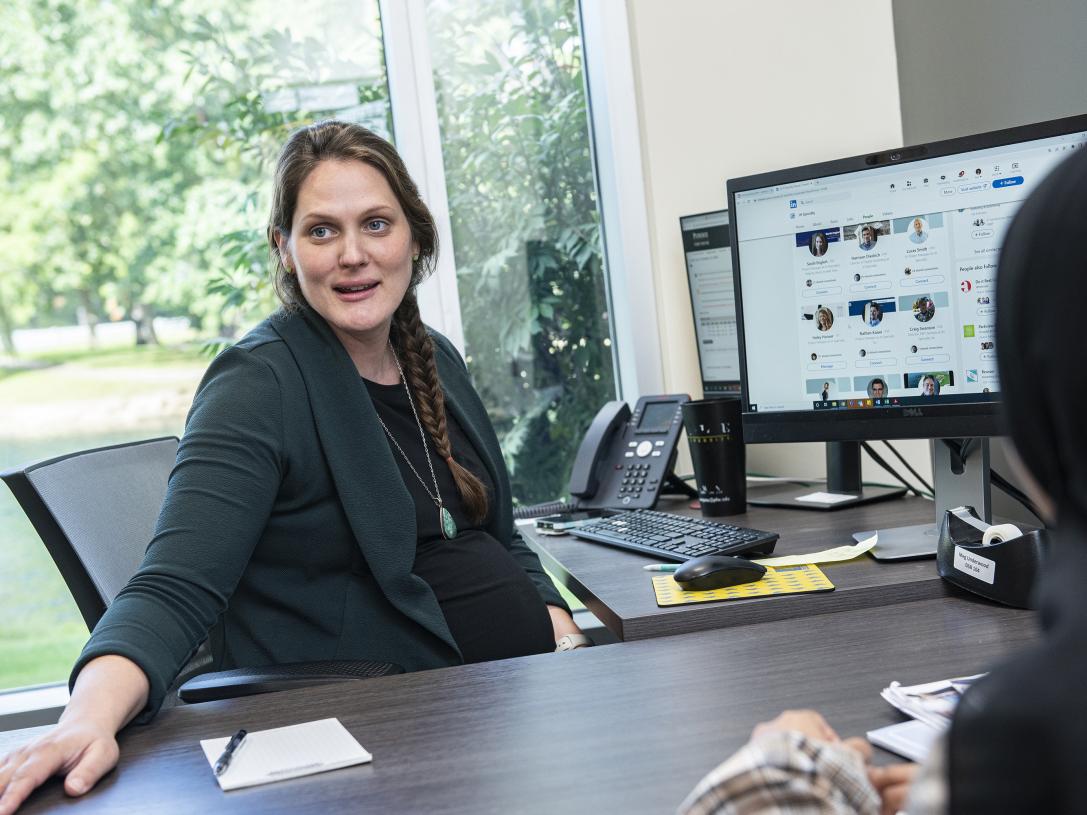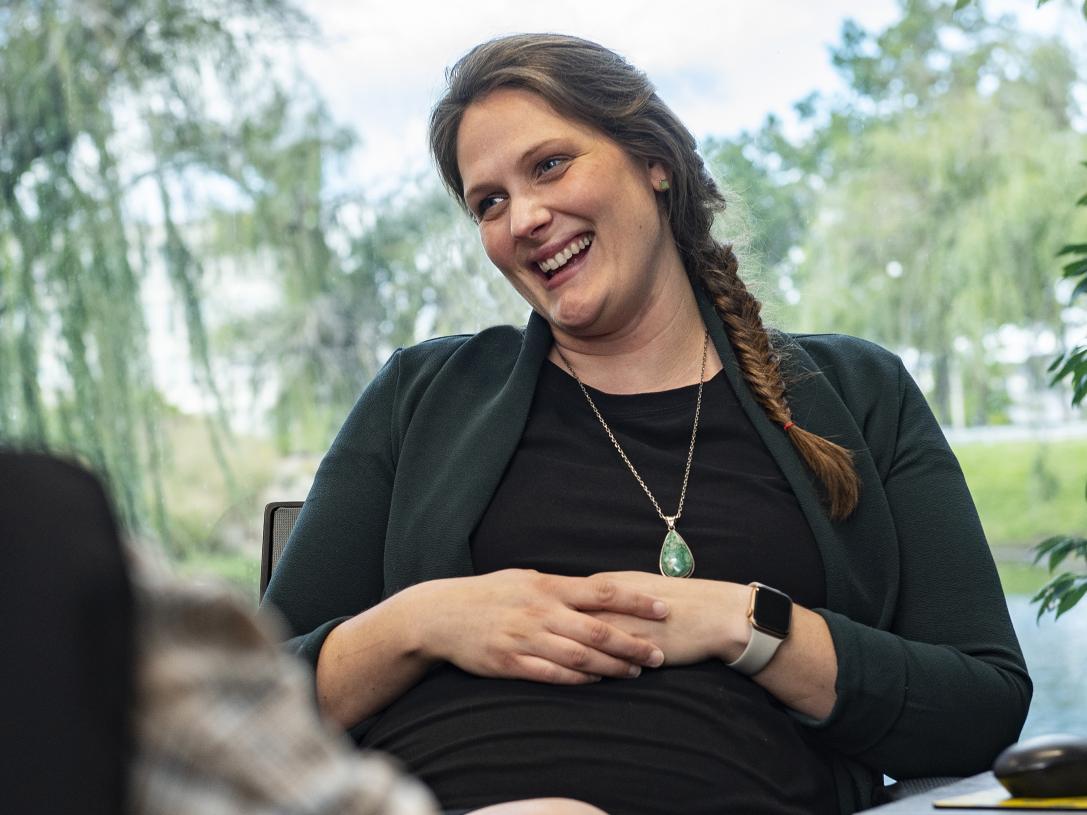 Meg Underwood meets with two students in her office.
Meg Underwood counsels students in her office