Beyond the Classroom
department of Hospitality and Tourism Management
Put your knowledge to the test.
Apply your classroom skills and ideas to
on-the-job situations and challenges. Pick up real-world experience. Prepare for your future. Get ready to shine—your success awaits.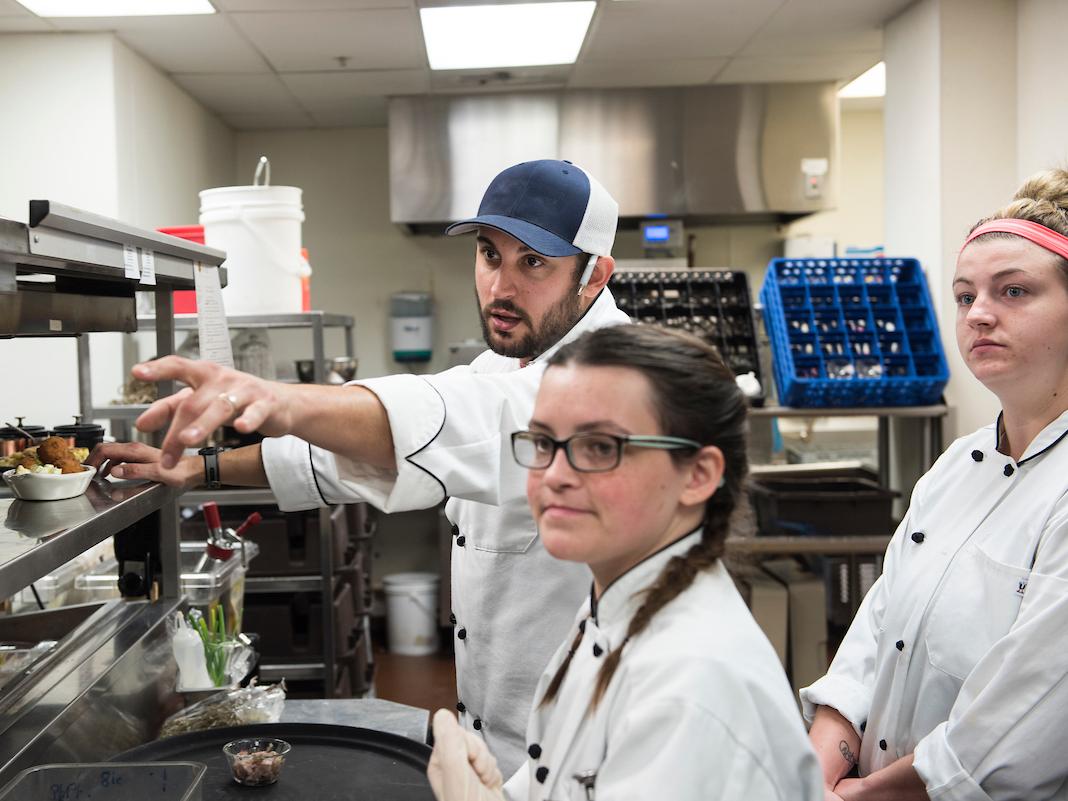 opportunities
The experience you need for the career you want.
Benefits
Gain experience in your field with real projects, customers, and employers
Improve chances of gaining employment after graduation
Explore careers and gain realistic expectations
Receive support from Purdue Fort Wayne
Apply classroom theories to the work environment and gain insight to future class topics
Grow your network and establish valuable references
Support
Your advisor and a faculty mentor will help you have a beneficial experience where you can earn academic credits and gain real-world business experience.
Sample Internship Venues
Bakeries and restaurants
Catering companies
Event planning companies
Festival and music venues
Hotels and bed and breakfasts
Resorts and travel destinations
One of the benefits of a hospitality and tourism management degree from Purdue Fort Wayne is location, meaning where you get to learn. You'll have the opportunity to take classes inside the Purdue Fort Wayne Holiday Inn, which we have access to as a teaching resource. This will help you better understand and contextualize the concepts and theories of your courses.
The hotel and our teaching facility will also give you the opportunity to engage in what's called craft-based learning. The concept is that we use the craft as a base for learning essential operational skills—but you will also learn leadership, teamwork, and organizational skills needed to be successful.
The Holiday Inn is not a training hotel. It is a real hotel with real guests, and it is operating as a for-profit business. Holding classes here means you will get firsthand contact with the real world of hospitality. This, in turn, creates a unique academic program. But this also means that you are required to adopt a professional attitude and appearance. What better way to dive into your future career than to do it while you learn?
Turn Italy into your classroom for two weeks, earning three credits toward your degree in the process. Your trip will focus on the intriguing food culture of Italy. You will see, feel, taste, and explore real Italian foods. You'll also work with a small, local Italian company owned by Michela and Giovanni to participate in experiences not available to the average traveler to Italy.
Take a look at all the highlights and how to get more information:
Excursions to Ancient Hill Towns and Villages
Go off the beaten path and explore foods of Tuscany and Umbria.
Extraordinary Activities
Spend a day with a truffle hunter and his trusted dog, and walk in the Apennine Mountains to look for and learn about this rare gift of nature.
Cooking Class with Award-Winning Chef
Enjoy a day that begins at the market with the chef, followed by an afternoon cooking class based on classic seasonal dishes, such as bringoli, salsiccia alla brace, and panzanella.
Visit Wine Estates
Gain appreciation of the art and science behind the production of vino. 
Meet the Cheese Maker
Discover the secrets of Italian cheese. Then move on to making artisan bread, pizza, pasta, gnocchi, and sausages. You'll also learn about olives and how they are pressed to give the very best oil. 
Contact
For more information, reach out to the Department of Hospitality and Tourism Management at [email protected] or 260-481-6562.
Registration Information
Purdue Fort Wayne Division of Continuing Studies
260-481-6619
Enroll Here
What's Included?
Airfare
Lodging (three to four per room)
Most meals
Ground transportation
Travel health insurance
Planned activities and events