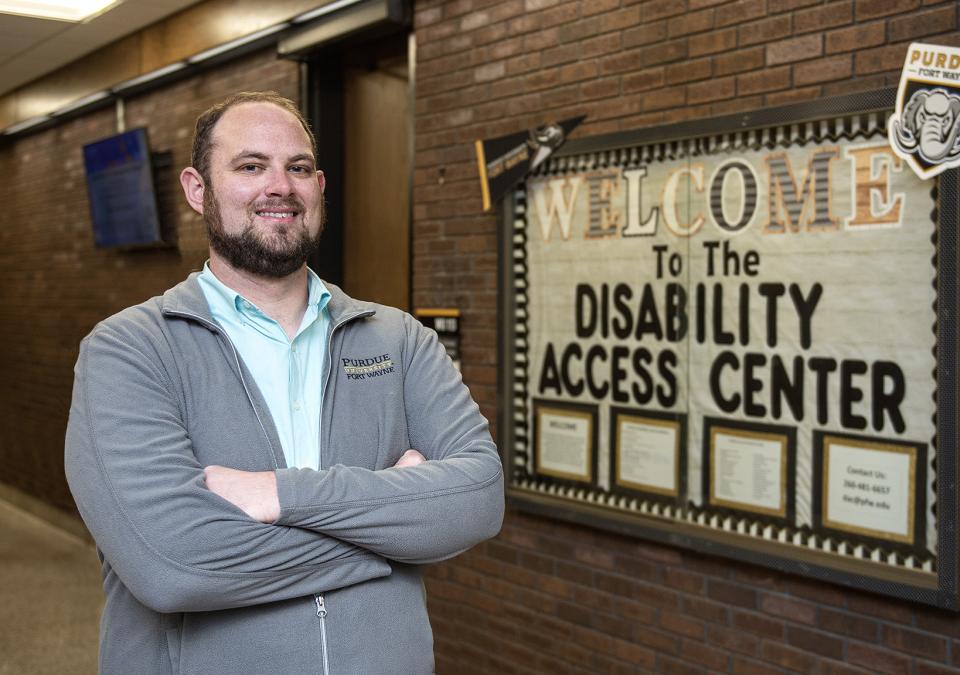 Dedicated People, Positive Progress
After surviving illness, DAC director thrives on helping others
Ryan McCombs, director, Disability Access Center
One reason Ryan McCombs is a good leader for Purdue Fort Wayne's Disability Access Center is because of what he experienced 14 years ago while working on his undergraduate degree. 
Because of some paralysis in his legs, McCombs wears braces on both. His right leg is partially paralyzed from the knee down and he can't feel or move his foot or toes. His left foot is partially paralyzed as well, but he can moderately maneuver it. 
"For me, doing this job is very personal because I know what it's like to be a student with a disability," McCombs said. 
The 32-year-old doctoral student and DAC director was diagnosed with chronic inflammatory demyelinating polyneuropathy, or CIPD, a neurological disorder that targets the myelin sheathing around the nerves and affects as many as 40,000 in the United States. 
"I was playing racquetball one night with some friends, and I could not jump at the ball or even run or lunge," McCombs said. "My calves were burning like they were being ripped apart."
But the feelings passed, until a week later McCombs was sitting in a Central Michigan University microbiology lecture. It felt like his socks had rolled up in the sophomore's shoes, but they were still snug. More time passed before he went home for Thanksgiving break to Zeeland, Michigan, where he was working at a Blockbuster video store one night and realized couldn't rise up on his toes to turn off the TV.
"Things just kept progressing, but I never told anyone," McCombs said. "I was a 20-year-old that thought I was invincible."
When he returned to school, McCombs was forced to Army crawl to his third-floor room because his legs gave out and he lost the ability to stand. A few days later, he slipped on the ice on his way to his calculus class, and it took 15 minutes to get up off of the ground. After the fall, he finally went to the hospital and notified his family of everything he had been experiencing over the past couple of months.
Ignoring a doctor's advice to immediately see a neurologist, McCombs finished his finals before going home. Then he saw a specialist, and after more tests, including a spinal tap, MRI, and EMG, McCombs came back a few days later to be handed a pamphlet printed off the internet. The retiring neurologist said it was the first time he'd ever seen CIDP. 
McCombs began initial treatments immediately, which worsened his health, causing him to be admitted to the hospital on Christmas Day. Shortly after being admitted, paralysis began to set in and quickly caused him to lose the function of his arms, legs, and the ability to move by himself for nearly two years. He spent months in a rehabilitation hospital in Michigan and wasn't released until June — and only then because the insurance company wouldn't continue payments, saying he wasn't making enough progress. 
His health turned around about a year later after last-ditch chemotherapy treatments killed his immune system and allowed his body to reboot. Gradually, his physical abilities returned, and after a couple of years using a wheelchair, he eventually began learning to walk again. 
"If I hadn't done chemotherapy, I would have died because there were no other treatments to do," he said. "I've been in remission for 11 years, but I can relapse at any time and go back to full paralysis."
Living with that possibility might intimidate most, but McCombs says it's somewhat freeing. He doesn't hold back from new experiences like student teaching in Australia, starting his professional career on a small Alaska island, or recently traveling to Ireland. 
"Because I don't know when I'm going to relapse, I try to live every day to my fullest," he said. 
That attitude and his experiences changed his plans from teaching to becoming a disability advocate. What he does is essential to others around the country and our community, including more than 500 PFW students this semester.
"No student should be told they can't attend college because of a disability," McCombs said. "There's nothing negative about them or their disabilities, they just have to do things differently, and the reason for that is because society is not designed for the disabled community. It's not the person's condition that defines them. There are things I can't do because of the environment."
Through his work with the DAC at PFW, McCombs continues to serve students who know they have an advocate on their side who leads by example.