Beyond the Classroom
department of English and Linguistics
Take a break from your books.
Studying and taking tests is important, but so is going beyond the classroom to maximize your college experience. Check out the options you have to make the most of your time at Purdue Fort Wayne.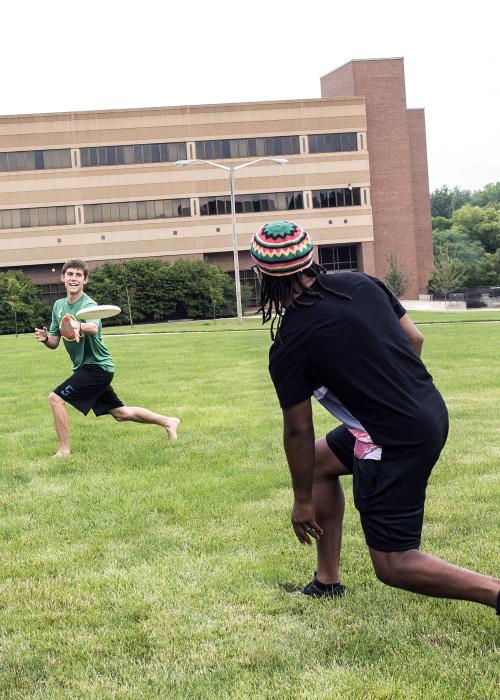 Jobs and internships
For some extra spending cash.
Whether you're looking for a part-time job on campus or a full-time job after graduation, we have lots of options.
The Department of English and Linguistics is proud to offer exclusive internship opportunities to our majors. Although our internships are best suited to students pursuing one of the writing concentrations, all students are invited to take part.
An internship offers you the opportunity to work with a faculty supervisor and a mentor at your workplace to gain a richer learning experience than you would normally obtain during your first months in a new job.
Benefits of an Internship
Although classroom experiences can teach you many things, they can't teach you everything. You can enrich your education through an internship in which you apply what you have learned in the classroom to situations you may encounter after graduation. In addition to offering you learning experiences you could not gain in a classroom, an internship gives you the following opportunities:
Develop your résumé and portfolio. Have you ever noticed that many classified ads ask for applicants with "experience"? An internship can help you gain a bit of it.
Make contacts with potential employers. Sometimes, internships turn into full-time positions. Even if your internship did not lead to such employment, it could introduce you to people from various organizations.
Explore a career. Unsure whether a particular career is for you? Try an internship in that field.
Contribute to your community. Many internships take place in nonprofit organizations. You might be able to do some good while enjoying some of the other benefits listed here.
How to Apply for an Internship
To apply for an internship, you must complete three main steps:
Communicate with Kate White, internship coordinator. You can contact her at

[email protected]

or 260-481-0536.
Apply for and secure an internship. You must apply directly to the organization that will offer the internship.
Complete an internship proposal and register for ENG 39800 Internship in Writing.
Questions?
You can contact Kate White, internship coordinator, at [email protected] or 260-481-0536.
STUDY ABROAD
Let the world be your classroom.
The entire college experience is a once-in-a-lifetime opportunity, but imagine taking your studies overseas. Living and learning from a different country fosters both your independence and your personal development. Through this experience, and the knowledge you'll gain living like a local, you'll emerge with a new perspective.