ELECTRICAL AND COMPUTER ENGINEERING PROGRAMS
It takes an innovative engineer to solve complex technical problems. 
Our engineering programs prepare students to tackle the toughest engineering problems with the latest cutting-edge solutions.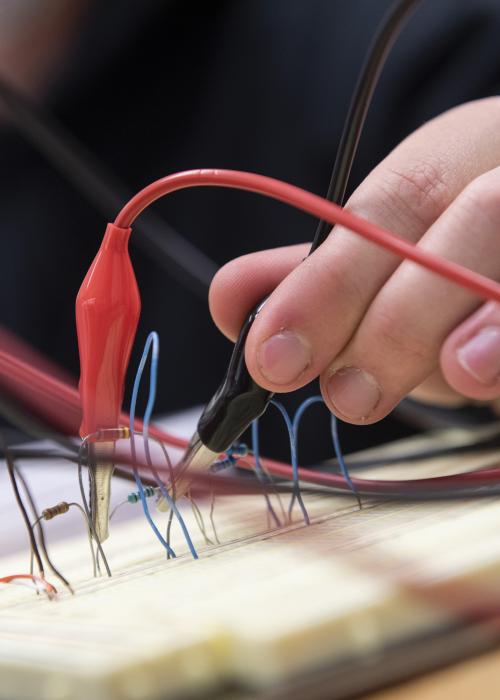 B.S. in Computer or Electrical Engineering and M.S.E. in Engineering (Dual Degree)
Designed for students who truly know what they want for their future, this innovative program will allow you to obtain a bachelor of science degree in computer or electrical engineering and a master of science degree in engineering simultaneously—and in just five years. You'll save time, you'll save money, and you'll be on the path to success quicker than you ever thought possible. Program
Highlights
Program Highlights
The ability to identify, formulate, and solve electrical or
computer-engineering problems
Experience with electrical or computer systems
The ability to apply knowledge in math, science, and engineering
Support from the Mastodon community
A prestigious Purdue degree
Scholarships
Looking for ways to make paying for college a little easier? ScholarshipUniverse is a tool for current and admitted Purdue Fort Wayne students that allows you to create an academic profile and connect with scholarship opportunities.
For more information about all the scholarships available at Purdue Fort Wayne—including opportunities for specific programs—you can visit the Office of Financial Aid or contact us at [email protected].
Student Learning Outcomes
Upon completion of this degree, students will be able to demonstrate the following learning outcomes:
Next stop: a successful future.
Advanced Automation and Robotic Systems Engineer
Computer Application Engineer
Computer Network Architect
Computer Programmer
Computer Systems Analyst
Computer User Support Specialist
Embedded Systems Engineer
Software Engineer
Systems Engineer
Test Engineer
Signal Processing Engineer
Network Design Engineer
Control Engineer
Computer Hardware Engineer