Your answer is waiting.
Have a question about the Omnibus Speaker Series? You may find your answer here. If you still need more help, please contact us at [email protected]. We're happy to assist.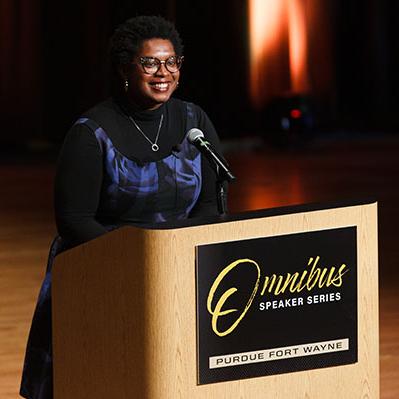 FAQ
They are free. Community members, students, faculty, and staff may reserve a maximum of four tickets, unless otherwise noted.
Yes, they are required for admission.
All tickets ordered online will automatically be available on the night of the presentation at the box office will-call window. Tickets can also be emailed or texted to avoid having to pick them up the night of the show.
They are available two weeks before each event.
Yes, all attendees get reserved seats for the Omnibus Speaker Series. 
To guarantee your seat, you should reserve your tickets in advance, either at the Schatzlein Box Office or through our website. Tickets are sometimes available at the door, but it is better to reserve them early.
Opportunities for autographs depend on the individual speaker. If such opportunities are available, you may bring one item to be autographed. Occasionally, books may be sold on-site before and after the event while supplies last. Prices vary. Cash, personal checks, and debit/credit cards are accepted.
Flash photography and audio and video recording are not allowed. On occasion, a speaker may allow personal photographs to be taken (without the use of the flash). Listen for details about this on the night of each event.
If you need special accommodations to fully enjoy an Omnibus Speaker Series event, the ushers and staff at the Music Center will be happy to assist you. If you have questions or would like to learn more about the Omnibus Speaker Series, contact us at [email protected].