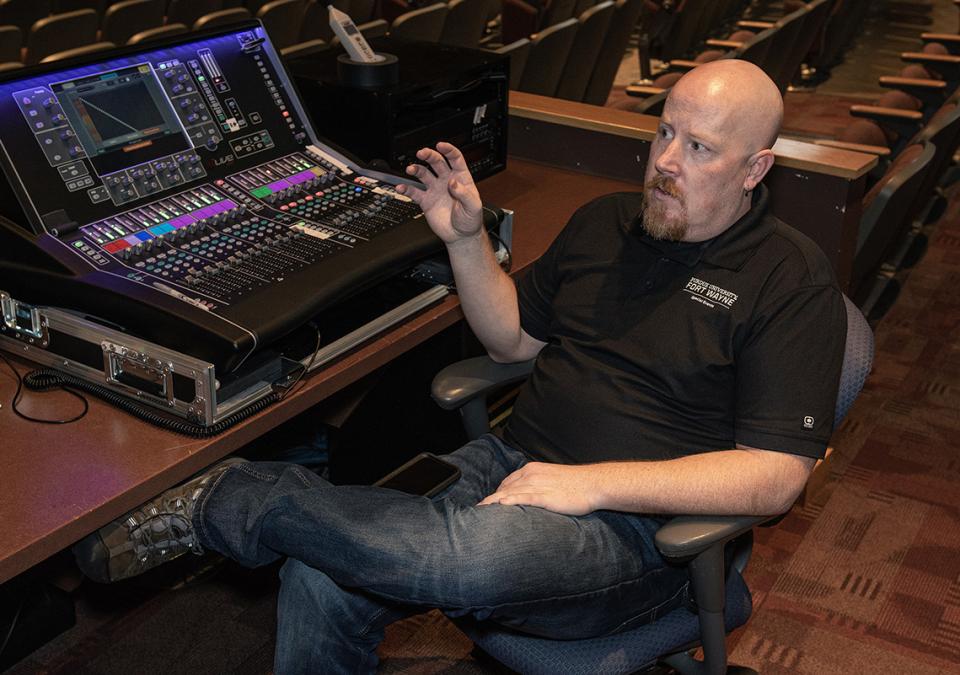 Dedicated People
Wilson haunts Auer Performance Hall for love (of his job)
Tom Wilson, Technical and Facilities Manager, Special Events
As a joke, Tom Wilson likes to call himself the Quasimodo of the Auer Performance Hall. Maybe it's because he's usually crawling the rafters to fix things like audio, video, and lighting equipment, or because his upper-level office in the back of the hall has blacked-out windows. Most people can't tell if he's even there.
It could also be because he's likely the only one in the hall during the daytime as most performances or presentations happen in the evening.
As Purdue University Fort Wayne's technical and facilities manager under Special Events, Wilson's team, which consists of eight full-time employees and more than 10 student employees, is on call for almost every event on campus that doesn't involve a classroom. Annually, that schedule includes more than 200 in Auer and more than 2,000 others. Whether it's a rock concert in Auer, or an hour-long meeting in Walb Student Union, the Special Events team guides clients from booking to completion of a successful event.
"Tom is an amazing person," said Lisa Zerkle, director of special projects and campus emergency preparedness in a written statement. "The depth and breadth of his knowledge, both technical and beyond, is absolutely astounding. And he continues to learn new things, expanding his knowledge all the time. Our events would not be nearly as successful without him on our team. I consider myself blessed (and super lucky) to have Tom as a co-worker and as a friend."
However, the thing about Wilson's tasks is if he does them well, nobody notices he's behind the audio console—or anywhere else.  
"If I'm invisible, I'm doing a great job," Wilson said. "If I make a mistake, everybody in the audience knows it."
But he's not known for making many, with countless people in the business calling him for advice or to help out on Fort Wayne's biggest shows. The thing he loves the best about his job is working with every genre of music. That includes U.S. artists that range from John Tesh to Machine Gun Kelly; African djembe master Bolokada Conde to Indian tabla master Zakir Hussain; and Swedish a cappella with the Real Group. 
One day the Mon people, an ethnic group from Burma, showed up with an ornately carved alligator with eight strings on its back asking Wilson where the microphone should go. The gig can get interesting.
Beyond the music, there are the conferences, lectures, seminars, dance performances, and theatre tours. PFW's Omnibus Speaker Series alone has provided Wilson with the opportunity to work with and learn from astrophysicist Neil deGrasse Tyson, hear an entire auditorium sing along with author and humorist Garrison Keillor, and listen to Rev. Naomi Tutu discuss race and racism.
Wilson's path started as an 8-year-old who discovered the sound equipment in a church technical closet. After asking a couple of guys to show him how everything worked, by middle school, he was running all the audio and visual for the productions. These pursuits continued at Northrop High School before he started college here as a theatre major in 1998.
"They told me if I was going to do the soundboard, that was the only direction to go," Wilson said.
Along the way there were a few unexpected twists and turns. He dropped out of school for a while, started working at Circuit City and rose to operations manager, but left in 2004 foreseeing the company's eventual bankruptcy and closure. He returned to school, this time as a business major, but soon flipped to sociology. 
He graduated with a degree in sociology, realized he was close to a communication degree, and completed that as well. By the time he finished both, Wilson was working as a contract employee for the university, and that became a full-time position in 2012.
Now no day is the same, frequently meeting new people and rarely getting bored. He's even in charge of programming the lights on the Parker-Cole Crossing over Coliseum Boulevard.
"You still want to learn every day," Wilson said. "Now everything is moving to the digital network space, so I've learned more about networking in the last four years than I ever thought I would."
Despite the variety, the best part of the job might be the stability. Instead of working on the road with a show or being stuck for incredibly long and weird hours in a recording studio, Wilson gets a taste of all the great things about the profession here on campus. He's not stuck in one genre or style of music, and every day someone new might walk through the auditorium's double doors with something new to learn.
"I get to be in the same spot, and all the fun stuff comes to me," Wilson said.