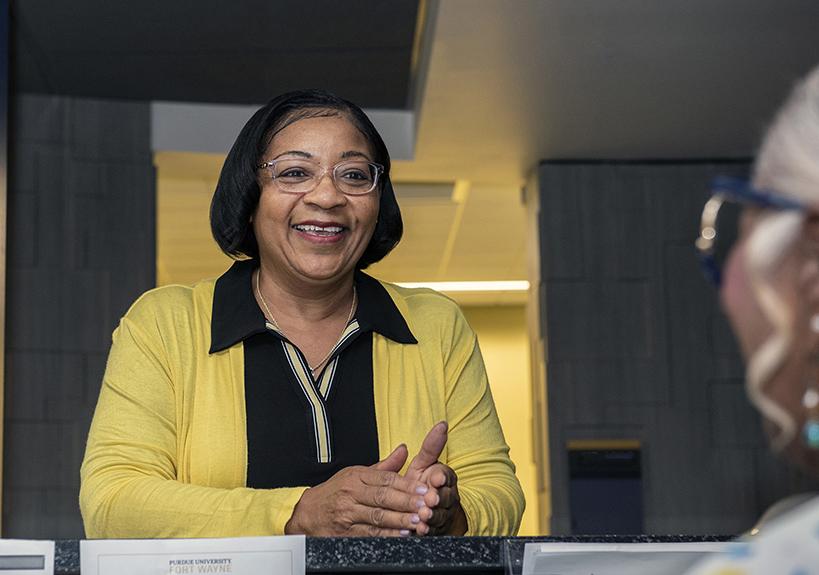 Dedicated People, Positive Progress
Triumphing over adversity to grow and help others
Dimples Smith, Learning and Development Director, Human Resources and Office of Institutional Equity
Whenever someone asks Dimples Smith's advice about a problem, she can empathize and suggest solutions without hesitation. She is able to do this so easily because of the many challenges that she has faced that spawned her ability to turn those challenges into victories.
Due to some unavoidable professional challenges early on, it was difficult for Smith to imagine herself in her current position as the learning and development director at Purdue University Fort Wayne. 
"You have to be able to pick yourself up and continue moving forward, or you will find yourself deeply consumed with the 'Woe is me' mentality, and never get to where you could be."
How she avoided that mentality is remarkable. 
"Here I stand by faith," she said. "Throughout my life, that's what I've held onto. You must have something good you can hold to and ground yourself in when you get to those tough moments." 
As a single mom, she earned an associate degree from Ball State, making her the first person in her family to graduate from college. She began full-time employment at a weekly African American publication after graduating college, but she was no stranger to work, since she worked while in high school. 
Later, she joined a major defense contractor in Fort Wayne, starting as a secretary. Shortly after, she transitioned to human resources. While working there, Smith married, had two more children, and then the company filed for bankruptcy. Her work in human resources provided her with the skills to help those employees find other positions as the new company took over, and she was told that her education qualifications would not meet the new company standards.
She began working for a gas pump manufacturer, and since the company offered tuition assistance, she started work to acquire her bachelor's degree. She started as a clerk in the manufacturer's marketing department, and shortly thereafter, again transitioned into human resources. When that company went bankrupt, costing her another position, she discovered that the jobs she desired required a higher degree. 
"It was a blow to my self-esteem to have all this experience, and realize that more of it didn't matter," Smith said. "Add the beginning of personal issues, and me still trying to move forward on pursuing a higher degree, it was a struggle."
As she looked for employment, Smith decided to see if the university had any open positions. Although the position she was offered provided 60 percent less than what she was making in her previous job, it allowed her to continue her studies, providing her the opportunity to complete her bachelor's degree and to earn her master's degree. "It made me want to work harder," Smith said. "It gave me more drive because I wanted to be successful, and sometimes you have to make those sacrifices to be successful."
She started with the university in a clerical role in General Studies, which was under the Division of Continuing Studies. About six months later, one of the employees from Human Resources asked Smith if she had noticed an internal opening in that department. Content and comfortable with her current job, Smith was hesitant, but her coworkers encouraged her to go for it. She applied for the job and the rest is history.
She's worked in Human Resources since 2004.
"PFW has been good to me and for me," she said. "My family has always been incredibly supportive of me. My sisters would tease me about my degrees, saying, 'When are you going to stop?' But they were also always the first ones to show up at graduations and have always supported me."
Sometimes a person in the middle of a crisis can't find the reason why and is simply trying not to drown. When Smith is helping someone through their challenges, looking back, she can see the purpose for it all.
Now, she encourages others to keep striving just like she did. Her favorite part is when she gets thankful feedback, that the advice she's shared helped them do the work they needed to do to succeed. They've listened and benefitted from her experiences.
"Always challenge yourself to navigate through with strength and not look at things from doom and gloom," Smith said. "Ask, 'What is the lesson I need to learn from this? Where do I need to grow, and what do I need to do?'
"Life can either make you or break you, you decide. I decided it wasn't going to break me. Our family is one that does not let the circumstance of our lives, or what is happening to us, control our mindset."