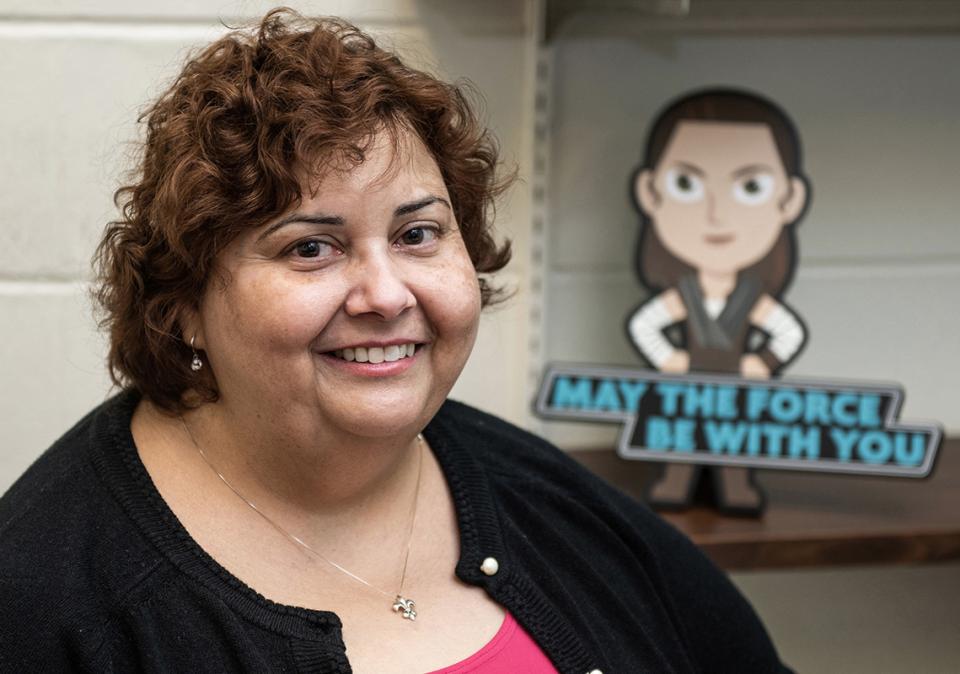 Dedicated People
Tierney connects with 'her kids' through shared interests
Heather Tierney, associate professor of economics, Department of Economics and Finance
Though she doesn't have children, Heather Tierney often refers to "her kids." It's instinctual because there are a ton of former and current students she regards that way, and she'd do just about anything for them.
"I sometimes say, 'You are not my kids, go home!'" the Purdue University Fort Wayne economics professor said with a laugh. "But then they don't go home."
When they do, she misses them and feels the loss.
"I used to be sad at graduation because they were leaving, and then I realized they don't leave, and you can still be in contact with them," Tierney said. "It's important that they know I'm here for them, and they can reach out to me."
They often do, sometimes sending her stuffed animals or figurines based on her love of science fiction and fantasy television and movies. She loves "Star Trek" especially, but enjoys talking about "Lord of the Rings," "Star Wars," "Guardians of the Galaxy," and "The Incredibles," particularly the costume designer Edna. Tierney has knickknacks all over her office, even a Baby Yoda (Grogu) cell phone holder on her desk.
"The whole 'May the Force be with you,' was about the inner strength that comes from within, and how you can push yourself to do more," Tierney said. "I'm really attracted to that message, and good sci-fi, you can take on one level with action, but there's also philosophy in there as well."
Inner strength resonates with Tierney so much because since age 15 she has dealt with severe rheumatoid arthritis. She has suffered with her body attacking its tissue and uses a cane to walk. Early on, she had replacement surgery in both hips.
After growing up in Los Angeles, Tierney's career in higher education eventually landed and stayed in the Midwest because she found similar graciousness and kindness from people here. On her first day visiting campus, she knew this would be home because of the kindness and courtesy everyone showed that we often take for granted. Everyone gave a little extra effort that day to accommodate her, something Tierney was not always used to.
"I was scheduled to go see the HR person in Kettler, but they could see I was having trouble walking, and instead they brought that person to me," she said. "The people are just incredibly nice. They were just being themselves, and that's what I appreciated about them. It's not because they have to be, but because they want to be. It's not only in my department or campus-wide, it's all of Fort Wayne.
"I know that every town in America seems to believe they are the friendliest people in the United States, but as soon as I came to Fort Wayne, the people were just so nice and friendly. People are very welcoming, and they want to talk to you, even when it's in the line at the grocery store or waiting for gas."
Tierney said she doesn't mind when she's regularly asked about the country's current economic situation. Earning a Ph.D. in economics from the University of California, Riverside, her thesis was titled, "Essays on Inflation and Nominal Interest Rates."
Sometimes she gets asked to provide her perspective in stores or just out and about. In fact, in November 2021, Tierney suffered a broken sacrum and ended up in the hospital and rehabilitation center for more than a month. The nurses and other staff continually asked questions about the economy.
"I was happy to help," Tierney said. "I try to reassure them that we will get through. You have to have the historical aspect, and if you go back to 1974 and '79, our inflation rates were double this. We've been through worse, and I don't say that to minimize people's suffering, but to give them hope. We will get better."
This past year, Tierney received tenure after teaching at PFW since 2016 following stints at UC Riverside, the College of Charleston, UC San Diego, Tulane, and Mount Holyoke College in South Hadley, Massachusetts.
"PFW is really a good school," Tierney said. "Of all the schools I've worked at, there is none like this which hustles to help the kids get internships and jobs. There's no school better."