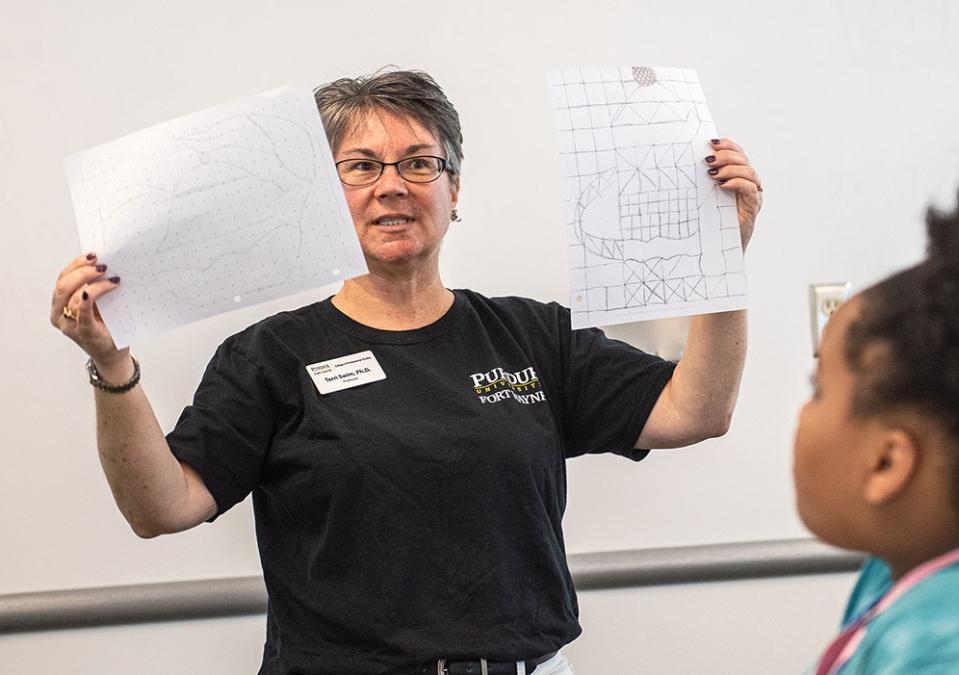 Dedicated People
Swim's drive pushes for continual excellence among PFW's future teachers
Terri Swim, associate vice chancellor for academic programs, School of Education
Looking at Terri Swim's three titles, it's a wonder she gets everything done. And that's before taking into account the passion, dedication, and thoroughness that drives her to never settle for less than excellence.
Swim is Purdue University Fort Wayne's associate vice chancellor for academic programs, meaning she helps faculty build programs from ideas to full approval and implementation as classes.
As the director of student teaching, she's working with all of the student teachers in the School of Education, 86 this semester, including 20 who have two placements.
And then there's Swim's initial love as a professor of early childhood education, where she built her career after graduating from Purdue University and earning her doctorate at the University of Texas at Austin. Following stops at the University of Wisconsin-Stout and Akron University, she found a home on the PFW campus 21 years ago.
"I like the people I work with," Swim said. "I have always liked this institution. It's small enough but also big enough, and I like the different roles. I've been able to move from assistant to associate to full professor and chair to associate dean, and now associate vice chancellor. I've had all these opportunities open up and been able to stay and do new things."
She teaches one class during the fall, spring, and summer semesters, always trying to instill into her students that they have the power to affect generations. Their work is that important and deserves their best efforts and care.
"We talk about changing the world," Swim said. "Everything they do matters, and I keep telling them to think about how this child could grow up and live next to you one day. They could buy the house next door! How do you want them to behave as a citizen? You have to be careful how you are treating them because that is how they will treat others."
So much is asked of teachers, and Swim tries to prepare them by making them explore and rely upon the theories they have learned. The theories give students a framework for what they will deal with.
"I very much believe in constructivism, meaning I don't give them the answers, they have to figure out things for themselves," Swim said. "When they come to class, they are expected to have done their readings, and then we work on small group activities, applying what they have learned, looking at case book studies, vignettes, these sorts of things. I don't typically lecture to students because that's not how humans learn. It's about putting experiences in front of them and then having them analyze them."
Swim believes it is harder to educate teachers today because they have gone through earlier educational experiences that are about having the right answers, instead of having critical thinking skills developed to understand why it is the right answer.
"Student teaching is the capstone, and I wanted to help bring in more of an academic focus to that," Swim said, "making them dig back into what they have previously learned. I want to know which theory influenced them. Which concept from which course are you applying here? They need to make these deeper connections between what they have been taught and what they are doing versus just doing something."
It's helping these young teachers see the value of their education and how to recognize what they have learned to be more effective, Swim said. She's trying to get them to better use the tools they have been given to be better as classroom leaders.
"I have always had very high expectations because we cannot mess with the lives of children and families," Swim said. "I have always expected and have told students you cannot have average knowledge. You have to be better than that."
She's tough, but not as hard as the challenges ahead. Becoming a teacher is not easy, but Swim  knows it is a noble profession that can change the world. She's also trying to honestly prepare them to face the adversity and hard work that is required. Because it is so demanding, there is little opportunity to "ease" into the profession. She wants them to be successful and fulfilled and not set up to fail.
"It's our moral and ethical responsibility," Swim said. "I show that I care by pushing you to do your best. What we know is if they don't go out where they can be strong, the first year (of teaching) might be their last. We're really pushing them because the first year is so hard, and the second year you can start to breathe a little. We know we lose a lot of them between years three and five, but we're trying to prepare them because this is going to be hard, but it is also going to be joyful."
When she's not guiding future classroom leaders, Swim and her husband Danny love attending plays at PFW and Arena Theatre and spending time with their children, Savannah, 23, Randy, 22, and Justin, 21.