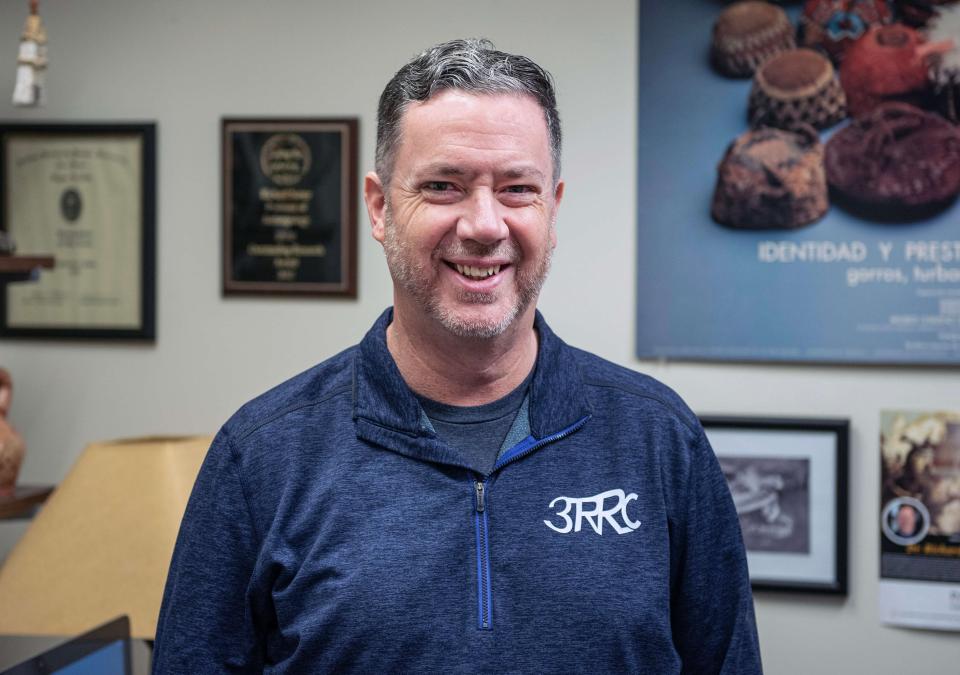 Dedicated People
Sutter has passion for life, but works through death
Richard Sutter, Professor of Anthropology
Growing up in Rochester, New York, Richard (Rick) Sutter thought he wanted to become an exercise physiologist and biochemist. Then he took a comparative primate anatomy class at the State University of New York in Buffalo.
"I recall the first time I was led up to the human dissection, and I wasn't sure if I was going to faint," Sutter recalled with a chuckle. "I was very tense and upset."
When Sutter was considering career paths, he knew he'd need to be selective because he never wanted to harm anyone. He couldn't even handle it when his daughter had her ears pierced.
Ultimately, he became an anthropology professor at Purdue University Fort Wayne. Now, ironically, as he says, "I have a passion for life, but I work through death."
Sutter's specialization is researching the inhabitants of South America dating as far back as prehistoric times, annually traveling to Peru, Bolivia, and Chile to work with skeletal remains. His ongoing project examines the remains of people – including children – captured by rivals and executed by having their hearts cut out as part of religious rituals.
With great detail, Sutter can hypothetically describe the ancient scenes at his worksites through the preserved footprints. Though these sacrifices likely happened between 1000 and 1500, before Spanish colonization, he studies the victims' teeth to discover genetically influenced characteristics. He's studied the peoples of the region leading up to the colonial era and can demonstrate the victims came from other areas. 
"Every single kid or executed prisoner, I literally am imagining what their last moments were like, the terror and just how horrific it was," he said. "When I work on these remains, it bothers me. I'm excited to collect the data and answer the questions, but for every single skeleton you work on, all I can think about is how horrific it was."
Sutter's work on sites like this also honors the dead and makes sure they are remembered.
There were also earlier killings of enemy adult male warriors from the Moche era (AD 200-800), where they were killed at their own capital site. Sutter compares those atrocities with those being committed now by terrorist organizations such as ISIS or the Taliban, and the ongoing executions in Iran.
"They were trying to expand into adjacent territories by capturing the local people and publicly executing them through huge spectacles," Sutter said. "With ISIS and the Taliban, it's the same stuff, the same processes. When you have societies like this that didn't have all the infrastructure to maintain a state-level society, the way you control a population is by scaring the crap out of them."
Because the region was experiencing a severe drought for approximately 50 years, resources were thin, and other societies were moving down from the highlands looking for water. This put a horrific strain on local agriculture and other resources.
"You end up having internal conflicts," Sutter said. "Recognizing that migration is an absolute inevitability with climate change, it's going to cause strains on governments and cause governmental collapse. It's going to cause warfare and conflict, and there are going to be some very nefarious actors on the world stage who are going to use horrific violence."
An avid runner and local running coach, Sutter completed the Chicago Marathon in October. Starting in November 2019, he started a goal of running at least three miles every day. An all-conference competitor in high school, he delights in sharing the sport with runners of all ages, relishing the camaraderie and being outdoors. 
Though Sutter has had offers to work at nationally known universities, he also loves PFW – his home since 1998. He thrives in helping students ignite their passions, working with several who have joined the archeology and teaching fields.
Growing up in Rochester, Sutter had friends who were just as talented and bright but didn't get the chance for a college education because they were underprivileged. They didn't have the same opportunities, partly because sometimes the faculty didn't help them facilitate their future.
"So many kids come here because they may not be able to go elsewhere," Sutter said. "They deserve just as good an education as kids at Stanford or Harvard and all these other elite institutions, and they deserve people who are going to help them achieve their goals.
"I feel committed to PFW for that very reason. I don't think education should be an elite, exclusive thing. Not everybody is going to succeed, but I think everybody is at least entitled to that shot. You get the right faculty and people who care and show you the path, it makes a massive difference."