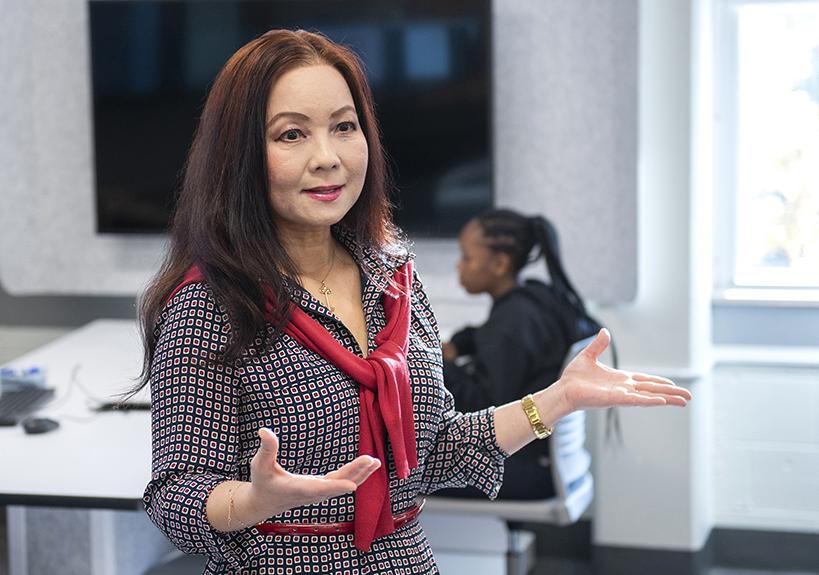 Dedicated People, Positive Progress
Student appreciation highlights interior design professor's effectiveness
Suining Ding, professor of interior design
Though she's an expert interior designer who specializes in healthcare environments that make people comfortable, the most eye-catching part of Suining Ding's office is a simple foot-high metal tree sitting on a small table. It's filled with about 15 small cards that all have "Thank you" on their covers and were sent by current and former students.
The cards are an example of how much time and love Ding puts into her students. She uses the tree to decorate, but it also reminds her she is doing well and that what she does means something.
"It's such a nice surprise to receive those kind of things," she said. "It warms my heart."
Actually, Ding gives the students a piece of her heart and her love of design. They come into her classroom with many ideas, and she shows them how to make them real. The Purdue University Fort Wayne professor of interior design knows what she's supposed to be doing, and thank-you notes like these reinforce her commitment to her craft.
"I try to inspire students," she said. "I'm teaching the method, and you can apply this method to different situations and different life scenarios. I try to inspire them and guide them at the beginning of their careers or their destiny."
She's really trying to instill the knowledge that will help them be successful by providing the tools and methods she has earned in her education and professional practice. Some of those habits Ding learned growing up in China, the daughter of professors and researchers who encouraged her to leave home at 20 to pursue excellence.
After graduating from Ohio State University in 1994, she worked professionally in Ohio for 10 years designing healthcare facilities before moving to Fort Wayne as a professor in 2003. Teaching was always her goal, she said, and the professional experience provided the foundation for her instruction.
"For the healthcare design, we want to create an environment that promotes healing," Ding said. "My research is driven by the commitment to help people, especially vulnerable people, to make them feel safe and comfortable, so they can heal faster and achieve the most favorable medical outcomes. Design should meet all the human needs, such as privacy, connecting with nature, and family."
There's an art form to it, but it's built on constant research to find and create trends, new designs, and facilities. Study informs and allows her creativity, and Ding uses it to integrate research components into her classes to teach students how to use evidence-based design.
"As the designer, you have the ability to change the environment and change the world, and help people in many different ways," she said. 
That includes things as complex as helping people with disabilities, or situations such as dementia, vision impairment, autism, or learning problems.
But why did she give up her professional career to become a professor? Why give up something she obviously has such passion for to begin a new career? It was actually a challenge to keep reaching higher and not settling.
"I always thought gaining the experience would help me become a better professor and enrich my experience," Ding said. "In all fields, exposure is critical. If I want to be a good professor, then I need to have those experiences."
And by becoming a good professor, she can influence 10 times more healthcare designs than she could as an individual. Ding recently finished writing her fourth book and says writing allows her to continue her research and design, pushing her to tackle more creative challenges. The book, which will be released next month, lets her to utilize a combination of her creative and analytical abilities she could not do in the professional world.
"Dr. Ding is extremely passionate about interior design and is dedicated to helping her students succeed," said former student Madison Foreman. "What sets her apart is the time and effort she puts into the structure of her classes. I'm no longer in her department, but she always makes an effort to smile at me in the hallways and to ask me how I'm doing! She's one of my favorite professors at Purdue Fort Wayne!"
It also keeps her pushing to find new inspirations for her students, and that legacy will outlast everything she does.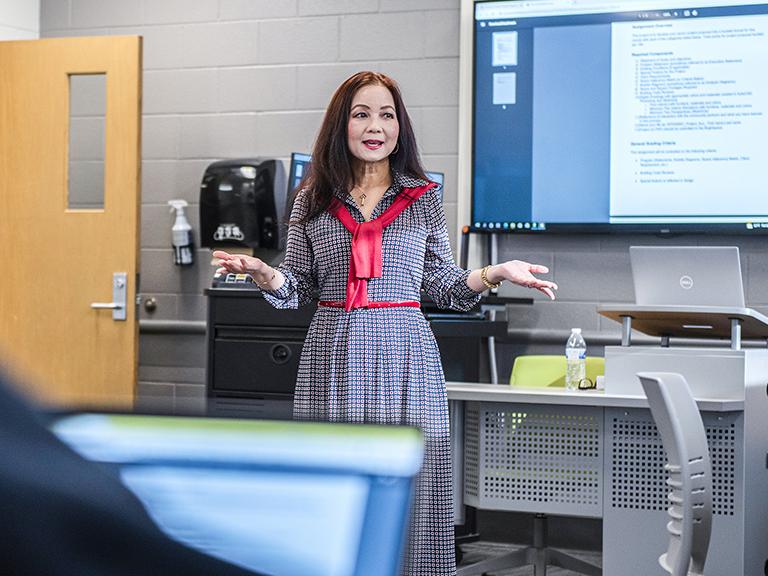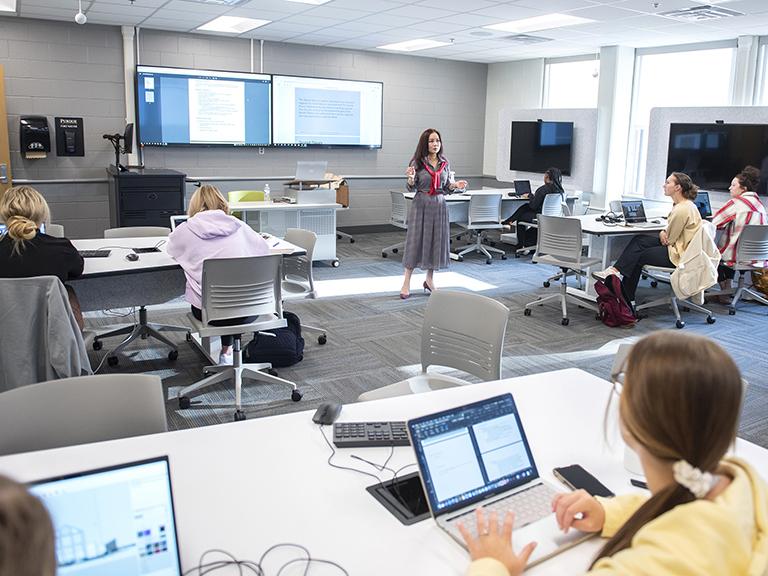 Suining Ding teaches an interior design class
Suining Ding teaches an interior design class
Suining Ding teaches an interior design class
Suining Ding teaches a class