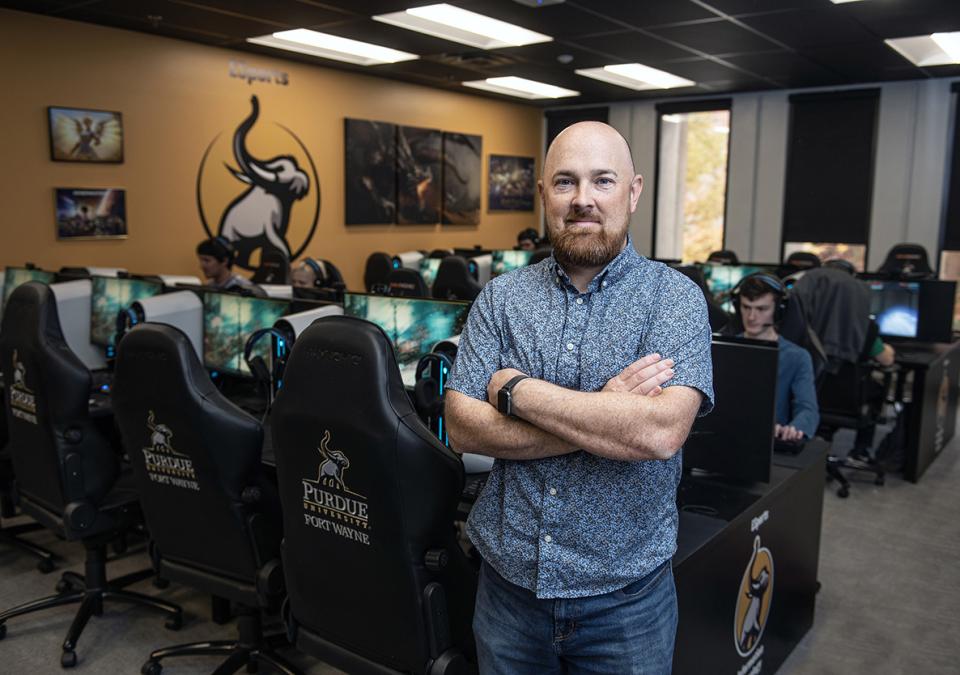 Dedicated People, Positive Progress
Spaulding exemplifies behind-the-scenes service in IT world
Brian Spaulding, assistant director of technology support and Esports
How many people working at Purdue University Fort Wayne get to know without doubt they are making a dramatic, immediate impact that affects everyone on campus?
An essential job function for those working in Information Technology Services is helping everyone else adapt to constant, relentless, ever-evolving change. Somehow, their mission is to assist in making others feel comfortable, usually with things never tried before.
But what happens when they are confronted with something unheard of?
Brian Spaulding, the assistant director of technology support and Esports, doesn't interact much with students, but his efforts impact them all. He started working on campus as a freshman in 2000, pushing audio-visual carts to classrooms, so he's been around a while and seen all sorts of evolution at the university. 
But the last few years proved the previous 20 or so were just the warm-up. 
When the pandemic started, Spaulding and everyone else in ITS had to shift to an entirely new remote learning system. That meant they had to help students and professors learn to use their computers in different ways, had to hand out computers and hot spots to those who lacked reliable internet access, and had to set up a remote infrastructure the system could handle. They even created a hotspot in Parking Garage 3 so people could drive in to get connected.
Then, because of government grants, there was an opportunity for PFW to make a generational leap ahead. ITS concentrated on installing technology that allowed classrooms to become essentially television studios with new cameras, microphones, and recording options. Professors can now watch their instructions on TVs hanging in the back of classrooms so they don't have to show students their backs as they point out details on dry erase boards.
In many instances, the work is ongoing because of the computer chip shortage, but the grant deadlines forced ITS to push ahead with purchases anyway. There's no way to know when the chips will arrive, especially since so many universities bought the same equipment during the same timeframe.
Some of that work encouraged other projects like the 3D printing lab, which has already created more than 4,000 projects and expanded to six printers. 
But Spaulding has a wonderful, balanced perspective on all the changes.
"I've just enjoyed working with technology and making an impact on students," he said. "When I was a freshman and I had to make a presentation, I did it using notecards. Now, we've given students the opportunity to have a cool presentation with audio and video, and they can change their presentation."
The circumstances allowed the university to evolve ahead of schedule, but the results have been obvious. 
"It forced us to make some of these investments and gave us an opportunity through federal grants that we wouldn't have been able to do otherwise," Spaulding said. "And it's not just for COVID, but for student-athletes, too, who are on the road and now can attend their classes remotely. Somebody who is not feeling well can still join class, or the teacher can record it, and you could watch it later."
Plenty of rooms are still being updated, but there's a feeling of accomplishment for Spaulding and his staff, who have made such a huge difference for everyone on campus.
"The product that we provide here, we want to be able to provide a good education with students in seats in a classroom with good technology, or they are going to go somewhere else," Spaulding said.
He's also a strong proponent of PFW's developing Esports program and an avid disc golfer, recently designing the university's 18-hole course.
Asked about the best part of his job, Spaulding said, "Being able to bring brand-new technology to campus. I always hated giving speeches with notecards, and now I can say, 'Look at the presentation, look at the content.'"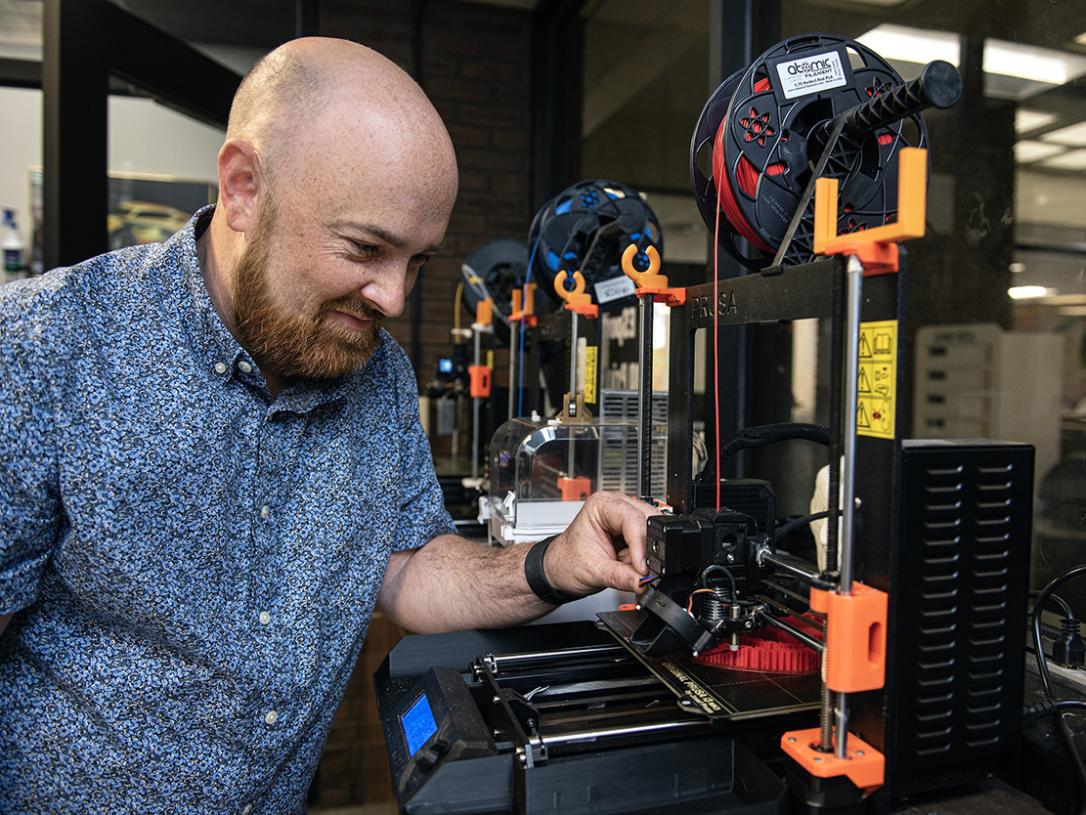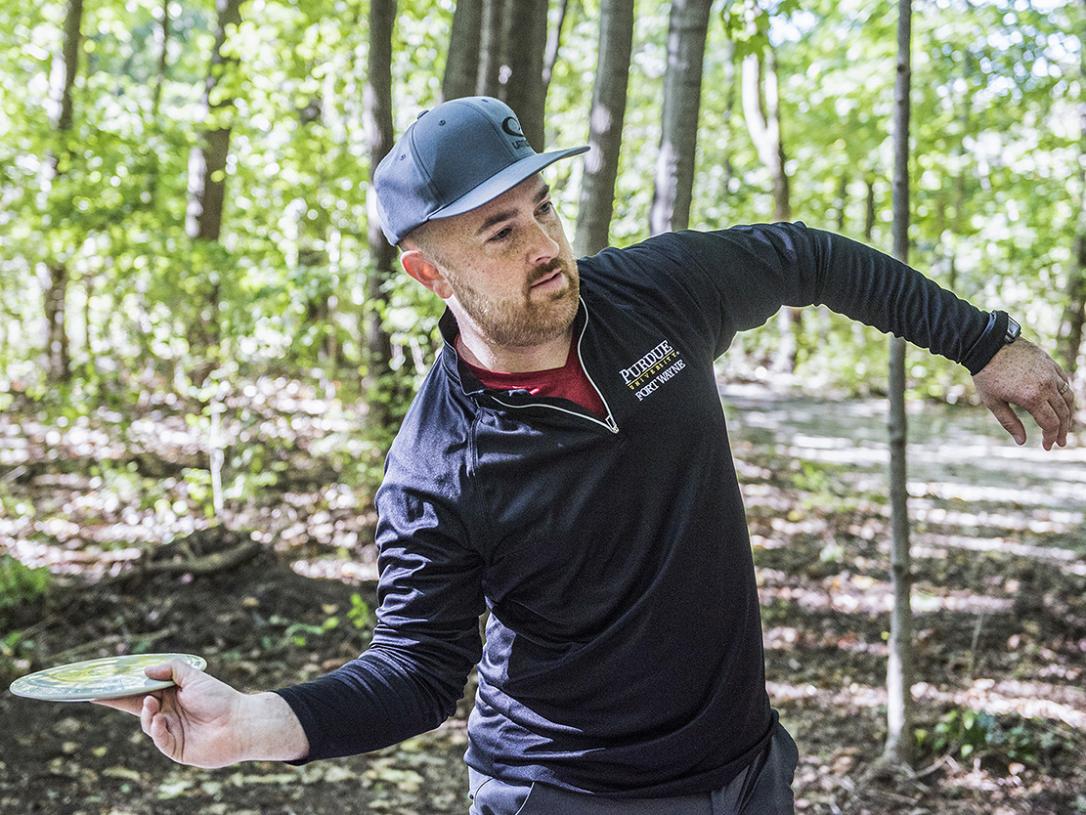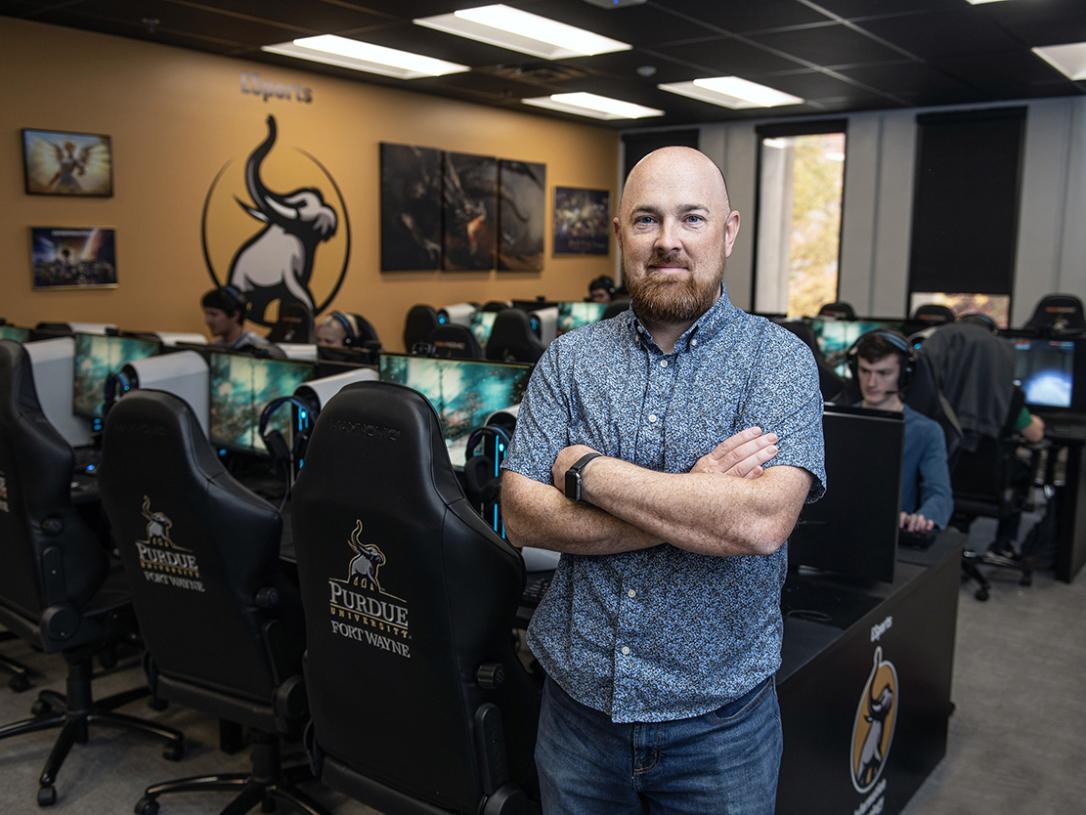 Brian Spaulding in the 3D printing lab at Purdue Fort Wayne.
Brian Spaulding playing on the Mastodon Disc Golf Course on the Purdue Fort Wayne campus.
Brian Spaulding visits the Esports lab in Walb Student Union.