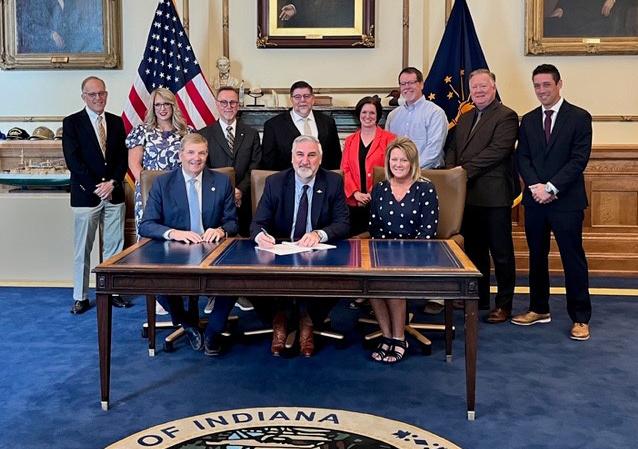 PFW Story
PFW faculty drive education legislation for Transition to Teaching scholarship dollars
Whenever Brad Oliver teaches educational policy classes, he describes Chinese finger traps when referencing the relationship between lawmakers and education leaders. Each side sticks a finger in but immediately pulls back because neither wants to give in, meaning they are stuck together in battle. 
"That's education policy in a nutshell," said Oliver, chair of Purdue University Fort Wayne's Department of Counseling and Graduate Education. "You have practitioners in educators and school administrators, and you have policymakers in legislators, and instead of coming together and talking, they are often working in opposition to one another."
That makes a recently passed Indiana law more intriguing.
Like most states, Indiana has had a teacher shortage for several years as not enough graduates are coming out to make up for teachers who are either retiring or leaving the profession. The Indiana Department of Education reported 1,675 teacher openings after the 2022–23 school year had begun.
A partial answer has been emphasizing transition to teaching programs that attract college graduates who are professionals in other fields to earn teaching licenses. A former State Board of Education member, Oliver proposed an idea which would build upon existing legislation called The Next Generation Hoosier Educators Scholarship. The current program provides 200 high school graduates interested in education careers with a renewable $7,500 scholarship. Oliver suggested expanding the program to award one-time, non-renewable $10,000 scholarships for transition to teaching candidates.
The proposal passed through the Indiana Senate Committee on Appropriations on a 9-0 vote, and the House Committee on Education on a 13-0 vote, before heading to the House Committee on Ways and Means where it passed 24-0. The measure then passed the House of Representatives with 93 yes votes, six excused, and one not voting. The Senate passed the bill with 48 yes votes, one excused, and one not voting.
Somehow, both sides worked together to produce a nearly perfect bill, which became law when Indiana Gov. Eric Holcomb signed it on May 22. Oliver and Wylie Sirk, PFW's associate dean and director of educational leadership, were in attendance as Holcomb quipped, "How did this happen?"
Oliver first pitched the idea to Isabel Nunez, dean of the PFW School of Education, and Sirk late last summer. Existing state law allows transition to teaching candidates to work in classrooms immediately as long as they have a bachelor's degree and are enrolled in a teaching education program. According to Oliver, PFW has 65 students in the program and another 46 who are applying, but their first question is usually about financing.
"We really do have a lot of people out there who are looking for a new career," Sirk said. 
In October, Oliver and Sirk told Fort Wayne Community Schools Superintendent Mark Daniel about the idea. As Oliver wrote a two-page proposal, Daniel called East Allen County Schools Superintendent Marilyn Hissong for her input. She contacted Indiana State Representative Dave Heine and local schools lobbyist Oliver Darby.
The next step was to find a way for area elected representatives and education leaders to talk about the proposal, which happened at the Upper Wabash Valley Superintendents Study Council's December meeting. After hearing how much the school districts needed help and how it was part of an existing program, legislators were convinced. Heine wrote the bill.
"We actually moved them together," Oliver said. "Everybody won on this. All we did was help the lawmakers understand what the current rules on licensure say we can and can't do, and how this will help incentivize other people to come into the program. Having those lawmakers understand the legislation before it got in front of them was critical in its successful passage."
Sirk testified before the house committee along with Daniel, Hissong, and Amy Heavin of Trine University. As a former elementary principal and North Adams Community Schools superintendent, Sirk was able to help lawmakers understand the need to incentivize more career professionals to enter the teaching profession.
"I don't think it really took a strong selling job," Sirk said. "Legislators know the shortage is real, and it's their problem in a lot of ways, and they are trying to take steps to help. They saw this as a winner for everybody."
Now a pilot program, the legislation appropriated $1 million for 100 scholarships, but there are opportunities for expansion with positive results.
"It's going to be a game-changer," Oliver said. "It's changing the dynamic of how you recruit new educators because it allows schools to recruit career professionals who don't currently hold a teaching license. In approximately 12–16 months, these same career professionals can begin making important differences in K–12 classrooms throughout the state."
Photo caption: Back row (left to right) Chris Lowery, commissioner for higher education; Katie Jenner, Indiana secretary of education; Wylie Sirk and Brad Oliver, Purdue Fort Wayne; Amy Heavin, Trine University; Phil Downs, Trine University; Mark Daniel, superintendent of Fort Wayne Community Schools; Oliver Barie, Borrer Public Affairs. Front row (left to right): Rep. Dave Heine; Gov. Eric Holcomb; Marilyn Hissong, superintendent, East Allen County Schools.