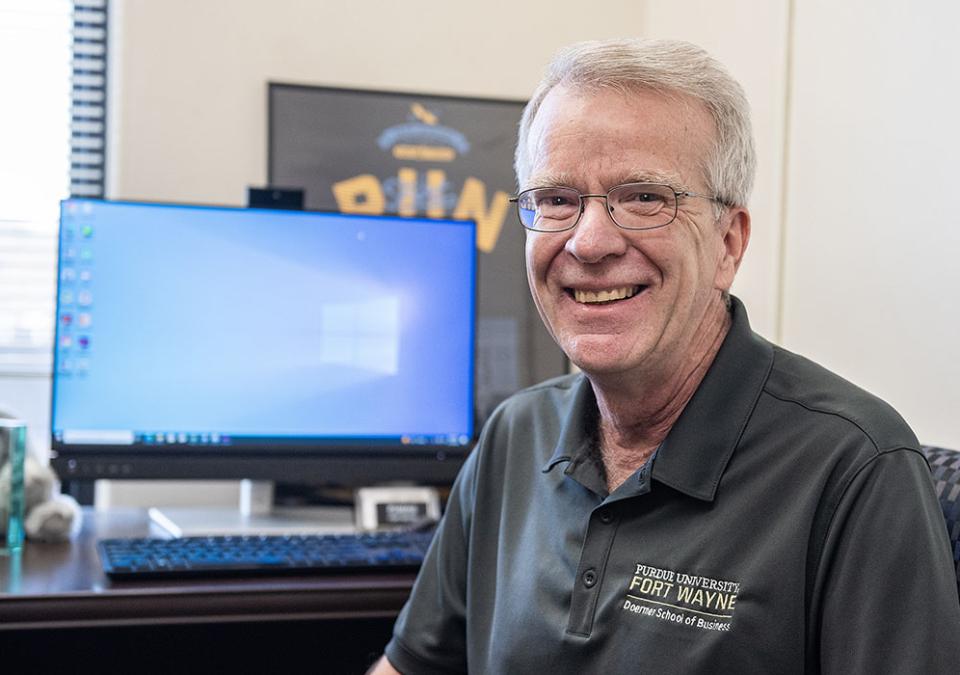 Dedicated People
Mike Slaubaugh's three passions add spice to accounting professor's life
Mike Slaubaugh, professor of accounting, Doermer School of Business
Mike Slaubaugh is truly a blessed man.
Along with his wife Linda, son Evan, and teaching, the Purdue University Fort Wayne accounting professor has found three long-time interests he loves.  
Before arriving on campus in 1995, Slaubaugh grew up in Kokomo, where he picked up running in the eighth grade. Slaubaugh was pretty decent, too, making the Western High School varsity squads in cross country and track and field before continuing the pursuit at Manchester College.
He's had many highlights during his competitive career, including finishing the American marathon trifecta of Boston (twice), Chicago, and New York. He placed in the top 10 in the Indianapolis Half Marathon in 1986, when the race was something of a Midwest championship and drew more than 8,000 runners.
His marathon days crossed the finish line in 2015, but Slaubaugh is still a dedicated runner, taking off every other day after work and competing in the occasional race. He completes 20-to-25 miles a week, enjoying being in all elements. A few years ago, he accomplished a personal-best challenge by running three miles in -16 degrees.
"Running was extremely important to me in years past," Slaubaugh said. "All of my training was on running for time, and now I just run for enjoyment and to get outside."
While earning a doctorate at Indiana University, Slaubaugh discovered another lifelong enthusiasm, meeting international students, including his wife from Beijing. Those relationships increased at PFW, where Slaubaugh served as an advisor to various international student clubs.
"I just enjoy connecting with international students on campus and getting to know them and their culture," Slaubaugh said. "In general, they wouldn't be here if they weren't adventuresome and outgoing to begin with and willing to meet others."
And so is he. Slaubaugh said he's interacted with students from at least 115 countries at PFW. He's also visited 38 countries and 44 states with a goal to travel to 50 states and 50 countries by the time he's finished.
For years, the Slaubaughs would host annual dinners for international students, and he would provide them regular rides to the grocery, pulling out a book while they shopped. He figures he's helped around 150 students on those trips.
"If my son was in a different country as an exchange student and didn't have a car, I hope someone would help," Slaubaugh said. "It's the same thing."
Another thing that excites Slaubaugh is being the statistician for IndianaRunner.com. In 2015, the retiring Jon Tabor handed the job of keeping up with the Indiana high school cross country state meet results to Slaubaugh, who decided to add the history of the boys and girls state track and field meets in 2020. It's a massive effort, considering Slaubaugh is trying to find every medalist's first name and grade dating back to 1904 for the boys. He's completed the task for the girls' meets, which started in 1974.
That's lots of time looking through old yearbooks, programs, and newspaper archives—and sending tons of emails to potential family members of those he's missing. Slaubaugh's list started with about 8,000 names and classes and has whittled down to just 37 after about 2½ years of research.
"It's just a little fun detective work," he said. "It's a hobby that combines my profession in a way. We do research as accounting professors, and the database is also numbers-oriented."
It's a way for Slaubaugh to give back to the sport he loves. He's been going to the Indiana state cross country and track and field meets since 1976, only missing a couple.