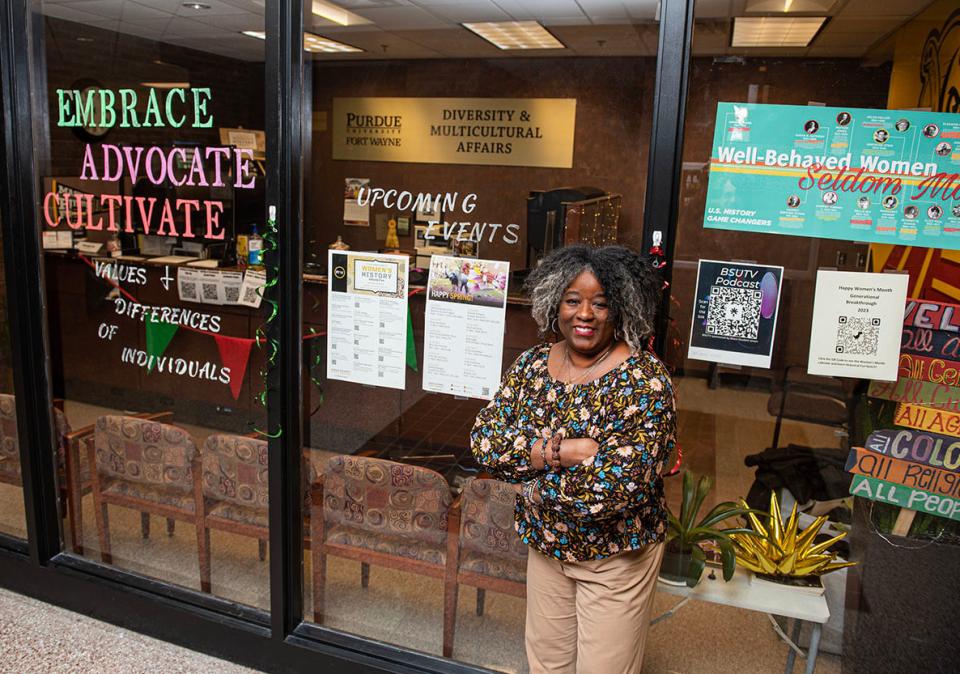 Dedicated People
Meriwether helps connect students to what's possible at PFW
Rhonda Meriwether, director, the Multicultural Center
Attached to a filing cabinet drawer in her office, Rhonda Meriwether has a collection of her nametag badges which denote her eight job titles since starting work on campus in 1991.
They show her professional progression and her dedication to Purdue University Fort Wayne.
As director of the Multicultural Center, Meriwether works for the university, but she'll tell you she actually works for the students. 
"The way I see my job is I'm here to help connect with students so they feel comfortable and welcome on campus, so we retain them to graduate," Meriwether said. "I work with everyone. Multicultural means everyone. It's a fun job, and I live to stay busy."
That includes helping the center direct nearly 60 social events per semester that introduce students to each other and to the resources the university offers. She's a bit of a mother hen, big sister, mentor, and someone to go to for advice. She's worked on almost every level of campus since she started in what was then called Student Advising Counseling Services, and she's never been someone who passes on a student asking for help to someone else. 
"We did a lot of pre-majors, working with people who were undecided or who had not yet qualified to work in their major field," she said. "It was more about getting people in the door versus retaining them. Then we would send them on to their designated departments."
Helping students rise to a higher level is something she's thrived at. Others notice it too.  
"I was really impressed by Rhonda's bravery to work with provisionally admitted students because the staff at educational institutions are under intense pressure to help students succeed and are often blamed for circumstances beyond staff's control when students under their supervision struggle," Senior Assistant Registrar Jose Martinez said. "Rhonda never exerted unnecessary pressure on her students to make her program a success. She has always put her students first and was concerned with helping students choose pathways best for their goals in life and circumstances."
Meriwether is also famous among students for always having snacks available and often staying late to accommodate their needs. Another story that typifies her willingness to share is how she gave away her Tennessee State mascot, a stuffed tiger, to a younger visitor who fell in love with it. 
Many things around the university have changed since she started, but Meriwether has seemingly always been building the atmosphere and continuity of a place students want to become part of. She began her current position less than a year ago. 
"I applied because I was interested, and I stayed because I enjoyed it," Meriwether said.
She's always suggesting, pushing, and encouraging students to get even more involved and experience all PFW has to offer. The more involved they are, the more people they meet, and the more they get out of their education. There's so much to explore around the university and within themselves, she said. 
"Rhonda has a passion for the students," said student Nia Guy, a senior in human services. "She always makes sure she checks up on students and staff. She always has a smile on her face no matter what and sets an example to know that we are all important."
There's no way to calculate how many students Meriwether has influenced, sometimes changing the direction of their lives for the better. She's been an incredible example. It's not just her job, but how she lives.
"Rhonda has always been dedicated to education and those around her," said Regina Gordon, senior administrative assistant at the Center for the Enhancement of Learning and Teaching. "She is a remarkable person and is truly dedicated to making each person feel like they matter! I describe Rhonda as a genuine, very positive, heartwarming person who gives her all."