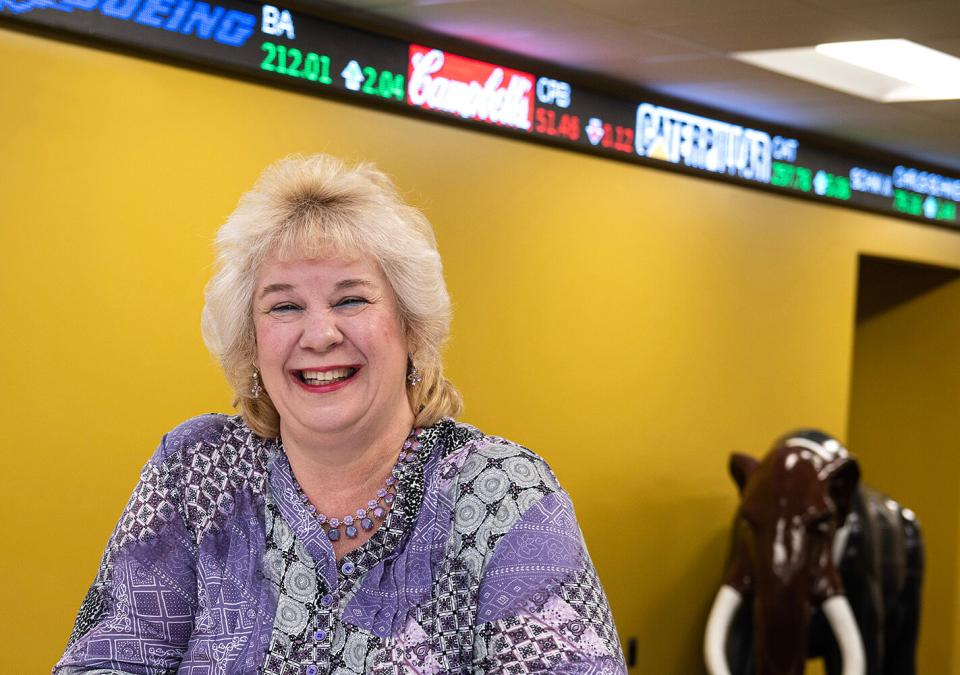 Dedicated People
Every sign points to Lisa Brodasky being a big help
Lisa Brodasky, executive assistant and business operations manager, Doermer School of Business
On the wall over Lisa Brodasky's desk, there's a sign saying, "Be the reason someone smiles today."
The sign perfectly describes what the executive assistant and business operations manager means to everyone she works with.
And also, under the front of her desk is another sign that says, "Chaos Coordinator," a gift from her boss, Melissa Gruys, the dean of the Doermer School of Business at Purdue University Fort Wayne.
Brodasky is famous for helping everyone else at DSB control their chaos.
"Lisa is a wonderful person," said Chadi Braish, director of the MBA programs. "She makes every effort to make every single student, faculty, staff, or community member feel welcomed, and she genuinely cares about everyone's well-being. She always makes every effort to help everyone she comes across and takes ownership of other people's problems. Very few people are that genuine."
As Director of Development Eve Colchin once said of Brodasky when they worked together, "You make every single person who walks through the door feel like they are the best part of your day."
If someone is having a bad day, Brodasky usually figures a way to try flipping it.
"She is talented and efficient – and will do anything she can to help anyone, anytime!" Gruys said. "She is quite literally the glue that holds together the Doermer School Business."
Brodasky is probably overqualified for her position. She's worked for several Fortune 500 companies in various positions, winning multiple customer service awards. And as its executive director, she once ran a massive community youth sports programs for her three sons in the Indianapolis area, using her background in accounting as well. She's also a strong advocate and volunteer for animal rescue groups.
There have been a couple of times when Brodasky was offered different jobs simultaneously, but she finally found what she hopes is her forever home at PFW under Gruys. No one who works with Brodasky considers her subordinate in anything. They regularly ask for her advice or help on major decisions within the school of business because they trust, respect, and honor her devotion and contributions.
"Do you know what it feels like to have others so well respected, educated, and worldly ask your opinion on something?" Brodasky said. "I feel that across campus we are heard. Where else do the chancellor and vice chancellor know you by name, recognize you, and hear you? That's hard to beat."
Brodasky said she's extremely blessed because this is the best team she's ever worked with, and no one outworks Gruys who Brodasky said enables and believes in her people.
"We never take ourselves too seriously, and always have fun no matter how challenging the circumstances," Gruys said. "There is laughter in our office each and every day and we all value and support each other in so many ways. It's such a great work culture for which we are all so grateful."
None of her colleagues limit Brodasky's role or hold her back, which makes their lives and jobs a whole lot easier. She's part of the culture of working together to find ways to make things work rather than excuses why they can't.
Brodasky is quick to credit them for allowing her to help, though they don't always know what she's done, such as orchestrating the mystery of Geoffrey Richard T. Doermer II late last summer. Brodasky found a Giraffe Heroes Project nonprofit online honoring, "...compassionate risk-takers who are largely unknown people who have the courage to stick their necks out for the common good." Realizing she works with an entire school of people like that, Brodasky brought the giraffe statue to campus and didn't tell anyone for weeks, enjoying their hijinks and selfies with the enigmatic guest.
Eventually, she was discovered, and her co-workers all said, "Oh, of course, it makes sense it was Lisa."
"I like helping people so they can find happiness and peace," Brodasky said. "Honest to God, that's me in a nutshell. It's what feeds me and truly is what motivates me. I like bringing others happiness. Honestly, I feel as though I am being selfish because when I help it makes me feel good. I enjoy helping others because it lifts me up personally and gives me what I need to keep going."