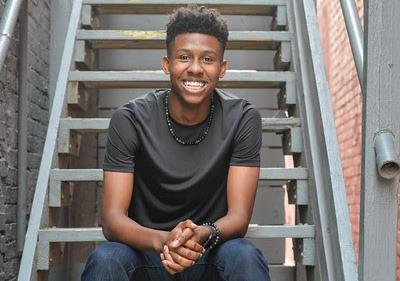 Diversity key ingredient for PFW College Experience event
Before participating in last year's Purdue University Fort Wayne College Experience, Everoll Royal-Dixon of Indianapolis didn't even know the school existed. This year, he's an incoming freshman mechanical engineering technology major.
Royal-Dixon was one of only three high school seniors who took part in last year's initial program. Another, Fazhaun Alston, is attending Ivy Tech but came back to serve as a chaperone for this year's event, while the third senior decided to go to work.
"Just going through campus made it feel like something I could do every day and enjoy my life there, especially with all the surrounding things to do," Royal-Dixon said.
The three-day, two-night event is a collaborative effort between PFW's Office of Diversity, Equality, and Inclusion and the Bloom Project, a nonprofit organization helping young men of color in Indianapolis and Fort Wayne with career and college readiness. The first attempt drew 26 young men in 2021 and this year's event on July 24–26 started with 40 students, but COVID-19 complications knocked the numbers down at the last minute to 31 participants.
"This is definitely giving them more exposure to the possibility when they didn't even think about college before," said Bloom Project Executive Director Arnetta Scruggs. "We had a waiting list last year, and this year we were able to open it up to more."
The program is funded through a grant by Fort Wayne's Foellinger Foundation, and participants representing 10 Indiana cities range in age from 13 to 17. Five middle schools and 22 high schools were represented as students met with engineering technology and business faculty. 
"We have been a little bit more intentional about where we are taking the students and what they are being exposed to," said PFW Chief Diversity Officer MarTeze Hammonds. "The first year is getting the kinks out and this year we're on our stride a little bit more. We're spending more extended time with students in the classroom talking with professors, relating to the students, and meeting them where they are."
Hammonds said there were more middle school and freshmen and sophomores in this year's class. There were no repeat participants from last year, though Scruggs said many were interested. 
"Even though we advertise this as for African American males, we have a little bit of everybody," Hammonds said. "As you look at the numbers in Indiana of students going from high school directly to college, the numbers are not good to see, especially African American males. We're hoping this helps with that."