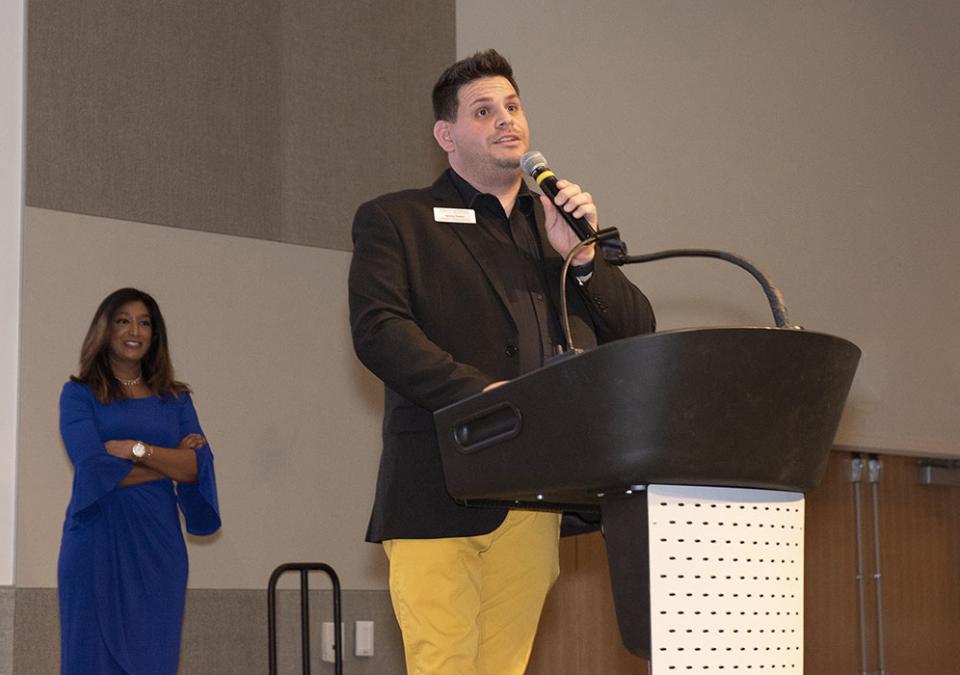 Dedicated People, Positive Progress
Director of Student Life enhancing traditions while starting new ones
James Velez, director of Student Life
On a visit to see family members in Florida last summer, James Velez and his cousin were cooking a family-style meal of enchiladas and traditional Mexican dishes when he suggested her daughter might want to learn the process.
"As a child, I remember being at the kitchen table watching my grandmother and her sisters make tortillas from scratch," he said. "It was important to me because it was something that goes back generations. My grandmother then taught me how to make those family traditional dishes, and it is on me to pass those traditions and information on to the next generation of my family.
"It's an awareness and a very interesting shift that I don't take lightly. For me, those traditions are important."
As Purdue University Fort Wayne's Director of Student Life, Velez has the opportunity every day to mentor students and younger staff members and keep school traditions and enhance them, both the experiences and the memories.
Mentoring, influencing, and simply providing an example are not necessarily conscious, programmed decisions for Velez, just part of who he is. They are examples he learned early working with Penny Bernier at the YMCA and while a student here from mentors such as Craig Humphrey, Larry Life, Mark Ridgeway, and John O'Connell.
During his struggles as a theater major, they helped guide and encourage Velez to finish school and continue growing.
"Now, I'm at the point where I get to mentor young professionals and see the journey through their eyes," he said, "to see how they navigate the process and hopefully be a positive influence on them."
In part, Velez sees his journey as one of fate. He started working for the university full-time as an event coordinator in special events in May 2010, three years before he graduated with a theater degree with a concentration in directing and stage management. Then he moved to student life as an activities coordinator before transferring downstairs to admissions as an assistant director. Finally, he trekked back upstairs as Student Life director in fall 2019, shortly after earning his master's degree.
He loves PFW's familial feel. He also loves the developmental part of his position, describing university life as helping students build a house and home from the foundation they bring to school.
"You start building the walls with the academics, but then you have to fill that house with things, memories, pieces," Velez said. "By the time you walk across the finish line, we are literally just giving you the keys to the door. You have built enough to continue to grow as you navigate the next stage of your journey."
But he also realizes he can be an anchor point students will look back on in the future, someone who provided leadership and a relationship by helping them. Some of those memories come from events Velez and the university offer where lifelong friendships can be started and cemented.
Though he enjoys coordinating events, Velez is always thinking of details both in the moment and for the future, hoping the next inspiration will enhance new experiences. How can this event be better next time? What if we tried this? Is it time to move on to something different?
"All of my experiences have led me to where I am now. Our jobs are tough and have a lot of highs and lows and mental strain," Velez said. "A lot of times you walk out of here feeling like you have not won that day, but it's taking those wins when you can get them and holding onto that when things are not as positive as what you'd hope they'd be.
"I think we forget how impactful we can be on these humans' lives, especially as they navigate the changes they will go through during their time as a student here."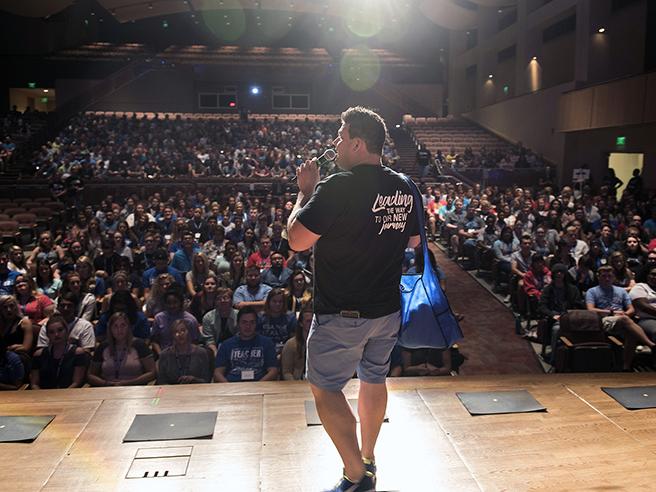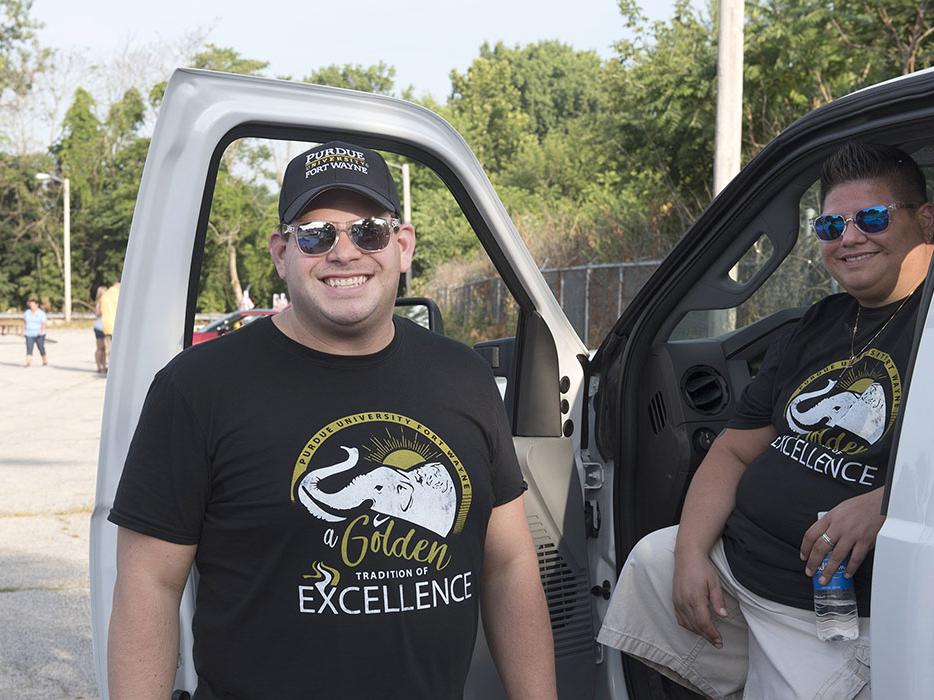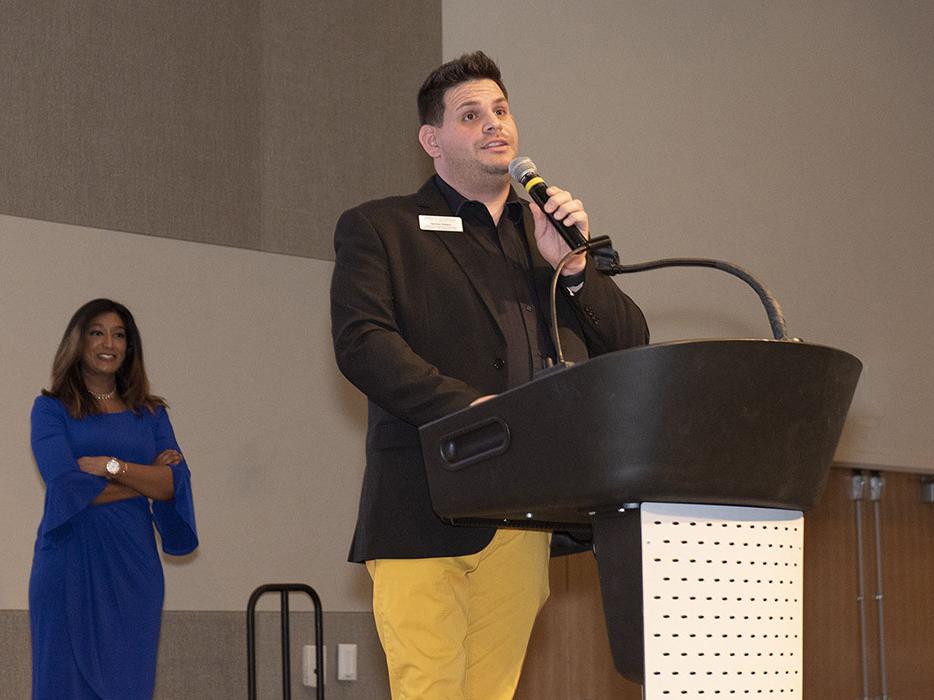 James Velez is speaking to new students in the Auer Performance Hall
James Velez is representing Purdue Fort Wayne at a parade
James Velez is speaking at a lectern