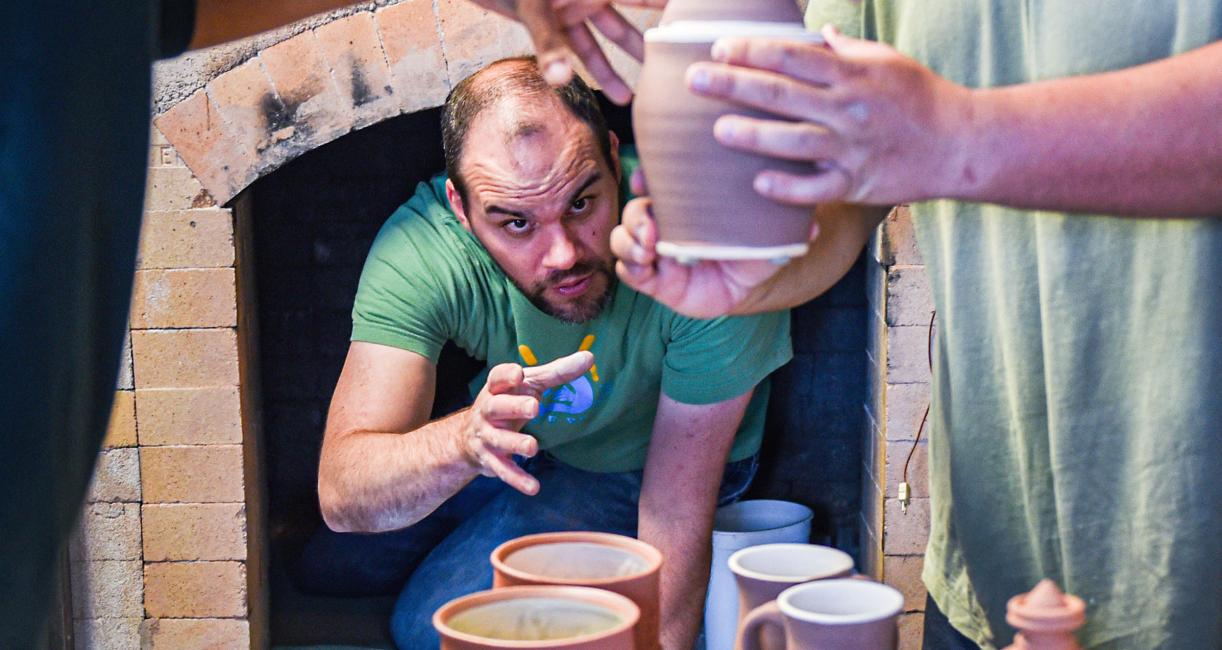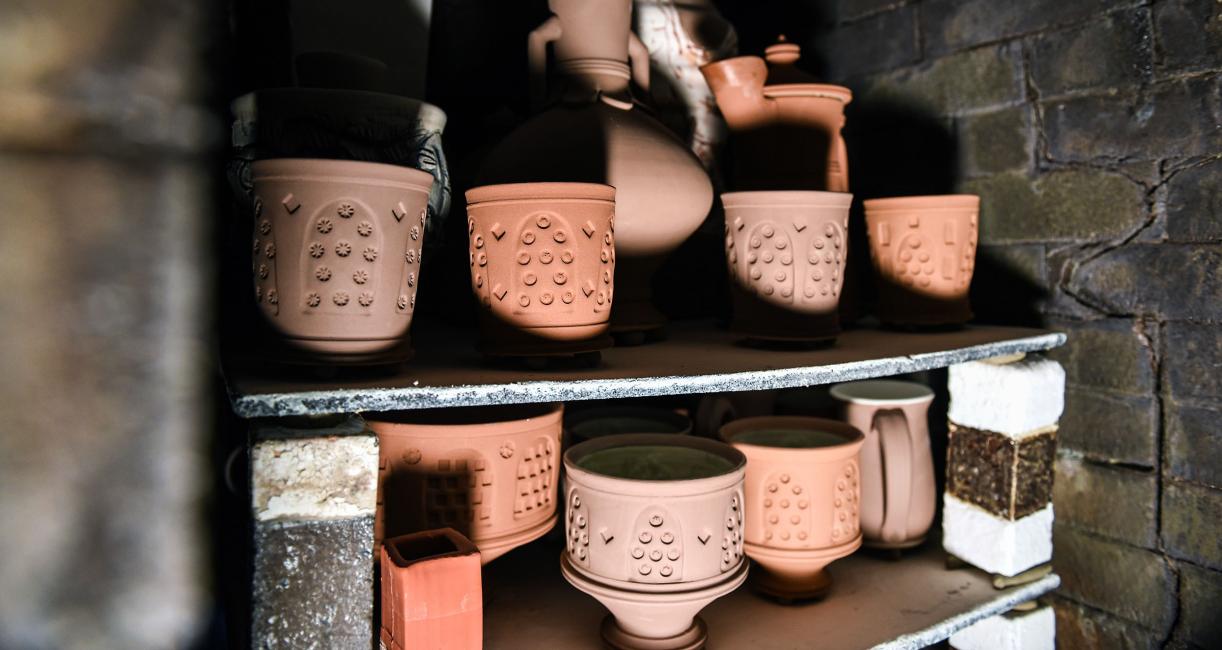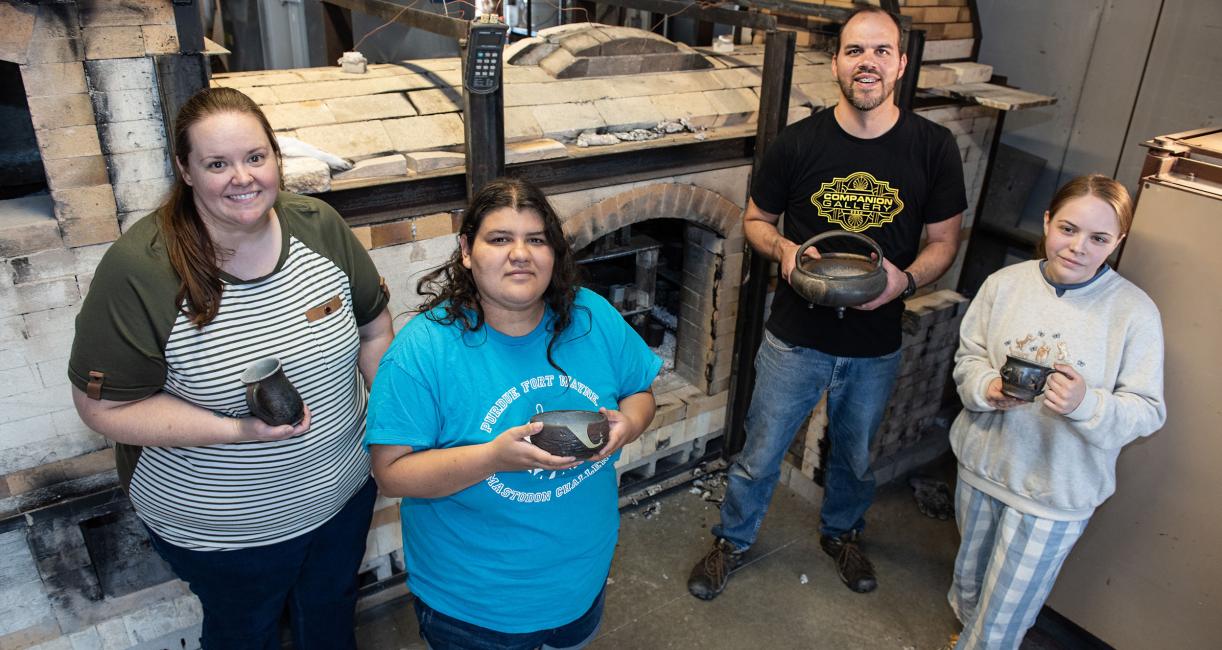 Ceramics students get fired up for long kiln process
By Blake Sebring
September 26, 2023
Though wearing thick gloves, Purdue University Fort Wayne students Alexa Ross, Anna Gottlieb, and Nicole Pitcher were participating in some hands-on classwork a couple of Friday nights ago.
The trio was helping Seth Green, associate professor of ceramics, during a 33½-hour kiln firing behind the Visual Arts Building. Utilizing "The Train" wood-burning kiln that Green, PFW students, and Ted Neal, professor of ceramics at Ball State University, built in 2017, the students' ceramics work was part of 200 items being fired.
Firing is a process of heating clay to a temperature sufficient to fuse the particles together on a schedule.
Trying to maintain 2,531 degrees, the process requires nearly two cords of wood and constant attention from a handful of attendants who continually stoke wood through various fire boxes and document the temperatures. They know qualities of woods like a grill master knows cuts of meat, and combining the science and chemistry shows part of the craftsmanship that's necessary in ceramics.
"With the wood firing, it's all about creating a different atmosphere," said Ross, president of the ceramics club. "There's not much difference in the heat inside the kiln, but the ash created from the wood gets on the ceramic and creates a glaze. In the electric kiln, it's just the heat, and all you can do is limit the amount of oxygen in the kiln to make a difference."
The generated ash and the reduction atmosphere present during the cool down process creates various shades and gives the ceramic those metallic, sugary, crystalline surfaces, said Green, who has been using wood-burning kilns seriously for 10 years.  
"It wasn't until I had my own kiln and my own program that I really started to understand it," Green said. "I'm still learning. Every firing is a new round of research with new materials, forms, and stacking. I think it's going to be a lifelong pursuit. I'm experienced, but I don't think I have all the answers."
Because it requires round-the-clock attention, it's almost disrespectful to fire up "The Train" for less than 200 pieces, so Green invites other schools' ceramics programs to participate. This time, Barry Barnes, a professor from Franklin College in southern Indiana, and three of his former University of Indianapolis students came to help and add their works to the burn.
With Green kneeling and crawling inside the kiln, the loading process starts three hours before the fire. Pots, cups, and bowls were placed closely together but not touching on various shelving. Throughout, Green explains his actions so students can further their own understanding.
"It's like a campfire," Green explains. "It's going to burn really nice at times and be more `smoldery' at other times, which creates a reduction atmosphere. In most cases, when people reach temperature, they just walk away and let it oxidize and cool in oxidation, but what we're doing is putting in small amounts of wood to maintain that reduction and atmosphere through the cooling cycle. That manipulates the iron in the clay and glazes, which change the colors."
After starting at 6 p.m. on a Thursday, the firing and cooling process ended at 3:30 a.m. Saturday—and the door bricks were finally opened at noon Tuesday.
"Opening up is kind of like Christmas because you don't really know what happened inside," Pitcher said.
The Department of Art and Design has five smaller kilns that utilize natural gas, but "The Train" is a different beast. It's 4 feet wide by 16 feet long and 5 feet tall. After Green and his professor buddies gathered all the materials, it took a week to construct, and looks like an old-fashioned train. Being used two or three times per year, Green said it will likely last 20 years before needing to be rebuilt.
The cooling process takes six hours, and after all items are removed and cleaned up, scrubbing the kiln itself can take up to two weeks.
Some of the items fired this time around will be for sale in the Ceramic Club's annual fall pottery sale in the IDEASpace at Helmke Library on Dec. 5 and 6.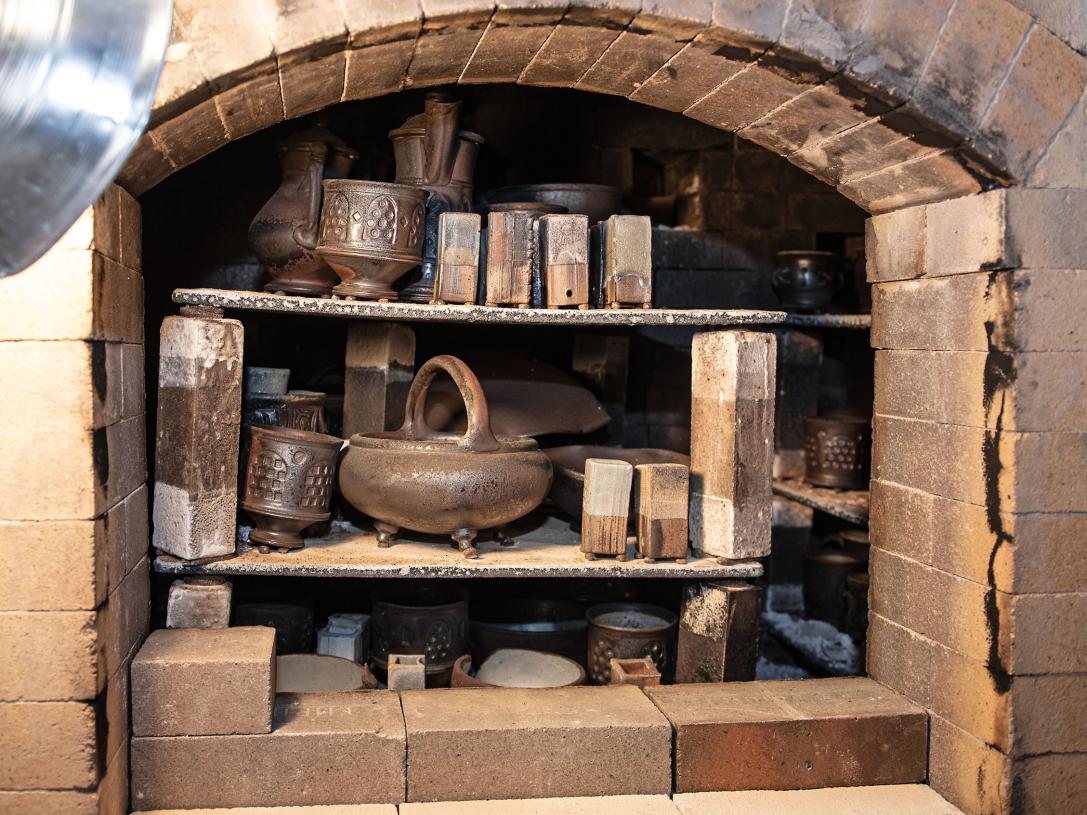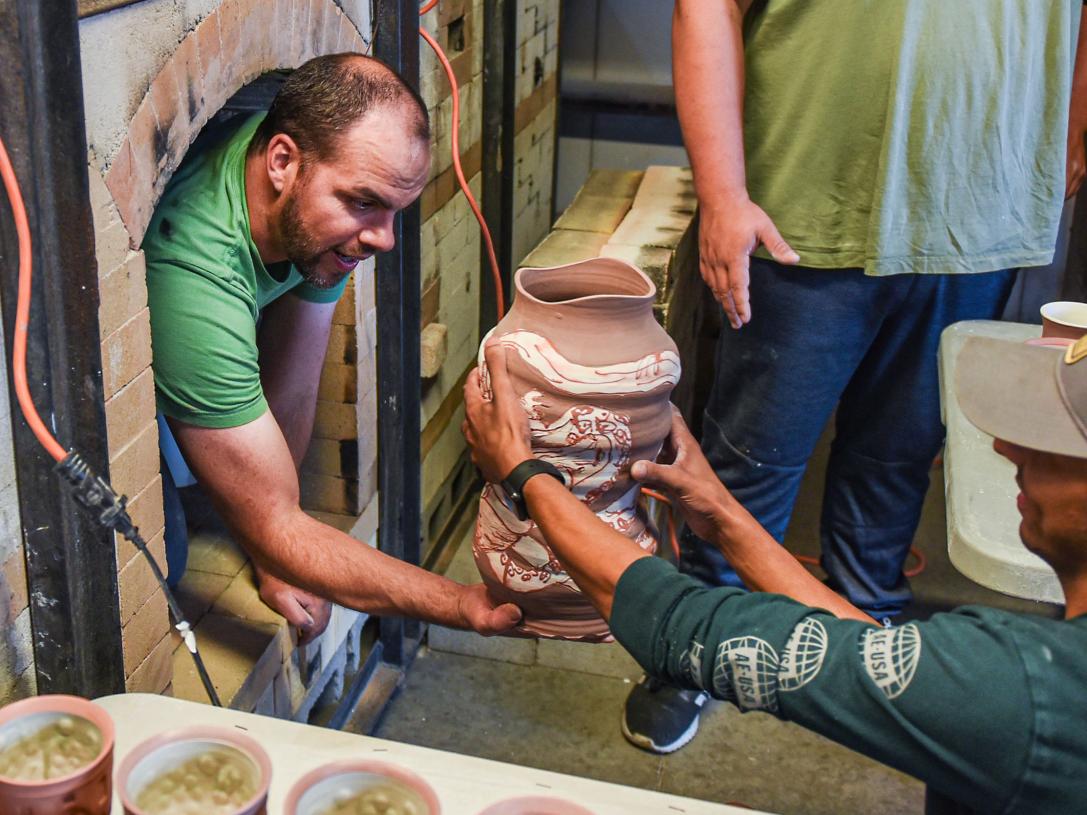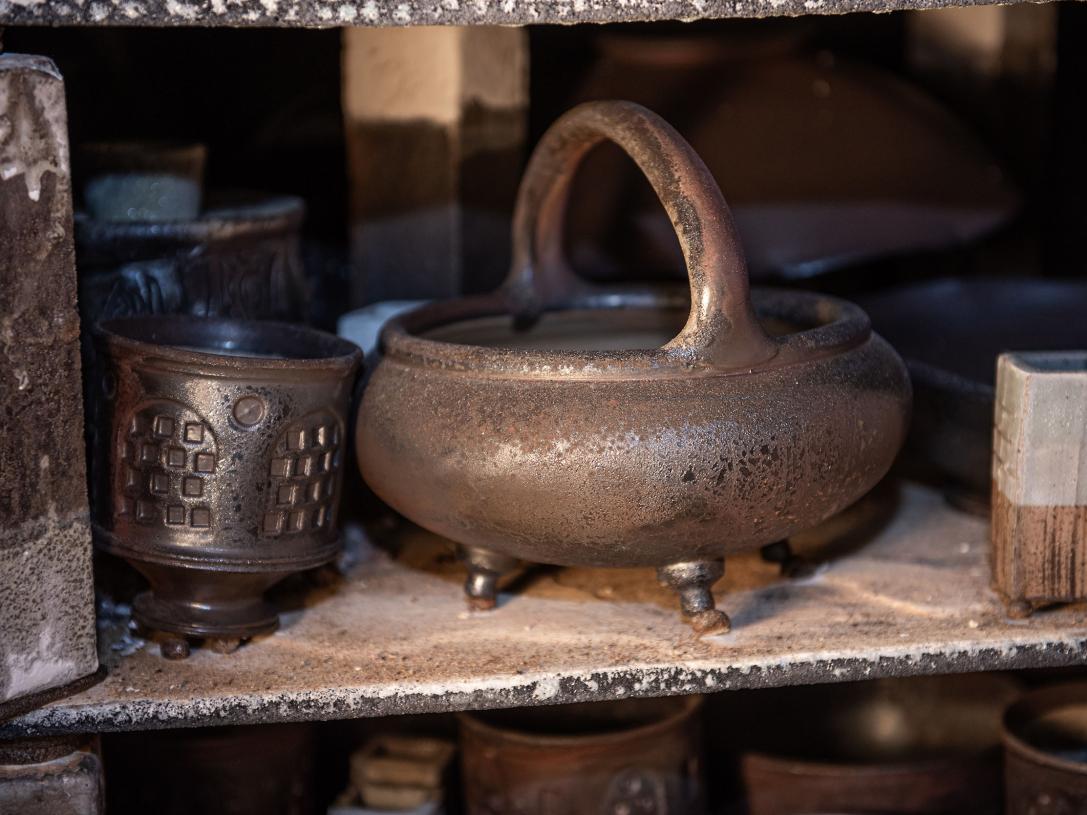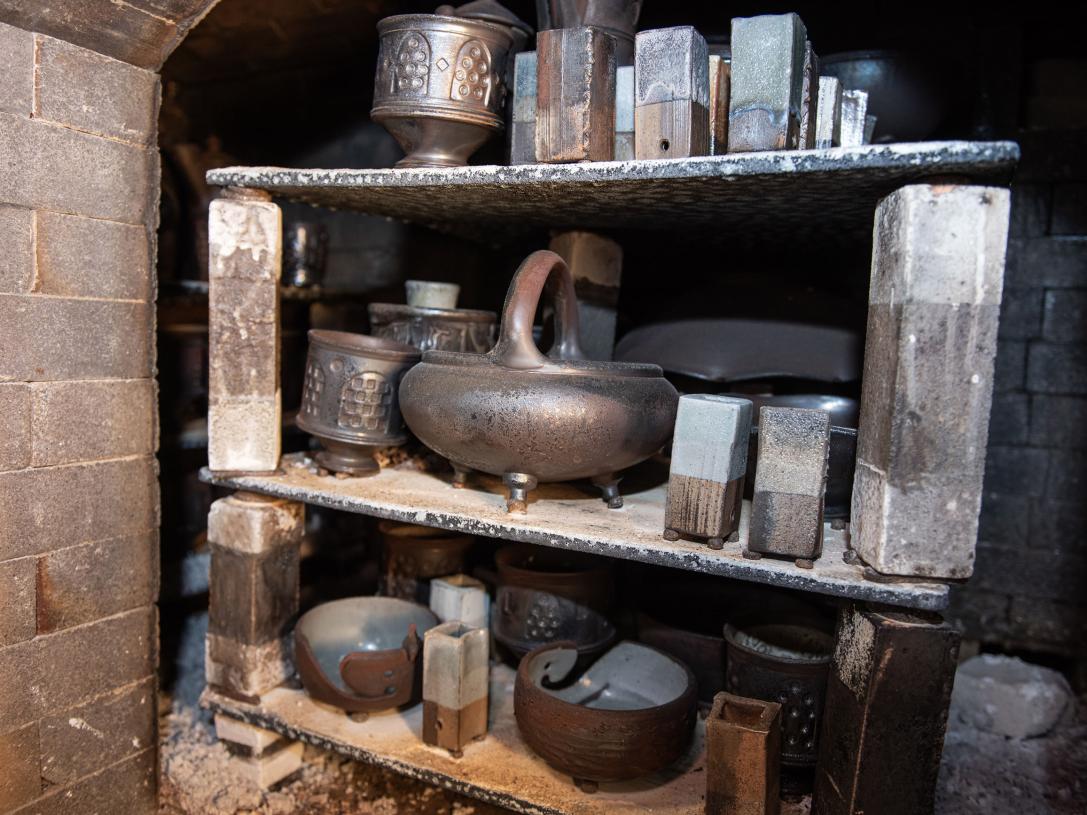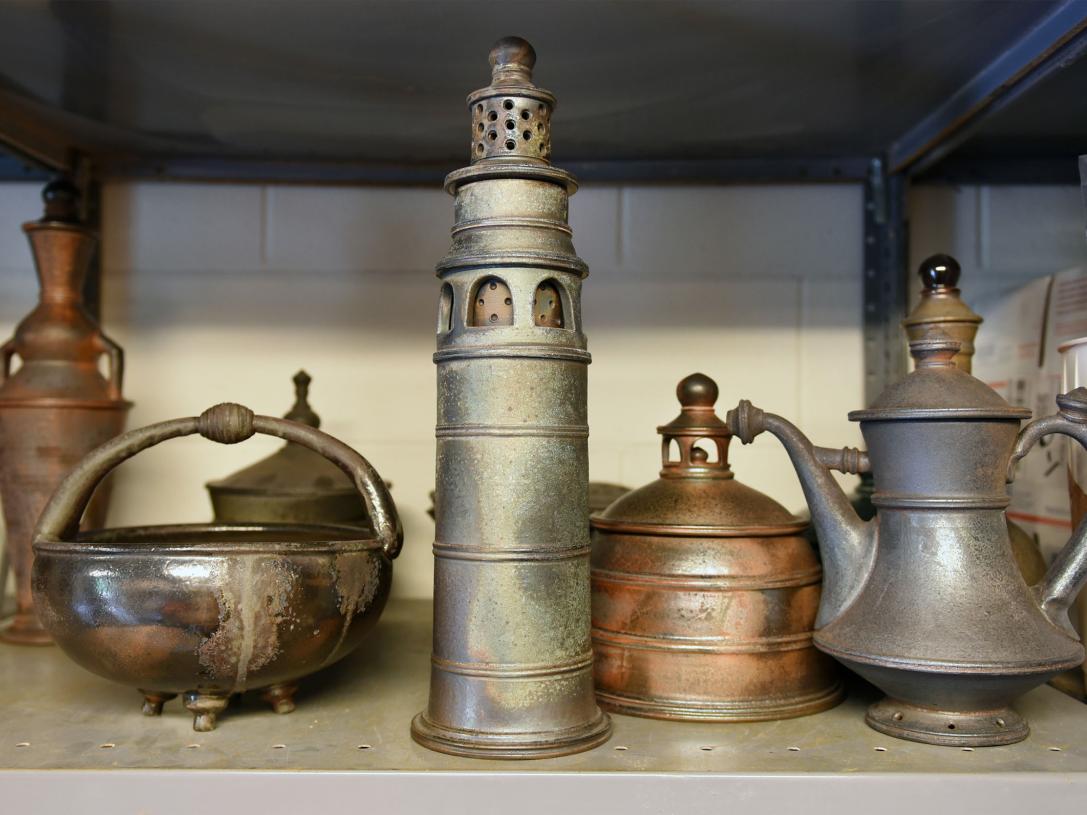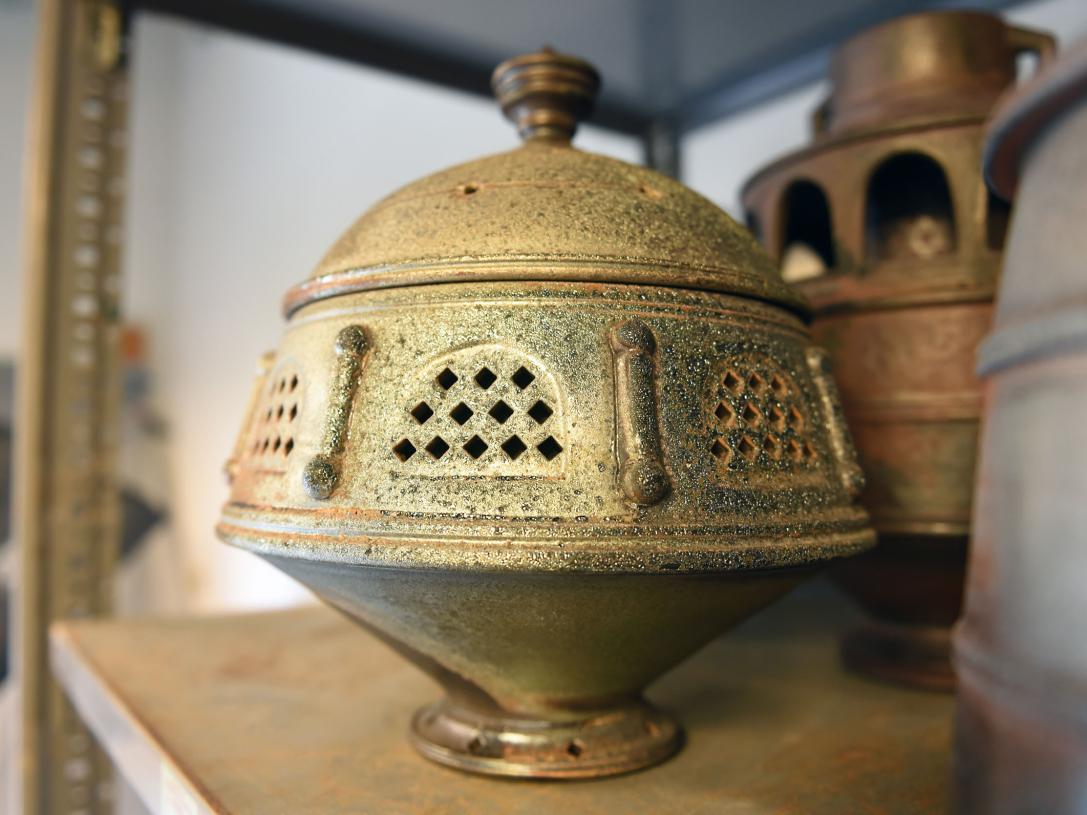 Ceramics pottery in the kiln after firing.
Loading the train kiln.
Ceramics pottery after firing.
Ceramics pottery after firing.
Ceramics pottery after firing.
Ceramics piece after firing.