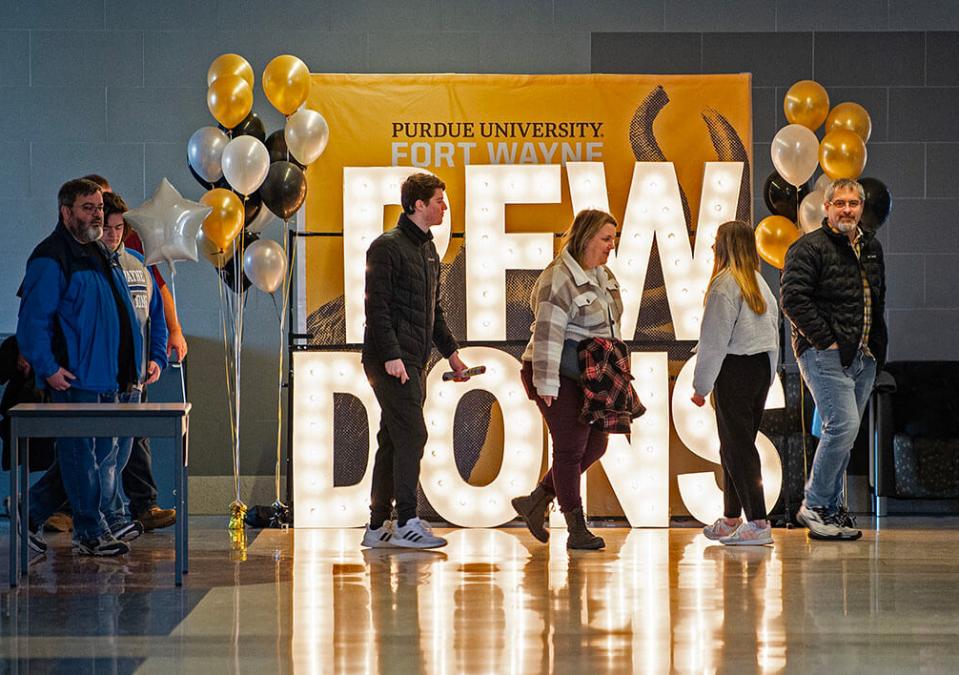 PFW Story
Campus Visit Day an early sign of good things to come
With more than 500 students and parents, Sunday's annual Spring Campus Visit Day was a major event for those considering Purdue University Fort Wayne in their future.
Families learned about PFW's academic programs, toured the campus, enjoyed lunch, and even quizzed current students during a panel discussion. There was also guidance available for financial aid forms and student applications.
According to Krissy Surface, vice chancellor for enrollment management and the student experience, potential PFW students traveled from Florida, Illinois, Indiana, Kentucky, Michigan, and Ohio. Participants ranged from high school sophomores to students from other universities considering a transfer. And for the first time, those transfer students were offered their own information session to drill down on that process.
"It was thrilling to see so many future Mastodons and their family members here," Surface said. "We got to showcase why PFW should be their next stop in their academic journey. Hearing their questions to the student panel and watching their faces while they toured around campus, visited their academic colleges and schools, and learned what makes PFW special was an energizing and rewarding thing to witness."
Ryan Wooley, associate vice chancellor for enrollment management and director of undergraduate recruitment, said organizers had to move more chairs into the International Ballroom to accommodate everyone.
"It was very strongly attended compared to past events, and we had fewer no-shows than we usually do," Wooley said. "We've heard a lot of great feedback from faculty and staff that the students were engaged and asked some very good questions."
The numbers for the 2023-24 academic year look promising, Surface reported. Of those who attended Spring Campus Visit Day, 54% have already been admitted to PFW. That's helping boost overall incoming enrollment numbers that show applications are up 27% year to date, admissions 17%, and intent to enroll 85%.
Students can still attend daily campus tours by coming into the Office of Admissions in Walb Student Union, Room 121. Appointments may also be scheduled in advance online at pfw.edu/visit or by calling 260-481-6812 or emailing [email protected].  
"We have events throughout the year, so students can choose from a variety of visit options," Wooley said. "They can schedule those Monday through Friday or every other Saturday—or just show up throughout the week.
"These larger on-campus visit days give students more opportunities to meet with different academic departments and have information sessions with representatives from each program. They can get a one-stop info session on all of our programs or ask about majoring in this program, but minoring in another."
Team members from Student Life, the Disabilities Access Center, the Q Center, the Office of Student Conduct and Care, Well-Rec, and other organizations were also available to answer questions and show a fuller view of campus life.
"These larger days are some of our highest-yielding events in that we get a lot of interested students who just need a little additional support in walking through the admissions process," Wooley said. "We get a lot of applications at these events and get to meet students taking whatever their next step is. Overall, we're really pleased with how it turned out."