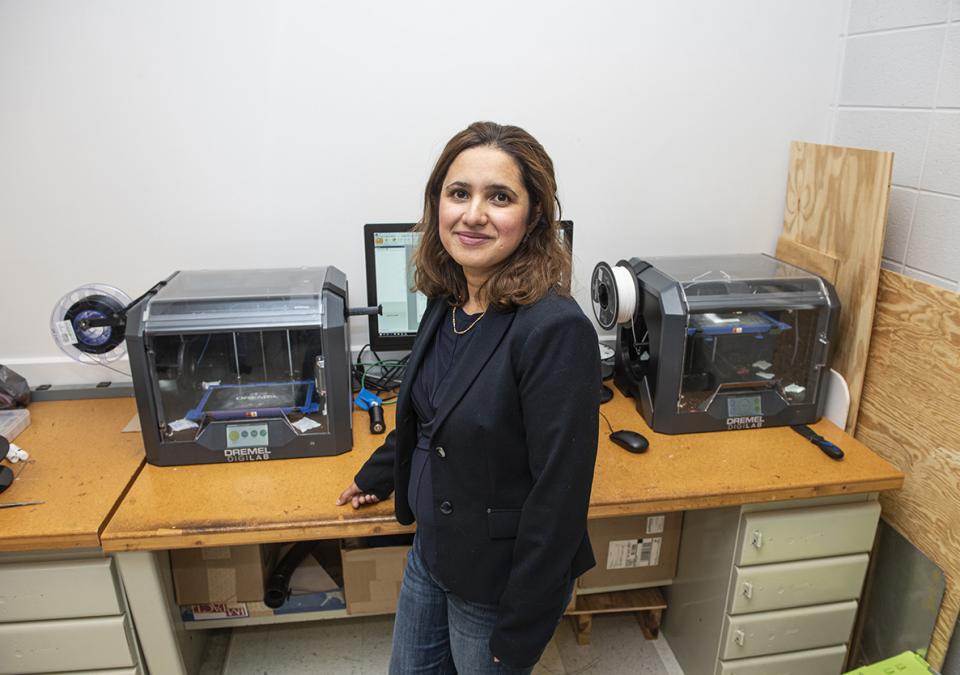 Dedicated People, Positive Progress
Building a lasting influence
Behin Elahi, associate professor of industrial engineering technology
It's a safe bet that sometime over the next 20 years, a student will walk into Behin Elahi's engineering technology class and tell how their family member insisted the student take her class because they were a former student.
That's the impact Elahi, associate professor of industrial engineering technology, has on her students — not only in the classroom, but in their overall lives. Elahi's phone is full of messages from former students.
"Professor Elahi builds a relationship based on mutual trust, two-way communication, and respect," said Athar Safdar, a Purdue University Fort Wayne lecturer in information technology and one of those former students. "She is always there for her students and is very understanding of their concerns and needs. She takes extra care in nurturing her students and helps them excel in domains they wish to pursue."
Always available for work or life questions, Elahi pushes students in class but also has empathy as they face challenges integrating academics, family, work, and friends.
"This is more than just being a teacher and a student," Elahi said. "It's about friendship and their health, and also helping each other to be happy, and at the same time learn things and have peace of mind. We've all tried to figure out how to have time for our families and everything else we have to do."
Her understanding and awareness are noticed.
"Dr. Behin Elahi is a passionate instructor who educates students beyond the four walls of her classroom," said Gary Steffen, interim dean of the College of Engineering, Technology, and Computer Science. "She works tirelessly with students to ensure they are on the correct path to reach their academic and personal goals."
A native of Tehran, Iran, Elahi faced many obstacles coming to the University of Toledo in 2011 before starting her professional career at Michigan State University. Because she was on a one-entry passport, she was unable to go home for seven years.
"I missed a lot of moments with my family," she said. "I have two babies, but my family couldn't be here. I got married, and they couldn't be here. My sister got married, and I couldn't be there. My grandma passed away, but I couldn't be there. That is life.
"On the whole, I'm very happy with my life here, and I'm so thankful for the U.S. and the people who gave me this opportunity moving forward for a brighter future. I look forward to helping the next generation."
Part of that includes starting at PFW in 2016, which Elahi says provided a foundation to build her professional life, a family, and a home. It has given her a base to reach out from and explore herself and find her own life balance. 
That includes encouraging her students to find harmony between work and the rest of their lives. She'd like the university to offer free classes to help students understand the importance of finding that symmetry. Elahi prioritizes that balance with her students, checking to make sure they are doing well, offering suggestions, or simply listening. Her students inspire her, Elahi said.
"One of my students has four kids, and I tell him to be proud of himself," Elahi said. "'You are doing an amazing job because it's not easy to take care of four kids.' 
"We should be here in order to help them and make a difference wherever they come from. We should be here to help them all. They are not just here to receive the grade; they are here to learn something important they can use in the future."
Elahi came to this country with a work ethic instilled by her parents, a lawyer and a civil engineer, but her compassion grew through her own struggles combining academics and family life. There were milestones along the way such as the joy she felt purchasing her first car, meeting her husband, and having children. 
"I'm always there for my students, and I learn from them, too," Elahi said. "They are like my best friends. When I see them later, I remember them, and they remember me, too."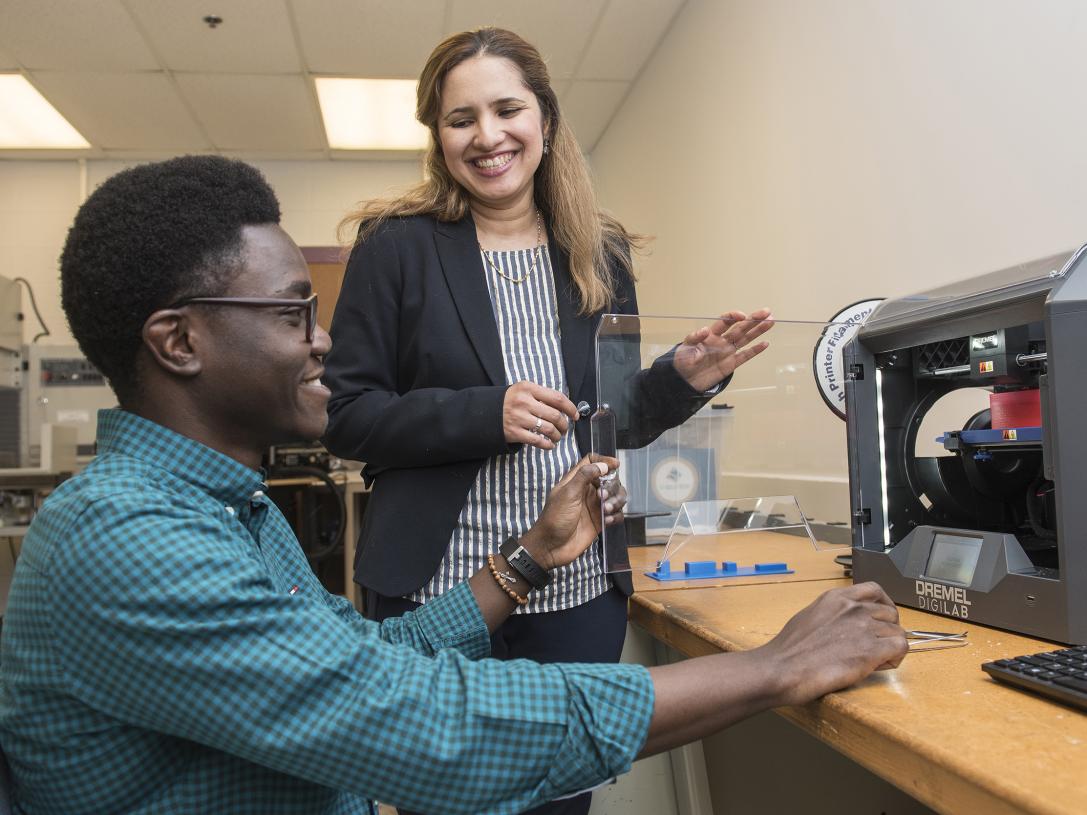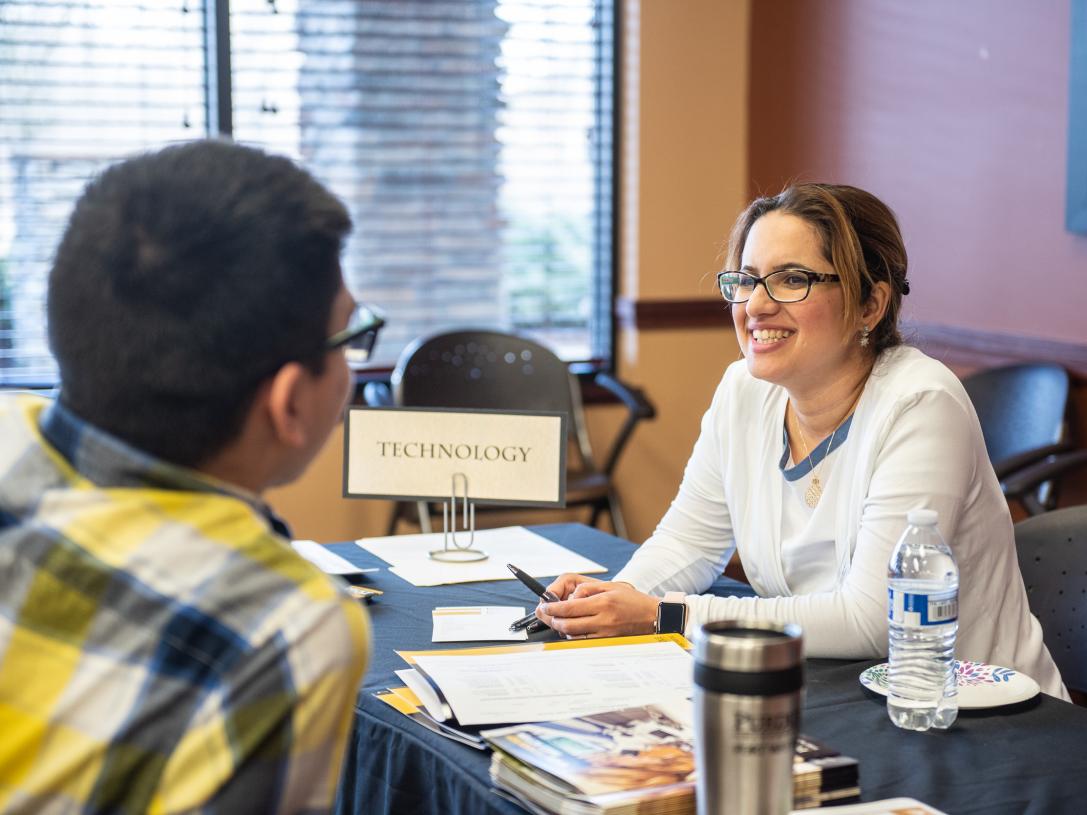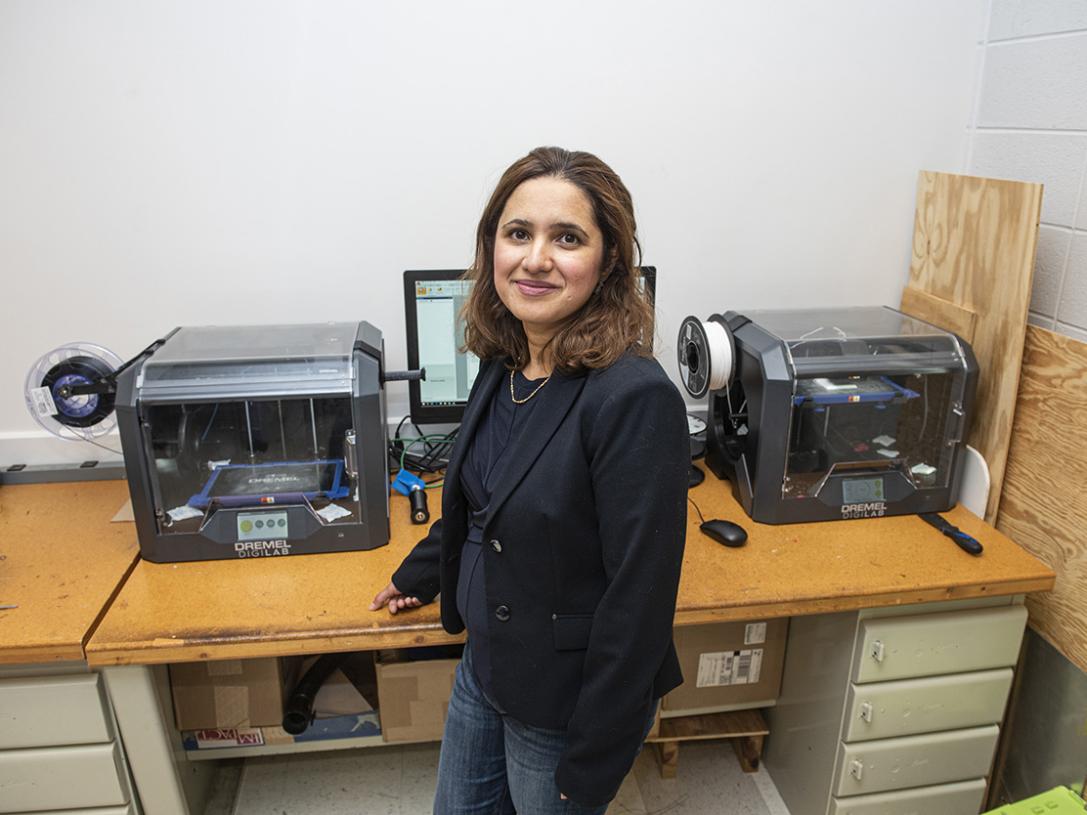 Professor Behin Elahi works with a student at a 3D printer
Behin Elahi chats with a potential student at a graduate studies open house
Portrait o Professor Behin Elahi