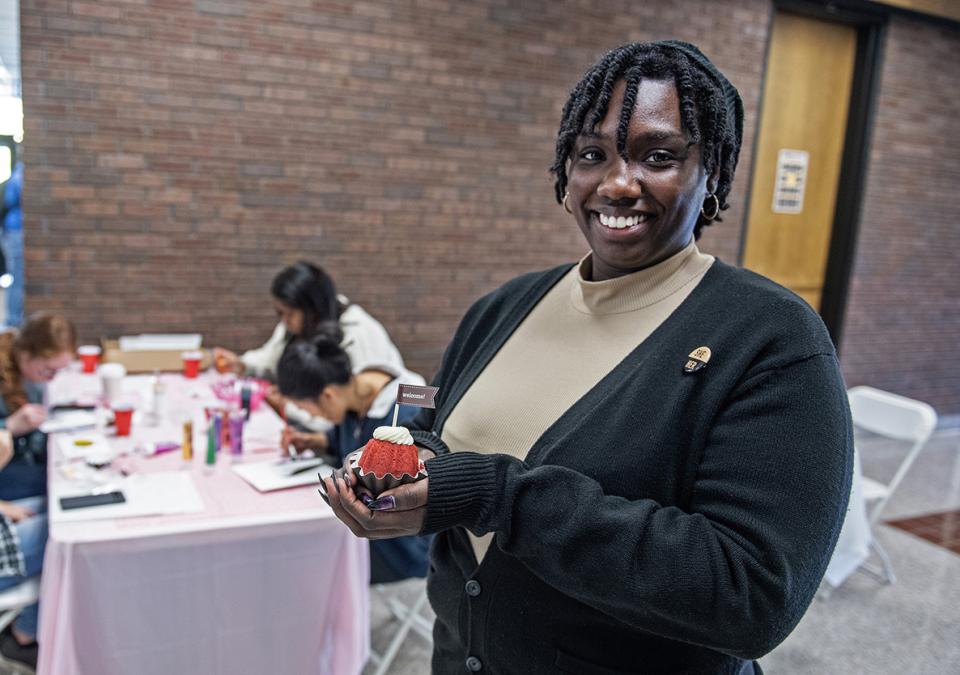 Dedicated People, Positive Progress
Beemon draws on past experiences to guide others
Cicelle Beemon, program assistant, The Women's Center
"As students, we wake up at the crack of dawn,
Stretch our arms wide and begin to yawn,
Then you realize that you're 10 minutes late to class,
So you think and contemplate if you're even going to pass,
You have papers, assignments, car notes, and bills all due,
Some of us even have a child or two,
Car may not work, and it's too cold to ride the bus,
But you head to class anyway and try not to fuss,
So why do we do this? For pain and frustration?
No!! It's so we can make it to Graduation!!!"
Cicelle Beemon wrote that poem in 2016 after one of her friends convinced her to run for Homecoming Queen. She still has the crown on the shelf in her office at The Women's Center, where she is the program assistant. She's still studying, too, and just finished working on her master's degree.
Just like in the poem, every part of Beemon's tenure at Purdue University Fort Wayne seems to have been a scramble, but somehow, she manages to stay just ahead of all the demands. Sometimes it's by the edge of a fingernail, but that's where Beemon operates the best with the adrenaline pumping. 
"I can get hard on myself on trying to make sure everything is close to my expectations," she said. "I see a vision for more greater and purposeful ideas, and sometimes I can't get to it because life can throw wrenches in your plan, but the beauty is using your skills to work with what you have."
Consider how much she has overcome already. After graduating from North Side High School in 2009, she started her freshman year on campus as a traditional student. Then her mom was diagnosed with breast cancer, so Beemon became more of a homebody.
During this stretch, Beemon became pregnant with her first child, and her mother's condition kept getting worse, and she passed away in the spring of Beemon's sophomore year. 
"It really made me rethink about how I was living my life," she said. "I knew I had to kick it into gear and take care of my family. My sister was a freshman in high school, and I had two older brothers, so I took the responsibility, and I had to take care of my baby and go to school."
Maybe not so surprising once you get to know her, Beemon was experiencing contractions as she signed up for spring classes, delivered her first son on a Monday, and returned to start class the following Thursday.
Around 2013, Beemon was going to school part-time while serving part-time as the university's 21st Century Scholars specialist through AmeriCorps. Her office just happened to be in The Women's Center at Walb Student Union, where she met Rhonda Meriwether, currently the director of the Multicultural Center. 
"She was the only Black woman I knew at the time on campus," Beemon said, noting there were only one or two fellow Black students in her classes. 
She ran for Homecoming Queen as a way to encourage students to complete the Free Application for Federal Student Aid. Maybe the poem helped, because Beemon was shocked to win. At the coronation, she also shared the stage with Homecoming King Ryan Meriwether, Rhonda Meriwether's son and now the assistant director of admissions events.
Beemon graduated in 2017 with a degree in general studies and minors in communication and human services. When the director of The Women's Center left for another job, Beemon took over as the only full-time employee. 
Along the way, Beemon had another son, ended a toxic relationship, and continues to study, making life work however she can. She also uses her past to help relate to those women walking through the office door with their unique needs.
"I give people my examples from my own experiences," Beemon said. "It's all learning experiences. It's nice to get a cheat sheet once in a while."
Beemon brings her two boys to campus regularly, encouraging them to get comfortable and dream of what they might become. She's also the Black Student Union advisor, helps run the holiday Adopt-A-Don program, and leads the One Love sessions that help student couples build healthy relationships.
"My goal is to encourage women who have been through life to be empowered to overcome their adversities and strive to be a better person for themselves and for others whom they inspire," she said. "I want to be there for people and be a good friend because the world does not have enough good friends."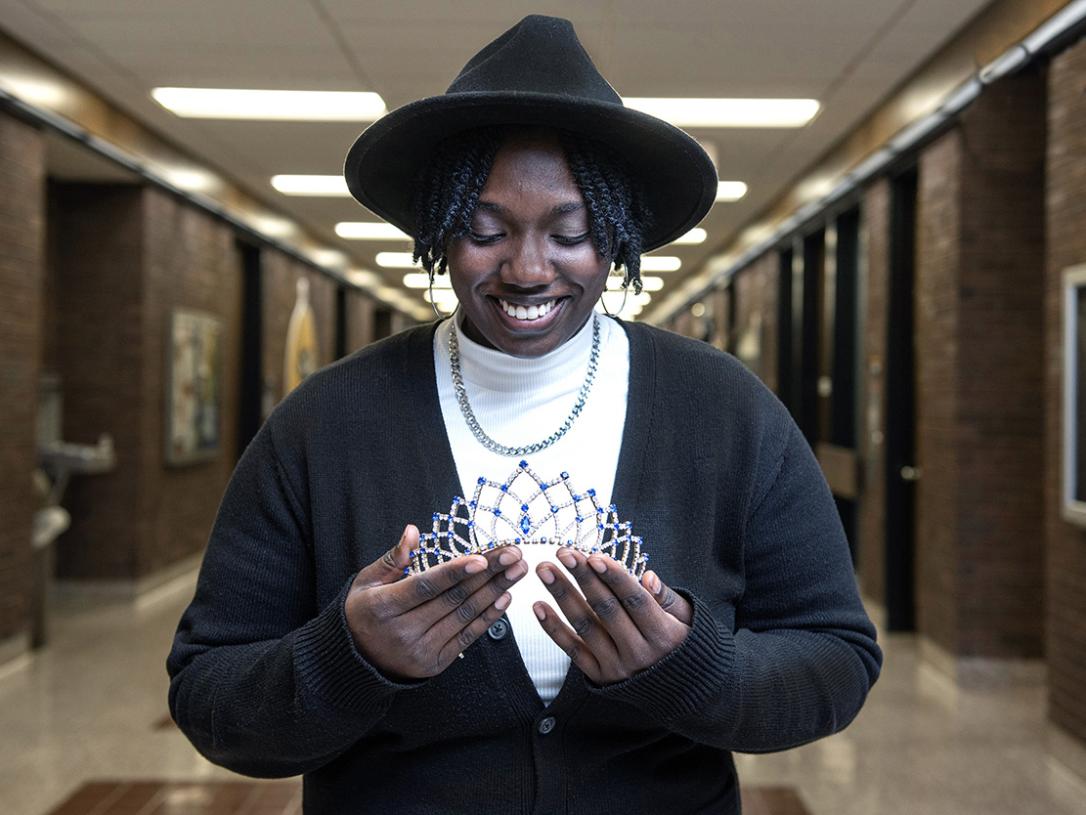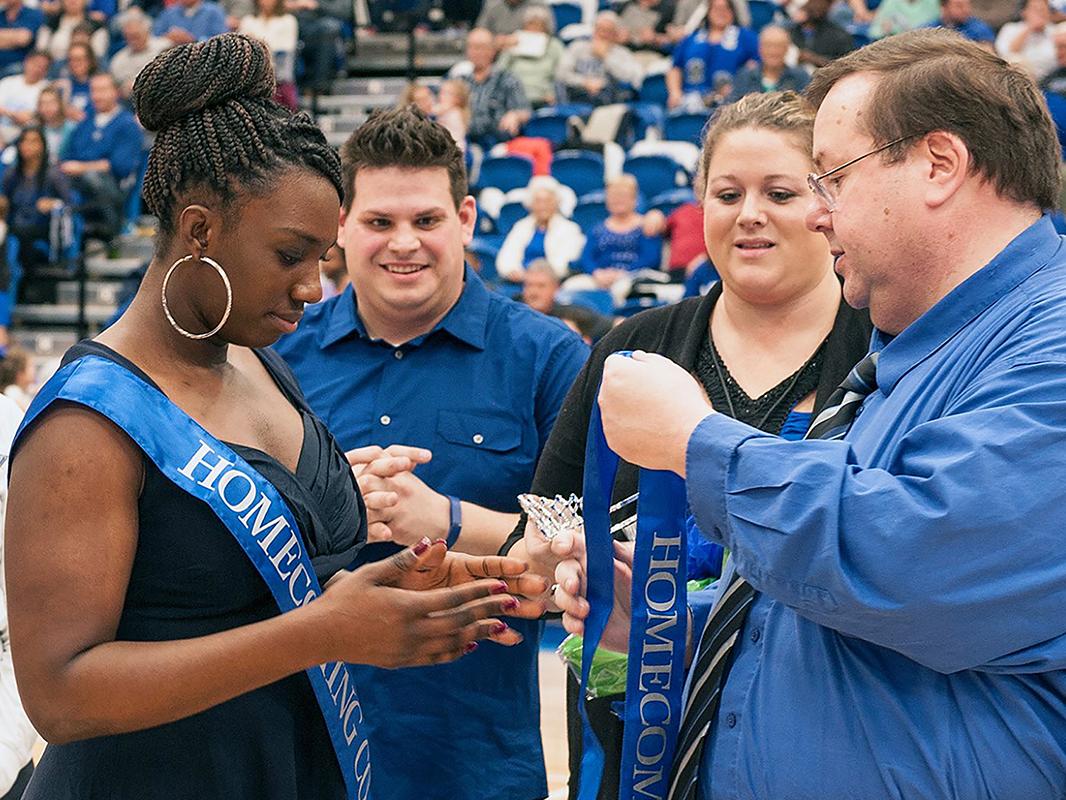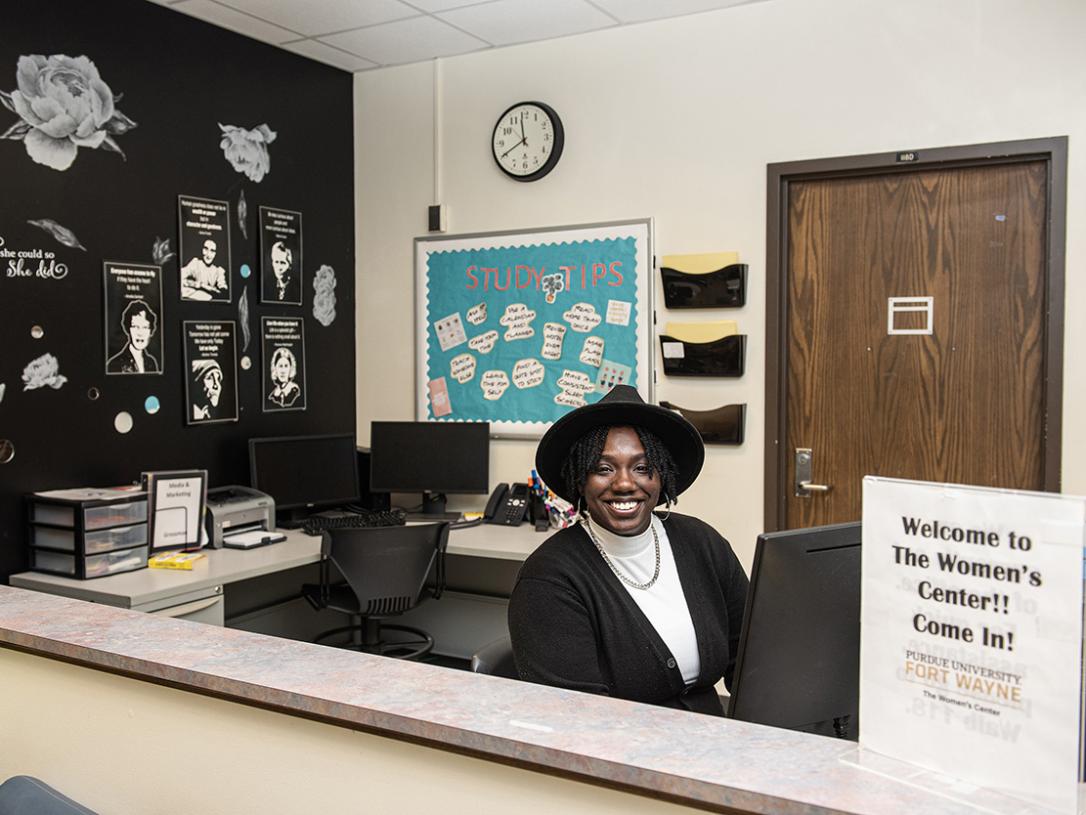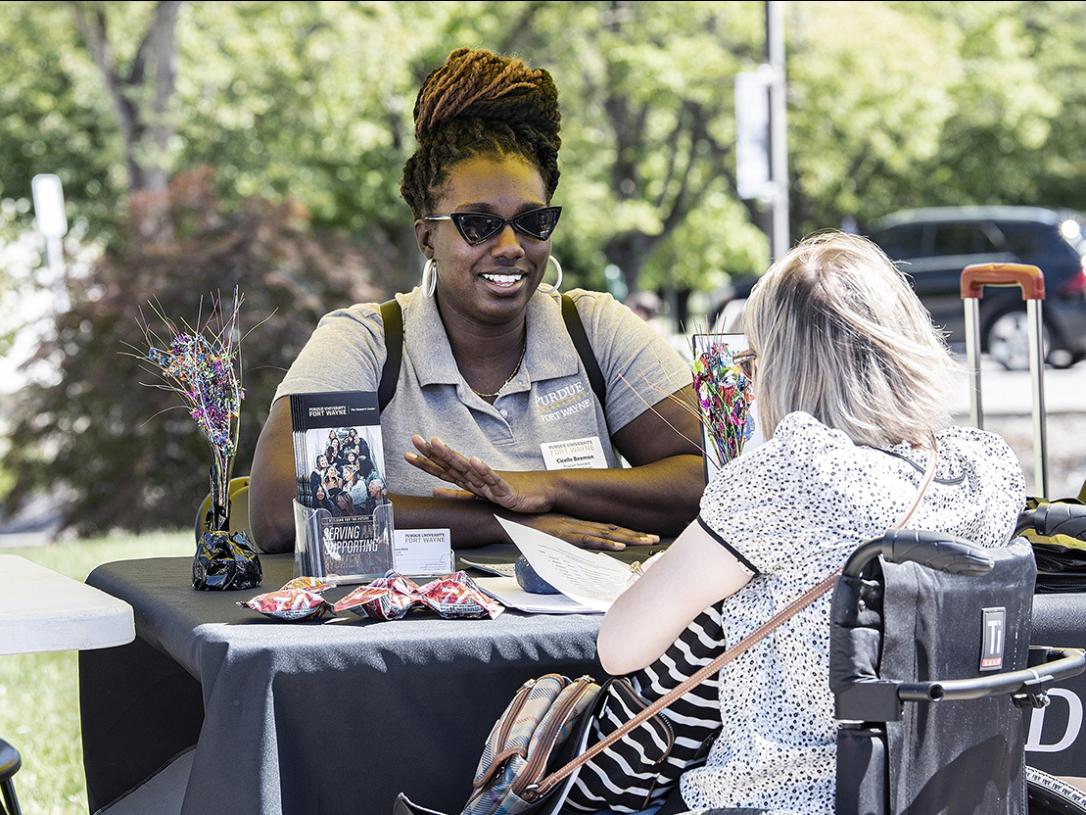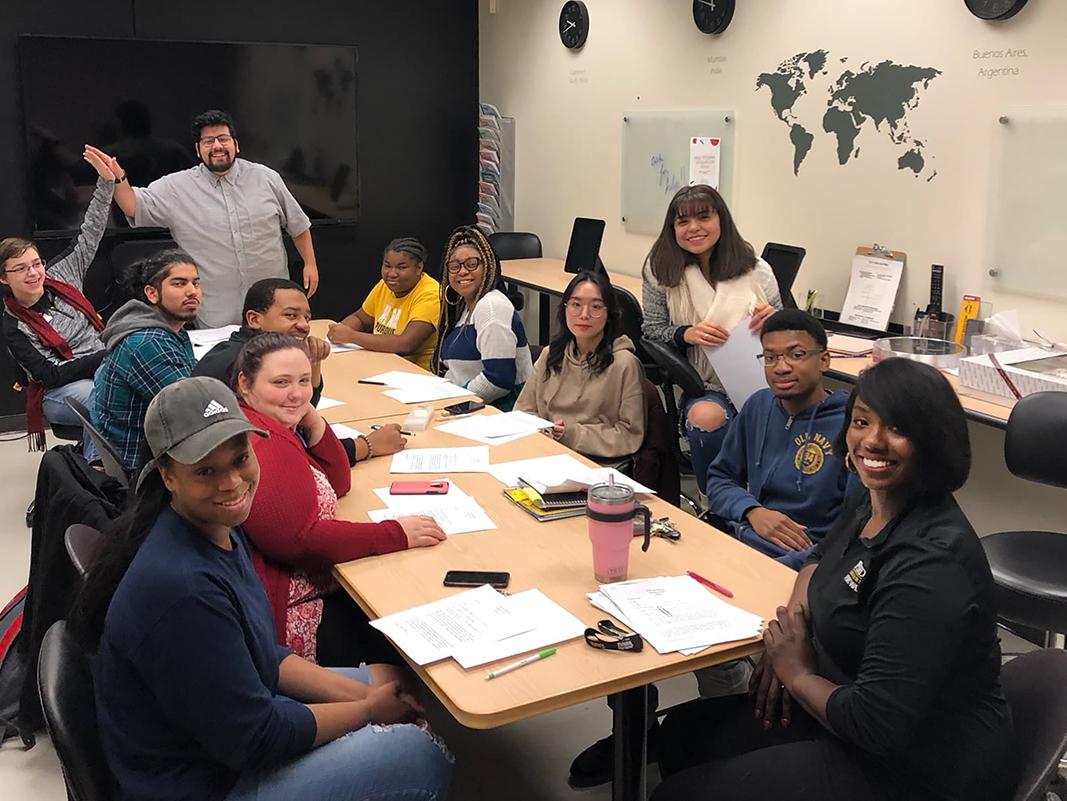 Cicelle Beemon is displaying her homecoming queen tiara
Cicelle Beemon is being crowned homecoming queen
Cicelle Beemon is behind a desk in her office
Cicelle Beemon is manning a table at the PFW Connections Fair
Cicelle Beemon is seated at a conference room table with several people
Portrait of Cicelle Beemon