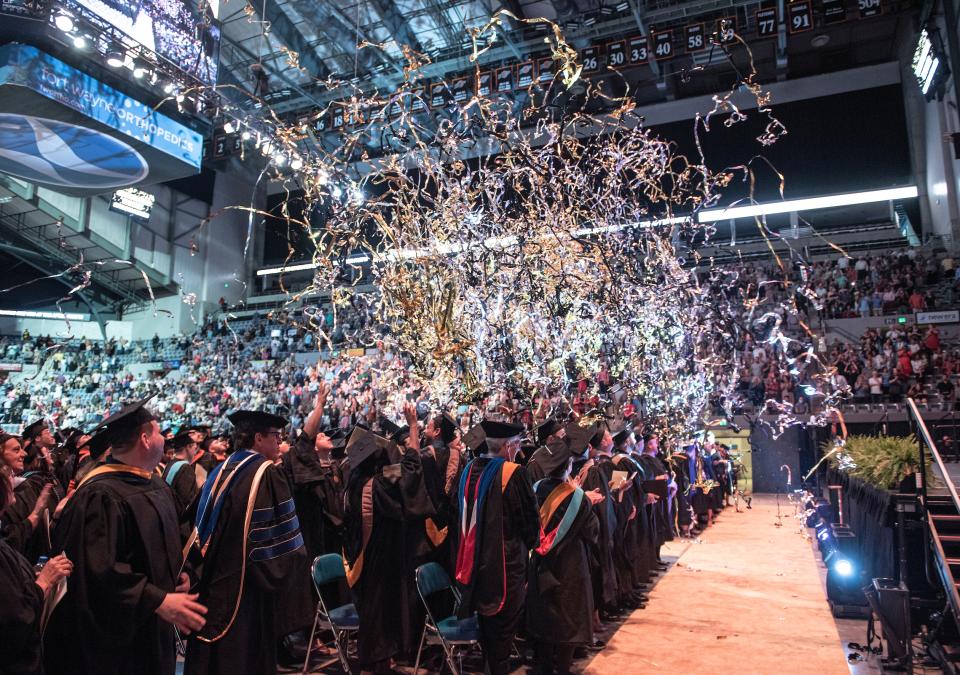 News Release
Almost 9k expected at Memorial Coliseum for Purdue Fort Wayne's 2023 Commencement
For the 55th time, graduates from Purdue University Fort Wayne's campus community are getting ready to gather with family, friends, faculty, and staff to celebrate one of life's great achievements—and the promise of a bright future.
Purdue Fort Wayne will host its 2023 Commencement on Wednesday beginning at 4 p.m. at Memorial Coliseum; doors open at 3 p.m. No tickets are required and parking is free for all who attend, courtesy of the university's Student Government Association.
Much more than the traditional pomp and circumstance, Purdue Fort Wayne's take on commencement day has continued to evolve over the past two years. The activities include an alumni after-party in Expo III, and for the first time in 2023, a Chancellor's New Alumni Dinner in Expo II.
"We take great pride in finding that right balance between a ceremony that reflects the magnitude of our students' achievements and those post-event festivities that give everyone a chance to let loose a little with the people who have helped them reach this milestone," said Ron Elsenbaumer, chancellor, Purdue University Fort Wayne. "Having an opportunity to earn a Purdue degree in a city as vibrant as Fort Wayne is part of what makes what we have to offer special. Those experiences have a significant impact before and after graduation for the individual and our region.
More than 840 of the 1,408 Purdue Fort Wayne students who have already received, or are on track to receive, a degree this academic year will celebrate the conclusion of their studies at Memorial Coliseum on Wednesday. They're expected to be joined by approximately 8,000 guests.
At last count, Purdue Fort Wayne estimates this year's graduating class will feature:
Total graduates: 1,408  (up from 1,199 in 2022)
Women: 746  (53%)
Men: 662  (47%)
First generation graduates: 41.9% of total
Indiana Counties: 49
States: 24  (includes Indiana)
Countries: 30  (includes the U.S.)
4.0 GPA: 91  (up from 63 last year and)
These figures are estimates until the degree conferral process is completed in August.
More important than the raw numbers are the personal stories from the students themselves. Many already have secured employment on the first leg of their professional journeys. Some have shared how Purdue Fort Wayne helped guide them to where there are today. Read "Purdue Fort Wayne's 2023 Commencement highlights the big payoff for grads" for feature story ideas and to learn more.
Those not able to attend the 2023 ceremony may view it via livestream by visiting pfw.edu/commencement on the day of the event.
Frank Paladino, Jack W. Schrey Distinguished Professor of Biology, will again serve as the grand marshal. The role includes the honor of carrying the Purdue Fort Wayne mace, which made its debut in 2021. Dating back to medieval times, maces have a long tradition of ushering in formal, ceremonial events. Carried by the marshal, and only present when the chancellor is in attendance, the mace signifies that the proceedings have official sanction.
Brittany Sprunger, a member of Purdue Fort Wayne's Top 50 class for 2023 who will be awarded bachelor's degrees in music and music education, will sing the national anthem.
For additional information about the ceremony, or to explore options for student profiles, contact Geoff Thomas, senior director of media relations, at [email protected] or 260-437-7657 (mobile).