Women's Studies Programs
This is where advocacy is encouraged.
Providing support, obtaining knowledge, and being passionate about a cause are what we're all about.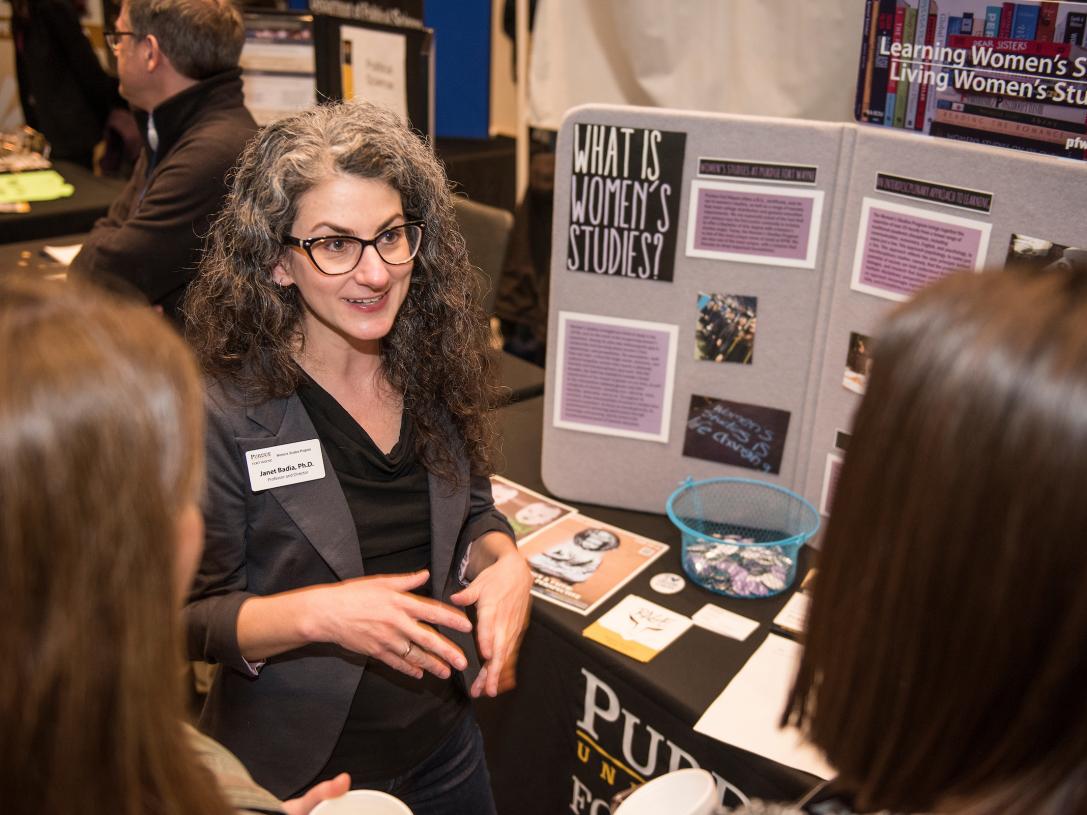 B.A. in Women's Studies
As an interdisciplinary area of study, women's studies will teach you how to integrate knowledge across disciplines to understand gender within historical and contemporary contexts. You'll examine gender and its intersections with other categories of identity, including race and ethnicity, sexuality, class, nationality, and disability. You'll also study how systems of power and oppression function, and how individuals and organizations can bring about meaningful social change. Program
Highlights
Program Highlights
An understanding of gender in both historical and contemporary contexts
Knowledge regarding the intersections of gender with race, nationality, class, sexuality, and disability
The development of expert critical-thinking, problem-solving, speaking, and communication skills
Support from the Mastodon community
A prestigious Purdue degree
Scholarships
Looking for ways to make paying for college a little easier? ScholarshipUniverse is a tool for current and admitted Purdue Fort Wayne students that allows you to create an academic profile and connect with scholarship opportunities.
For more information about all the scholarships available at Purdue Fort Wayne—including opportunities for specific programs—you can visit the Office of Financial Aid or contact us at [email protected].
Student Learning Outcomes
Upon completion of this degree, students will be able to demonstrate the following learning outcomes:
Understand the major concepts of feminist critical analysis, including gender, race, class, sexuality, nationality, ability, and age, and the complexities of their intersections
Understand how gender is socially and historically constructed; how it relates to systems of power, privilege, and oppression; and how it impacts our lives
Understand a broad range of feminist theories, with an appreciation for their cultural and historical contexts
Understand the history and importance of feminist thought and activism in the United States and around the globe
Understand the diversity of women's experiences, roles, and contributions to society and culture
Understand how gender impacts the production of knowledge and how feminist approaches to learning and research have transformed traditional disciplines and other canons of knowledge
Understand the history and status of women's studies as an academic field of study and the key principles that distinguish it from traditional disciplines, including its interdisciplinarity, its commitment to feminist approaches to teaching and learning, and its development of feminist research methods
Demonstrate effective reading, speaking, writing, and critical-thinking skills through the work they complete in women's studies courses
Apply feminist perspectives to a range of issues and engage in critical debates or areas of contention within feminism
Apply feminist perspectives across disciplines
Incorporate feminist theories and scholarship in research methods and problem-solving
Transform knowledge into engagement and articulate effective strategies for change
Next stop: a successful future.
Advertising Executive
Counselor
Educator
Government Agent
Grant Writer
Health Clinician
Human Resources Specialist
Journalist
Lawyer
Lobbyist
Market Researcher
Museum Curator
News Correspondent
Nonprofit Administrator
Public Relations Specialist
Publisher
Social Justice Advocate
Social Worker