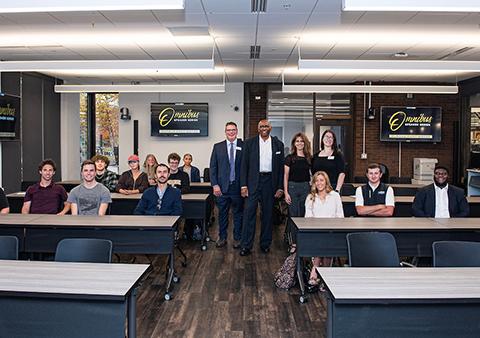 PFW Story
Honors Program provides direct access to Omnibus speakers
For two hours, Xeryus Johnson sat in the front row, saturating himself with Michael Steele's every word. The former Republican National Committee Chair spoke to a group of 16 Honors Program students including Johnson on Oct. 24. And when Steele concluded, Johnson also got to chat with the famous political figure for another 10 minutes or so.
"I work in politics, so being able to have that conversation with someone who has been in politics for decades now," Johnson said, "someone who works for the opposite party that I work in, it was really eye-opening and proves to me that bipartisanship still does exist."
Ever wonder who gets to ask the questions near the end of Purdue University Fort Wayne's Omnibus Speaker Series lectures, and how they get selected? It's members of the Honors Program. Because of this involvement, each gets exclusive access to interact with the speakers during afternoon classroom experiences and then a chance to ask probing questions at the end of the evening lecture.
"There is a higher level that the Honors Program takes things at, and having conversations like this helps us grow our understanding of issues as we dive deeper," Johnson said. "The Honors Program events that they put on are a big deal."
The Honors Program allows students to dig a little deeper into a subject and reach a little higher to further their understanding in general, to make themselves stand out. Program Director Farah Combs oversees more than 350 participating students who are attempting to earn their honors certificates.
Honors programs are recognized throughout the country as students apply for professional positions and academic advancement after graduation. They don't help open doors as much as encourage others to hold the door open for these accomplished students.
Participants get selectively invited into the program based on high school achievements or test scores; PFW students can apply at any time during their college career.
As the website says, "Get the most out of your college education with our Honors Program, an interdisciplinary undergraduate program that encourages high-achieving, talented students to pursue their pathways to excellence. These pathways include research endeavors, international studies, service, and community engagement. We'll provide the structure, and you'll provide the drive, determination, and desire to succeed."
One of the honors courses offered is a 1-credit course Combs teaches about the Omnibus speakers, which includes access to the private session with the speaker before their lectures later that evening. In addition to attending the class and presentations in the Omnibus course, there is an academic paper due at the end of the academic year.
Selected students are invited to ask questions at the conclusion of Omnibus public presentations, such as Monday's session with planetary protection engineer Moogega Cooper.
"What I get out of this is I read a lot of the news, and when you get to be part of this, it allows you to get a real hands-on experience with what you really want to study and do," junior political science and economics major Jadden Ousley said. "It's motivating."
An interesting aspect of Steele's afternoon session in October was how he reacted to the students' questions. He was already focused and even excited about the opportunity to speak, ignoring the podium and continually walking among them; the thoughtful questions made the political commentator hesitate a few times and raise his game to answer.
Clichés and talking points would not do for that group. The students did what every debate moderator dreams of, to ask the tough questions and get real answers. As an example, Ousley asked Steele which political party he'd represent if he chose to run for public office again. Steele detailed several opportunities he's considered and said he'd likely run as an independent.
While not associated with the current Omnibus season, Caymbria Brown, a junior majoring in political science, asked PBS News veteran Judy Woodruff a question during a similar lecture Sept. 14.
"I found her super-interesting because I kind of can relate to her a little bit," Brown said. "She's had all these crazy experiences in my field. When I think about education, this is the kind of opportunities that should be afforded to students when you are pursuing an education at a high level."
Combs has led the program since 2017, and recently added assistant director Rachel Gibson, who transferred from Human Resources.
"I love it," Combs said. "It's busy, but I don't mind it because honors is the face of the university. This is the experience you build here, the opportunity the university gives you. This gives you the most knowledge you can get out of a class and is as elevated an education as you can get."