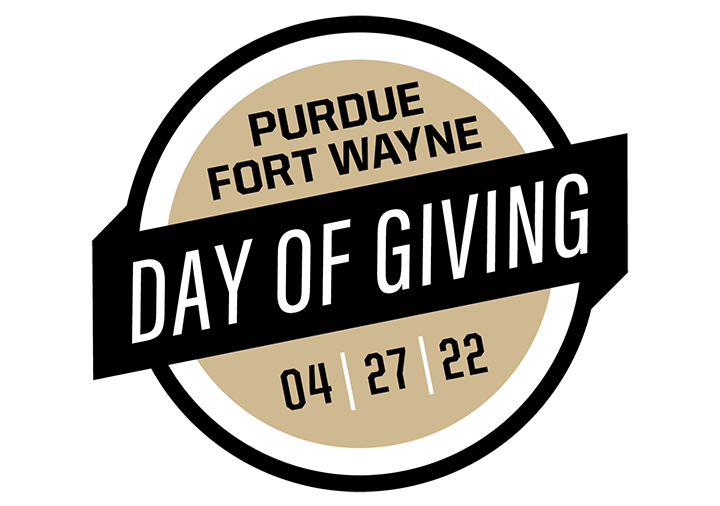 Fourth annual Day of Giving at Purdue Fort Wayne Set for April 27
FORT WAYNE, Ind. — Mastodons are big thinkers and dreamers. They're also doers who turn possibility into reality. For a full 24 hours on April 27, many will come together again to support students on Purdue University Fort Wayne's 4th annual Day of Giving.
According to a 2019 economic impact report from The Perryman Group – a firm with deep expertise in this kind of assessment – Purdue Fort Wayne fuels 82,450 jobs regionwide. The same study cites the university's $8.9 billion economic impact on northeast Indiana and an $11 billion impact on the state.
Needless to say, quite a lot has happened in the three years since the Perryman report was released. What hasn't changed is the reality that northeast Indiana's success is influenced to a great degree by the success of Purdue Fort Wayne students and graduates. Of its more than 62,300 alumni, 50% live and work in northeast Indiana and 75% call Indiana home.
Many current and prospective students need financial assistance in the form of scholarships to achieve their goal of a Purdue degree. Most want to know the university's academic programs, its campus infrastructure, and other critical initiatives have solid backing. This is why Day of Giving exists.       
The entire community is invited to help make its mark so Purdue Fort Wayne students can make theirs on campus, in Fort Wayne, and around the world. Digital reminders and answers to FAQ are available at dayofgiving.pfw.edu.
Call 260-481-6962 or email [email protected] to learn more.