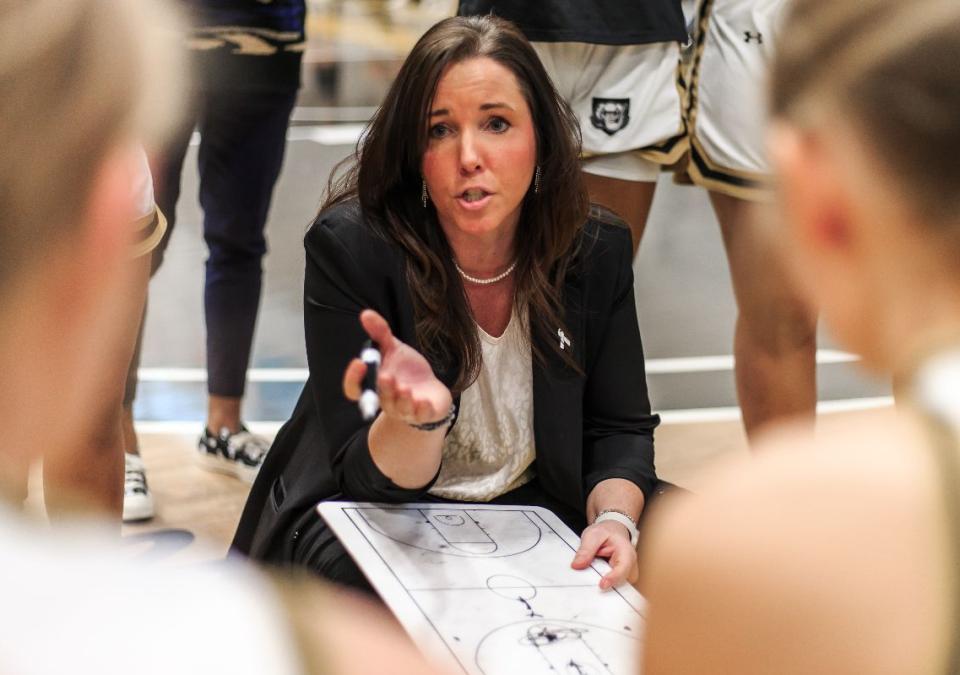 News Release
Contract extended for Mastodon WBB head coach Maria Marchesano
Purdue University Fort Wayne and women's basketball head coach Maria Marchesano have agreed to a contract extension, Director of Athletics Kelley Hartley Hutton announced on Thursday.
Marchesano, who led Purdue Fort Wayne to the 2023 Horizon League semifinals in Indianapolis, now has her contract extended through the 2027-28 season.
"We couldn't be more excited to have Coach Marchesano leading our women's basketball program," Hartley Hutton said. "Though Maria has tremendous support from our growing Mastodon women's basketball fan base, this is about setting our student-athletes up for success. It has been a pleasure to observe our team grow and transform its style of play and culture in just two seasons. She has already assembled a first-class staff and healthy team culture focused on learning, competing, and winning."
The Fort Wayne native took over the program in 2021, and the Mastodons have gone from one to 14 wins in two seasons. The Mastodons also picked up nine wins in the Horizon League in 2022-23, their most league wins since 2010-11. In Marchesano's two seasons at the helm, Purdue Fort Wayne has won more league games than the previous seven seasons combined.
"Being back home and a part of the Mastodon family over the past two years has been a huge blessing," Marchesano said. "I am so grateful for the belief and trust that this administration has demonstrated to me through this process and I couldn't be more excited for the future of this program. I especially want to thank Director of Athletics Kelley Hartley Hutton, Vice Chancellor Glen Nakata, and Chancellor Ron Elsenbaumer for working diligently to get this done, but more importantly for their continuous support of our entire program."
In her two years with the Mastodons, she has coached three All-League players. Shayla Sellers was an All-League Third Team pick in 2021-22 and made the All-Defensive Team in 2022-23. Amellia Bromenschenkel was a Third Team selection in 2022-23, and Ryin Ott was a Horizon League All-Freshman Team honoree in 2021-22 despite playing just 20 games.
In addition to her teams' on-court accomplishments, the Mastodons have also been successful in the classroom. The women's team had the highest GPA in the Purdue Fort Wayne athletic department in 2022-23 with a 3.59 team GPA. The Mastodons also had four student-athletes earn College Sports Communicators Academic All-District awards in 2023: Ryin Ott, Riley Ott, Audra Emmerson, and Bromenschenkel.
Marchesano, an Elmhurst High School and Butler University alumna, returned to the Summit City after spending four years at Mount St. Mary's, where she was named the Northeast Conference Coach of the Year in 2021. She led the Mount to the NCAA Tournament in 2021 after winning the NEC Tournament.
The 2023-24 edition of the Mastodons will kick off the season in November.