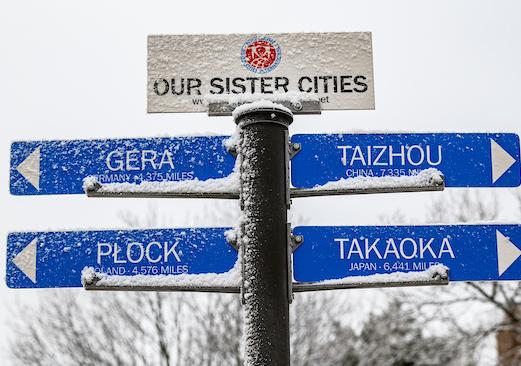 PFW and Fort Wayne Sister Cities formalize partnership
FORT WAYNE, Ind.—Representatives of Purdue University Fort Wayne, including Chancellor Ronald L. Elsenbaumer, hosted members of the Fort Wayne Sister Cities International committee on Monday to formalize an existing partnership intended to further strengthen and grow both institutions in support of a vibrant Fort Wayne.
To make the expanded relationship official, a memorandum of understanding was signed to help Purdue Fort Wayne work toward a consortium of universities with Fort Wayne's fellow Sister and Friendship cities.
"This is a great opportunity to recognize, and build on, the excellent work that faculty and students at Purdue Fort Wayne and members of the various Sister Cities committees have already been doing to advance the notion that the local is global here in Fort Wayne," said Shannon Bischoff, professor of linguistics and associate director of the Institute of Research and Innovation at Purdue Fort Wayne.
The official alliance stands to increase educational opportunities and economic growth among the partner cities. It also helps solidify Purdue Fort Wayne's growing presence as an international player in higher learning.
To date, ad hoc exchanges of this nature have been established between Purdue Fort Wayne and Mawlamyine Mon State in Myanmar; Takaoka, Japan; and Gera, Germany. These partnerships have resulted in exchanges of students and faculty and have strengthened relationships between government and higher education officials.
"On behalf of Sister Cities, we are excited by the new opportunities this will open up for our community," said Mary Encabo, Fort Wayne Sister Cities board member and continuing lecturer in the Department of English and Linguistics at Purdue University Fort Wayne. "We hope this will generate more interest in our Sister and Friendship cities."
The formalized partnership signed Monday comes less than two weeks before a delegation made up of officials from the university and Fort Wayne Sister Cities travels to Myanmar to sign a separate MOU between Purdue Fort Wayne and Mawlamyine University. Purdue Fort Wayne already has MOUs established with multiple educational institutions and other organizations across the globe. 
Each MOU also helps solidify Purdue Fort Wayne's status as a Metropolitan University, a designation reaffirmed by the Indiana Commission for Higher Education in June.
For additional information, contact Geoff Thomas at 260-481-4106 (office), 260-437-7657 (mobile), or [email protected].
### Downloads
from the Article