November 15, 2018
FORT WAYNE, Ind.—Purdue University Fort Wayne is pleased to hold the annual Economic Outlook Panel and luncheon on Friday, November 16, at 11:30 a.m. in the Steel Dynamics Keith E. Busse Mastodon Alumni Center.

November 13, 2018
FORT WAYNE, Ind.—Amy Tan, the second lecturer in the 2018–19 Omnibus Lecture Series season, will meet with members of the media on Wednesday, November 14, beginning at 4 p.m. in Kettler Hall, Room 154.

November 07, 2018
FORT WAYNE, Ind.—The Second Annual Chancellor's Chili Fest at Purdue University Fort Wayne was a huge success with nearly 1,000 students, faculty, and staff members in attendance, a chili cook-off, and more than $500 raised for The Pantry at Purdue Fort Wayne.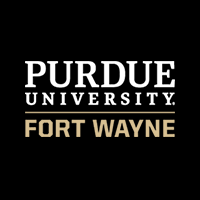 November 01, 2018
Purdue University Fort Wayne has produced four Fulbright Scholars in four years. Kyler Hudson, Nathaniel Brophy, Cody Fuelling, and Alexander Allison travel the world to conduct research and teach English.
More News
@PurdueFWNews
Tweets by PurdueFWNews