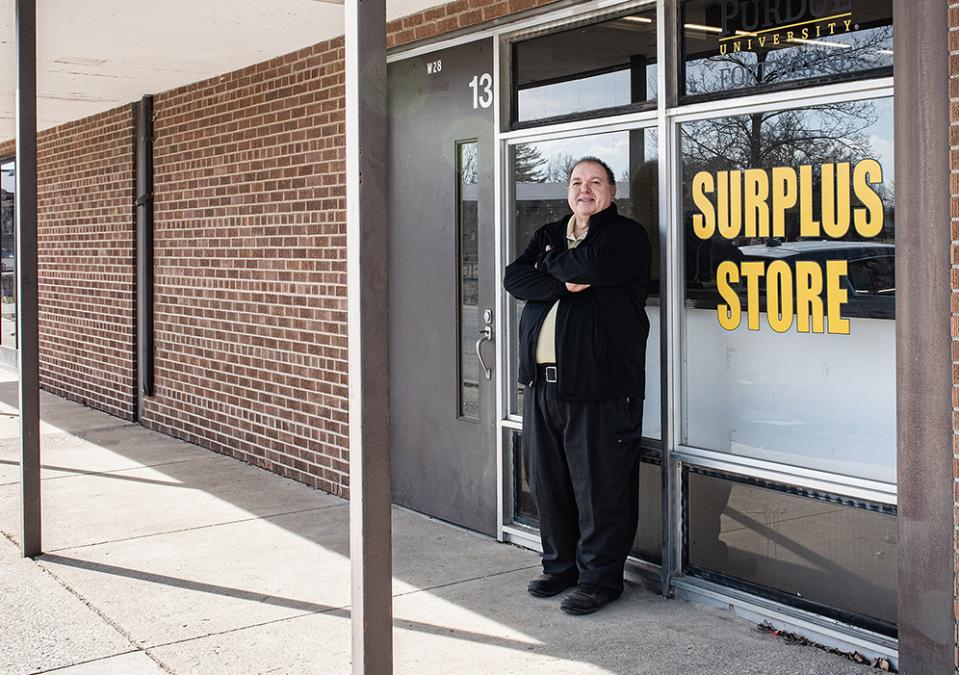 PFW Story
Surplus Store fun to visit, but that's only the tip of the iceberg
Mostly under-recognized in the Fort Wayne area, the Purdue University Fort Wayne Surplus Store represents the public's opportunity to see one aspect of the campus's sustainability efforts in action — reduce, reuse, recycle, repurpose. Since 2009, the operation has been a leader in diverting hundreds of tons of materials — otherwise considered trash — from local landfills to find new purpose.
Located in Ginsberg Hall on the North Campus, the store can be tricky to locate. From the main campus, take Dean Drive across St. Joe Road and turn left onto Meek Drive, following it until it ends on the left.
The store tries to be open to the public about one Friday per month. However, for campus departments, it's open by appointment every Monday through Wednesday by calling 260-481-0796.
Approximately 2,000 followers are notified of sales via the PFW Surplus Store Facebook page, typically a week or so prior to the event. Photos of current items are included in the postings.
"There's a lot of hard work behind the scenes the rest of the weeks," said Greg Justice, associate vice chancellor of facilities management. "It's a constant turnover of things coming in and going out. Some of the things are surplus, some are temporary storage, and some are just work deliveries that come in and go back out."
It truly is a large operation that affects all parts of the campus. There's a warehouse within the building, and the store only represents about 10% of the work being done there. Marc Tulley, director of mail, warehousing, and printing services, is also responsible for the operations of the store.
"Everything other than hazardous waste has to be processed through the salvage and surplus operation," Tulley said. "Everything that is leaving campus has to go through us."
Warehouse operations, of which the PFW Surplus Store is a part, handles internal free-standing office furniture moves in addition to removal and disposal of science lab equipment, university vehicles, fitness equipment, musical instruments, and old machinery. ITS sends all obsolete, salvaged, computer-related and electronic equipment over for proper handling and disposal.
Members of the warehouse surplus team are also responsible for picking up and recycling materials from various remodeling projects across campus.
"We're supposed to do our due diligence to make sure we are getting the right amount and not just giving the stuff away," Tulley said. "Since we are government funded, we cannot give stuff away internally. We have to give the public the opportunity to purchase the items."
As an auxiliary unit apart from the university general fund, the store must pay for itself, including the salary and benefits of two full-time workers and the vehicles they use to pick up items on campus.
"This is another reason we can't operate or sell materials at 'garage sale' prices," Tulley said. 
In addition, warehouse operations handles short- and long-term paid storage for a multitude of departments and entities on campus. There are over a dozen enclosed storage spaces, as well as room for hundreds of individual pallet storage options.
PFW is a member of the University Surplus Property Association, a national organization consisting of more than 200 colleges and universities across the country. Representatives of member institutions are known to share updates and best practices 
"I credit their knowledge, input, and experience, coupled with guidance from the folks at the West Lafayette campus for helping us create something special of our own here in Fort Wayne," Tulley said.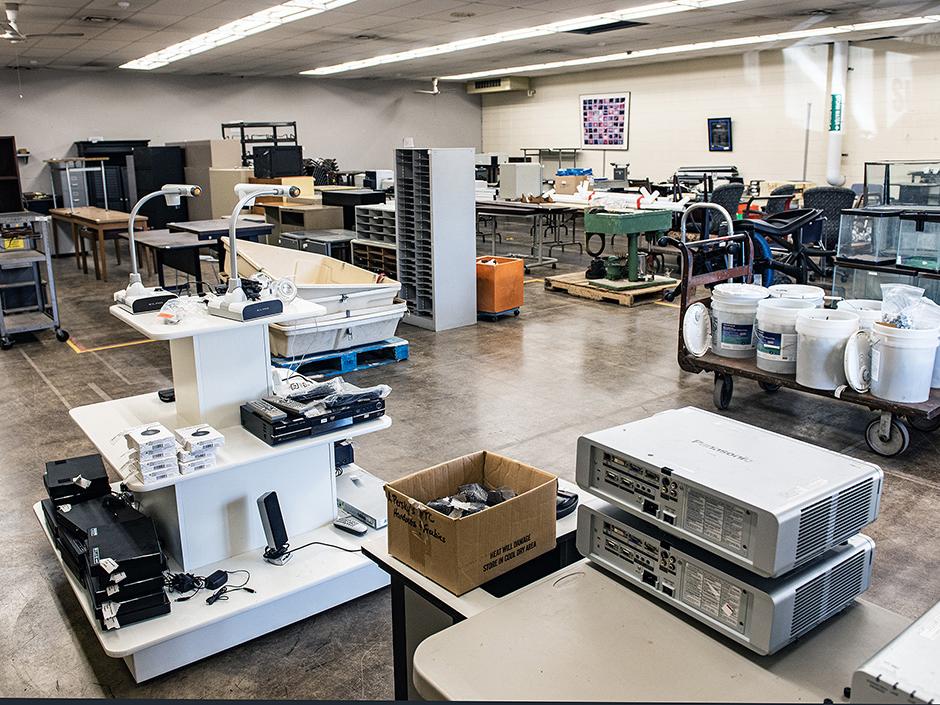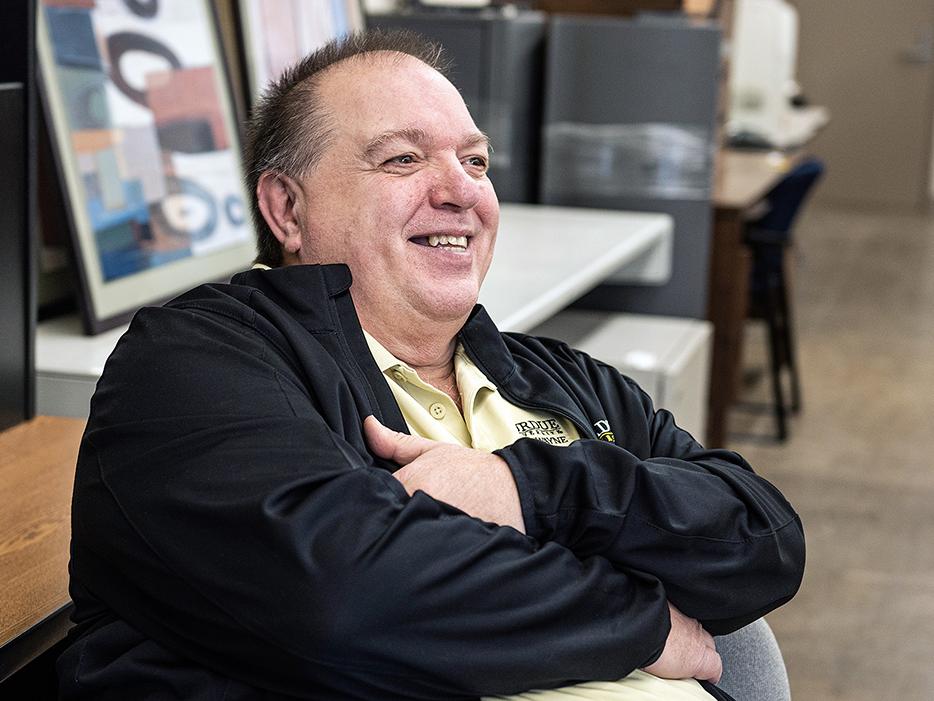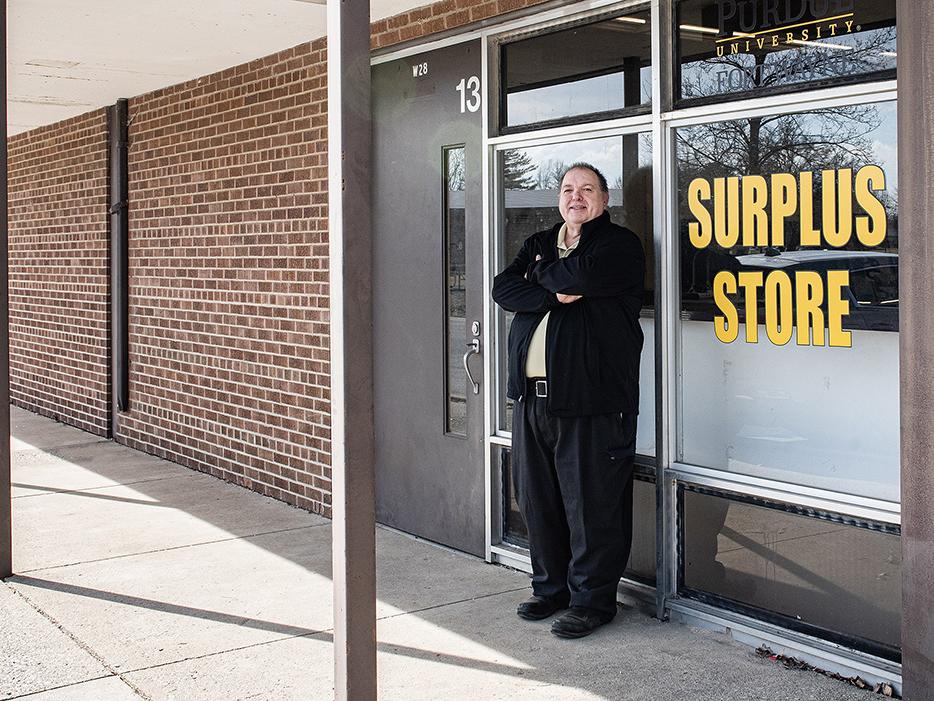 PFW Surplus Store display area.
Marcus Tulley
Marcus Tulley stands near the PFW Surplus Store entrance.