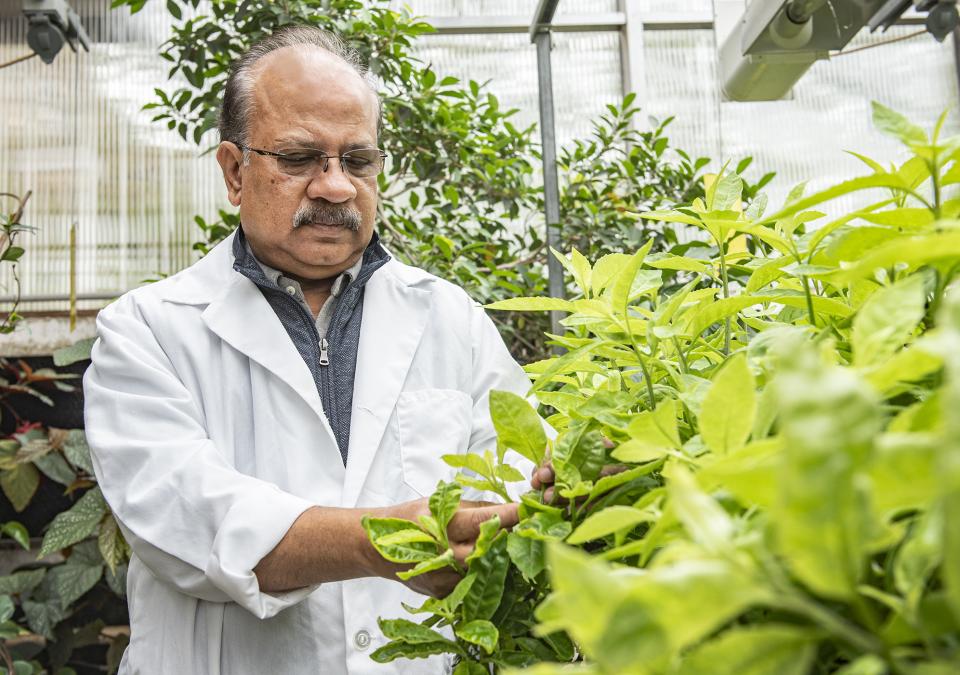 PFW Story
Sparking intellectual curiosity through research
If you ever find yourself on "Family Feud" and host Steve Harvey asks for a word that describes what professors do, there's a good chance "teach" and "research" will be near the top of the list. These are common responsibilities, common bonds for university educators worldwide. And because most everyone in this occupation is doing it — teaching and/or researching — those whose accomplishments stand out are celebrated for their achievements.
As Purdue Fort Wayne's 2021-22 recipient of the Outstanding Research Award, Ahmed Mustafa, professor of biology, continues to demonstrate excellence.
Mustafa is internationally recognized by his peers as a stress physiologist who studies the physiological, endocrinological, and immunological changes in stressed animals that affect their growth, reproduction, and immunity. Through his research and publications, he has raised awareness of the problems of stress and its effects on disease resistance to the aquaculture industry. 
By working at the interface between basic and applied research, Mustafa has developed a uniquely valuable research program that translates knowledge of the biology of these systems to support human health and welfare.
To coincide with the rollout of the College of Science's new website, Mustafa took some time to reflect on how he got to where he is today and why the study of biological sciences is as important as ever.
Was there a defining moment during your own education when you knew biology was the field you wanted to enter?
Biology is naturally fascinating. From a very young age, I loved reading and learning about biology. I was charmed by the complexity of living things and their interactions with the environment. 
Biology is like a vast captivating world in its own. It tempted me to learn and explore more and more, as I was growing up, from day one of my academic journey. Hence, there was no defining moment to enter the world of biology — it was in my heart.
How does stress affect our lives? How did you become interested in stress physiology?
Stress physiology is a fascinating subject. Stress initiates a physiological reaction in any animal, including humans, in response to changes in the environment — internal or external. If they fail to resist the stress, animals become immunologically vulnerable and thereby susceptible to diseases. At this point, animals are treated with pharmaceuticals that can cause side effects and harm the environment.
I have, therefore, become interested in these areas to develop better understanding of the physiology of stress to minimize our dependency on chemical treatments, to produce quality animal proteins for human consumption, and to protect the environment from the negative effects of chemical pharmaceuticals.  
Is there any impact of climate change on your research and teaching?
Climate is directly related to stress, and the impact of climate change on health is substantial. My research concerns stress and immunity of animal life and prevention of diseases with alternatives to drug therapy, such as use of nutraceuticals or functional foods. 
The experience and knowledge gained from my research, over the past decades, often supports my teaching. My objectives for teaching through research include developing skills for critical thinking, problem solving, analysis, synthesis, and effective communication.
How do you involve students in research and change them or change their mindset?
I actively encourage students to become involved in scientific research. During my tenure at Purdue Fort Wayne, I have taught many students of all ages to become effective, independent thinkers and to apply their skills in scientific research.
Many have sought and received small grants to support their own research; presented their findings at regional, national, and international scientific meetings; and received co-authorships in peer-reviewed publications. Several of these students have also successfully transitioned to graduate schools pursuing doctoral, medical, and pharmacy degrees.
Of the high school students I've taught, a large number have received awards and prizes, moved forward to state and international science fairs, and successfully transitioned to colleges and universities.
Involving students in research is important because research experience provides motivation to students for learning and helps them to pursue their individual interests. Through research, their intellectual curiosity is sparked, and they get the opportunity to take greater ownership of their own learning process.
How meaningful is it to receive this level of recognition from your peers? What is one of your professional goals?
Receiving this level of award from my peers is very fulfilling. It, along with the achievements of my students, is reassurance that that my contributions are not in vain.
My career goals are to keep on developing more resources that will help me to be the best, professionally. I believe that the most effective teachers and/or researchers are reflective and are always striving to better themselves and their practices. 
The Outstanding Research Award honors a tenured, full-time faculty member for outstanding performance in the area of research, scholarly activity, or creative endeavor. The honoree must have achieved an exceptional record of contributions to the body of knowledge or creative works in his or her discipline — and must also have had great success communicating that information to a wide audience. 
The award is sponsored by the Office of Academic Affairs.