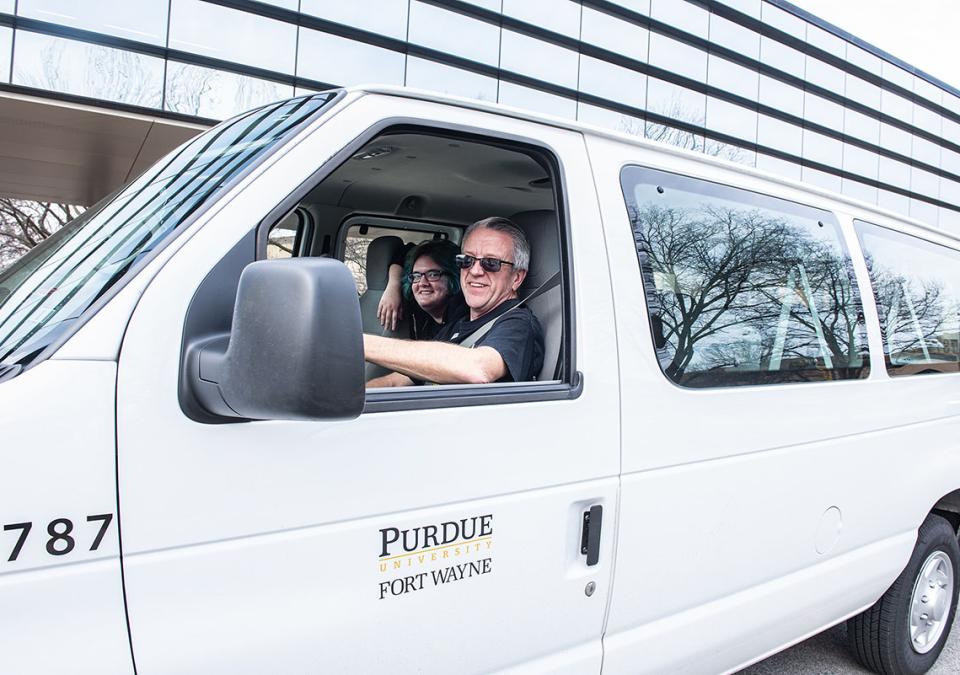 PFW Story
Shuttle program helping students catch a ride
With the threat of harsh winter weather most likely to occur in January and February, a new pilot program will make traveling to campus easier, warmer, and drier for some students.
The Division of Enrollment Management and the Student Experience and the Student Government Association are partnering on a pilot student shuttle program for the spring semester. The program is designed for students living in Student Housing on the Waterfield Campus, and at The Arch and St. Joe apartment complexes, to get free rides to Walb Student Union.
The pilot started this week with rides offered on weekdays Monday through Thursday from 8:15 a.m. to 7:15 p.m., and on Fridays from 8:15 a.m. to 1:15 p.m., running in approximately 15-minute increments.
Another service offered during the pilot will be a trip to Kroger, 4120 N. Clinton, starting at approximately 1:35 p.m. on Fridays. Students must sign up for the grocery trips. Space on this shuttle is currently limited to the first seven students who reserve a seat each week.
The program utilizes three university fleet vans with PFW retirees serving as drivers.
"We really wanted to get this off the ground in the spring," said Abbey Wang, coordinator of Student Leadership and the Student Government Association. "We were able to work things out."
If utilized, there's potential the program may be able to expand.
PFW has had similar success shuttling students from Gates Sports Center to the home basketball games held at Memorial Coliseum.