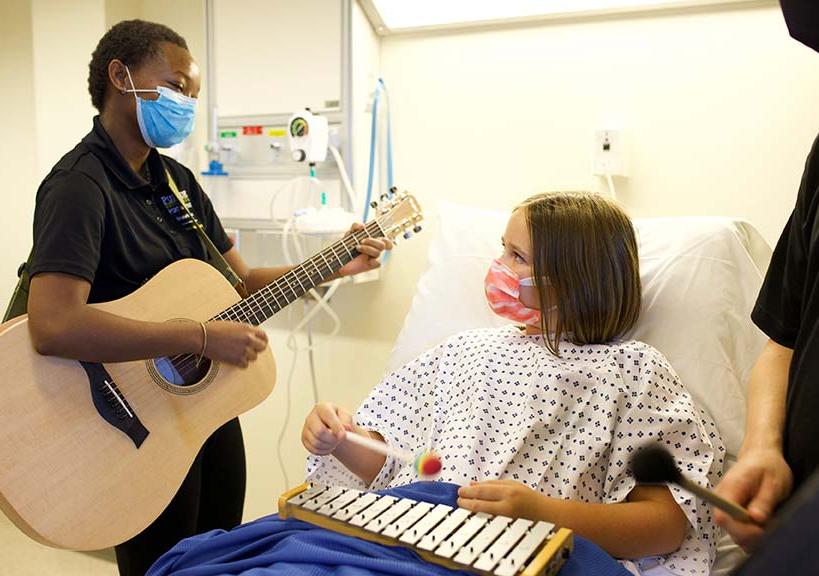 News Release
Purdue Fort Wayne introduces only Master of Music Therapy degree program in northern Indiana
FORT WAYNE, Ind.—To further support students looking to make their mark in the important field of music therapy, Purdue University Fort Wayne is launching a Master of Music Therapy degree program starting with the fall 2022 semester. Designed for both professional music therapists and those without a music therapy undergraduate degree, this program will develop advanced clinical skills for professional practice with clients who have complex needs. It will be the first Master of Music Therapy degree program in northern Indiana and one of the few of its kind in the region.
Nancy Jackson, a professor and director of the new program at Purdue Fort Wayne, has 30 years of experience working as a music therapy clinician in mental health and medical settings, as well as in private practice. She has also directed the music therapy undergraduate program at the university since 2005.
"Our program provides students with the opportunity to take up to 100% of their coursework in music therapy so they might focus exclusively on developing advanced clinical knowledge and skill in a specialized area related to their professional goals," said Jackson. "It is offered in a hybrid format so they can do graduate study without interrupting their lives."
In this hybrid learning format, about 80–90% of coursework is in a condensed residency on the Purdue Fort Wayne campus, with the remainder completed online. The new program has a customizable curriculum with two specialization track options: music therapy in integrative medicine or music therapy for infants, children, and adolescents. Electives can be selected to focus learning on specific career goals, and either research or an advance clinical project can be chosen to complete the degree requirements. Students will also have opportunities for short-term music therapy study abroad courses.
"The availability of a Master of Music Therapy degree continues Purdue Fort Wayne's long-standing commitment to serving our community through excellent academic programs," said David Steffens, professor and director of the School of Music. "With this higher level of training, our graduates will help support the unique needs of clients across the region."
Students who have completed an undergraduate degree in music therapy or hold the MT-BC credential will complete a total of 32 graduate credit hours. Trained musicians without an undergraduate music therapy degree or professional music therapy credential can complete an equivalency option that is a total of 52 undergraduate and graduate credit hours.
Those interested in learning more about the Master of Music Therapy degree program at Purdue Fort Wayne may contact Jackson at [email protected] or 260-481-6716.
Additional information can also be requested at pfw.edu/grad-info. Anyone ready to apply may visit pfw.edu/graduate-studies/apply.
Learn more about Purdue Fort Wayne's School of Music in the College of Visual and Performing Arts at pfw.edu/departments/cvpa/depts/music.
Members of the media may also contact Geoff Thomas at [email protected] or 260-437-7657 (mobile) to request interviews.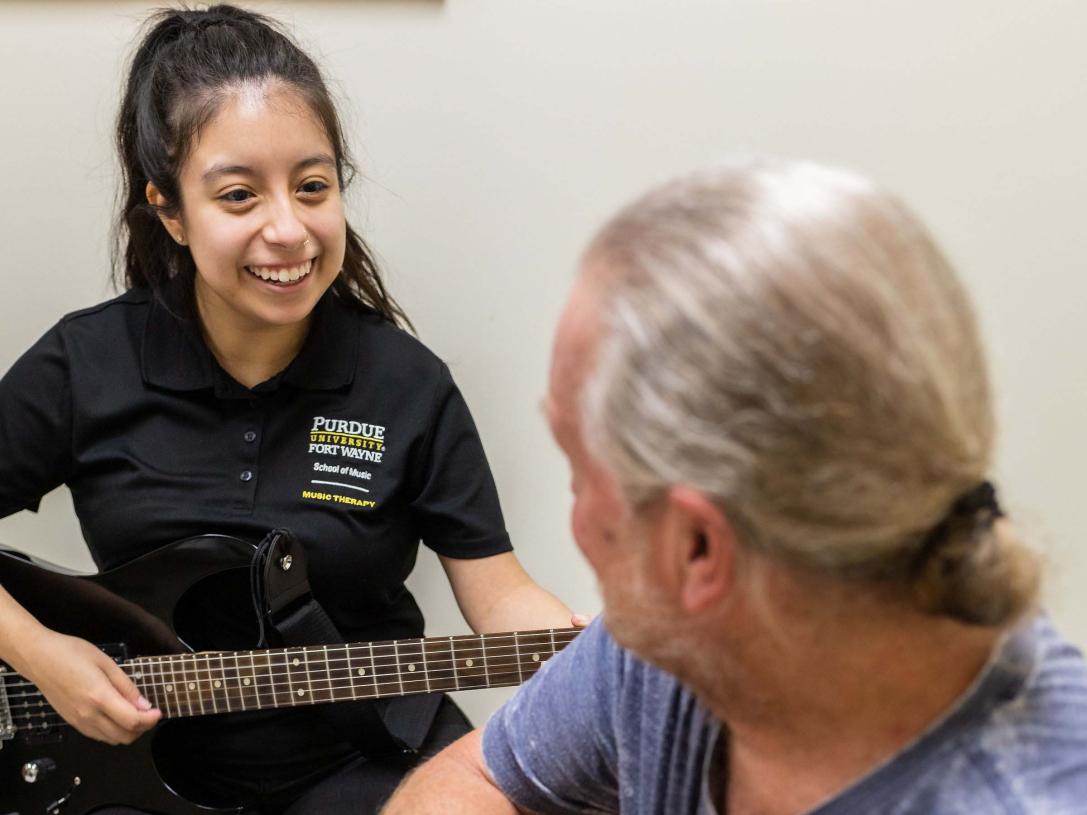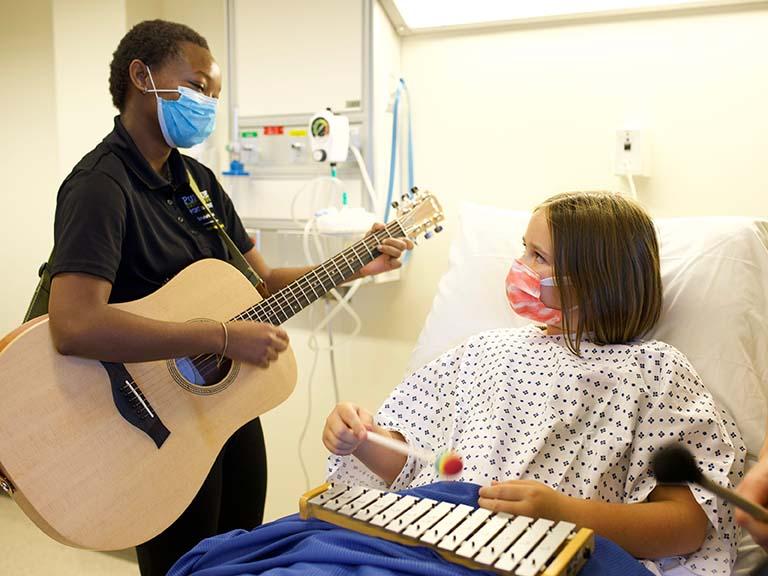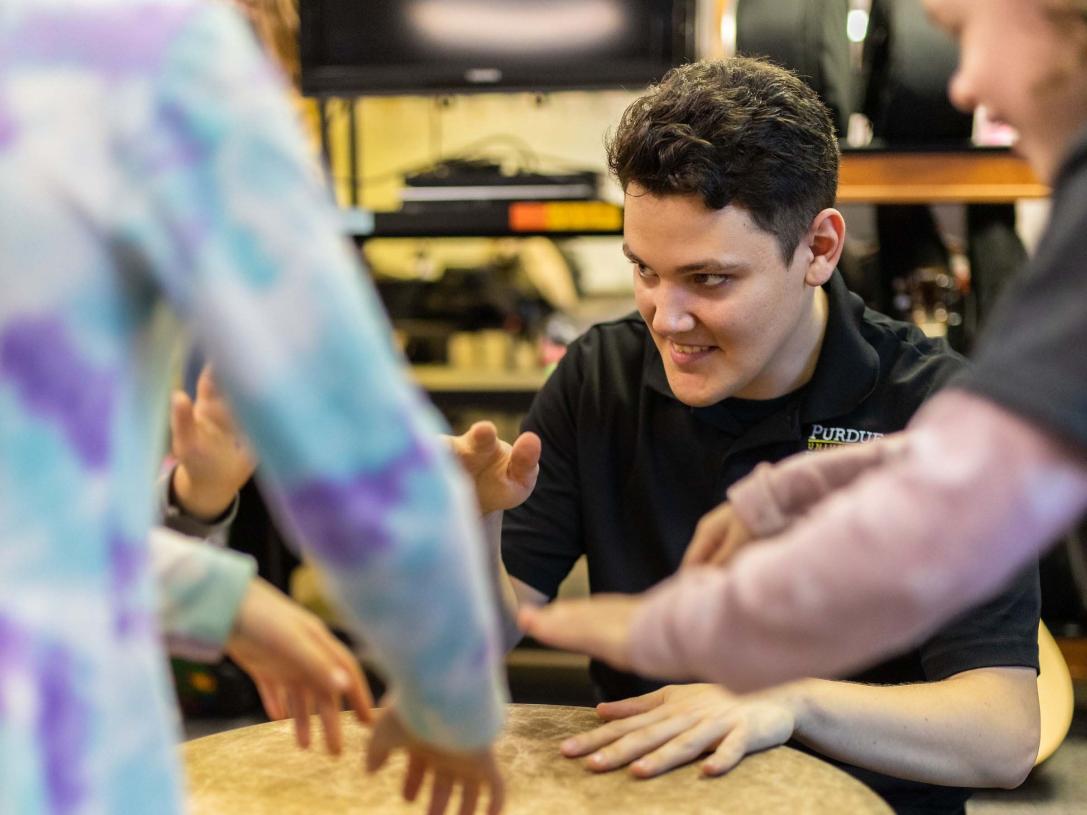 Emily Hernandez, a music therapy undergrad at Purdue Fort Wayne, uses her guitar to build relationships through shared music experience.
Part of Zana Mlotshwa's undergraduate training as music therapy undergrad at Purdue Fort Wayne includes interactions with patients that are designed to bring normalization and expression to a healthcare setting
Trevor Perkins, a music therapy undergrad at Purdue Fort Wayne, leads improvisation with a gathering drum. Downloads
from the Article