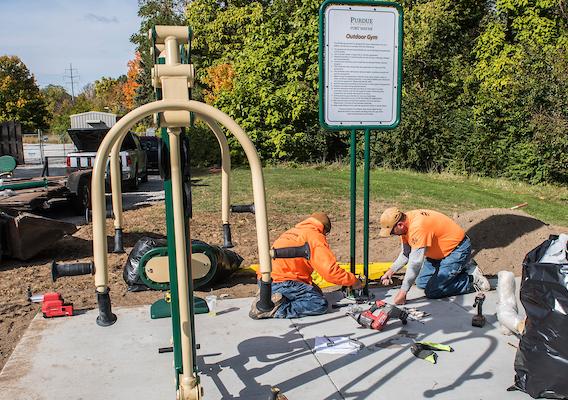 Outdoor fitness stations available for workouts now at PFW
FORT WAYNE, Ind.—Purdue University Fort Wayne invites both the campus and Fort Wayne communities to take advantage of new outdoor workout equipment installed at six pads along the Rivergreenway as it winds its way through campus.
Planning for the equipment and its installation began earlier this year as part of the university's wellness strategy.
"The outdoor fitness stations are one of many health and wellness-driven decisions aimed at investing in student and employee health," says Cynthia Springer, associate vice chancellor for Human Resources/Office of Institutional Equity. "The preliminary wellness strategy has already resulted in the replacement of a variety of workout equipment in the Fitness Center, the launch of Co-Rec Sports that includes Disc Golf, Pickleball, CrossFit Training, and Cricket, and a plan for upgrades to the student weight-training area in the Gates Athletics Center."
The 12 different pieces of equipment include the following:
Two-person wheelchair accessible lat pull down
Two-person full bar exercise
Two-person sit-up incline benches
Two-person wheelchair accessible chest press
Two-person back and arms combo
Four-person pendulum, abs, and dip station
Four-person lower body combo
Two-level horizontal bar
Four-person leg press
Three-person plyometrics—set of three
Four-person combo bars
Two-person parallel bars
All of the stations are ADA accessible. These fitness stations are an addition to the university's current outdoor fitness trails used for walking and running. Now, both indoor and outdoor options are available to students and staff so they can decide which options best suit their health, abilities, and lifestyles.
For additional information, contact Susan Alderman at 260-481-6165 (office), 260-489-5349 (cell), or [email protected].
### Downloads
from the Article