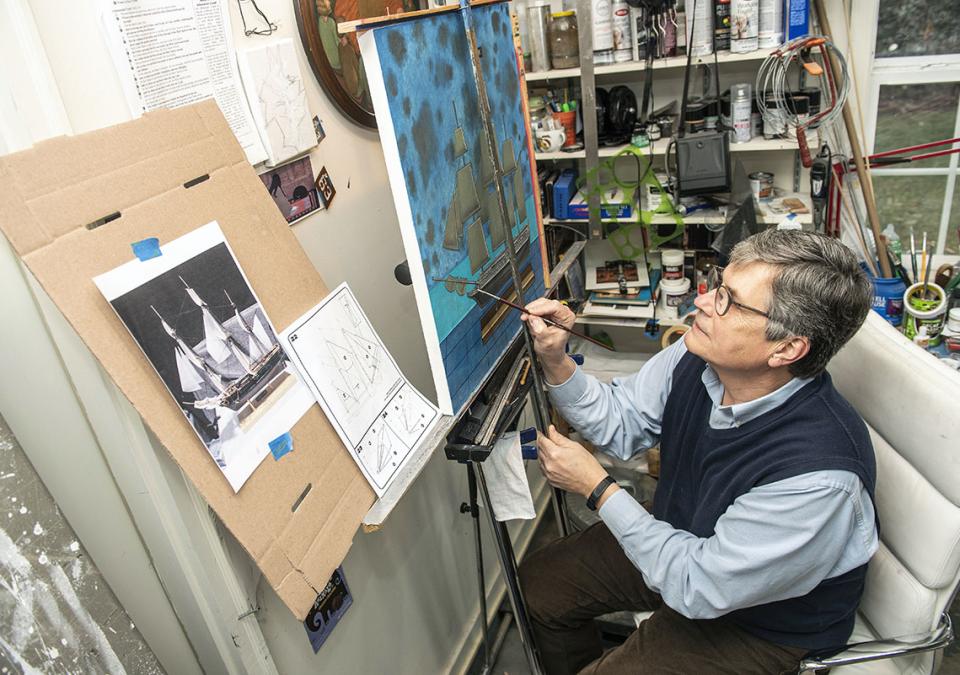 PFW Story
John Hrehov opens up a world of possibility for PFW art students
John Hrehov always knew he wanted to be an artist. A painter.
Growing up in Cleveland, Ohio, he spent untold hours at the Cleveland Museum of Art, admiring the work of accomplished artists and beginning to envision a path for himself. He took every opportunity to enroll in summer and Saturday art classes at the venerable Cleveland Institute of Art.
"I had tunnel vision. Being an artist was all I ever wanted to do," says Hrehov, professor of drawing and painting in the Department of Art and Design in the College of Visual and Performing Arts.
It seemed a natural progression that he would attend the Cleveland Institute of Art, where he would eventually graduate with a Bachelor of Fine Arts in painting.
"Painting classes were so much different then. It was very philosophical," says Hrehov. "We didn't talk about technique at all. The students and faculty hung out and smoked cigarettes and talked about art."
Hrehov's trajectory would take him to the University of Illinois at Urbana-Champaign, where he earned his M.F.A. in painting, and would eventually lead him to begin teaching at Purdue Fort Wayne in 1989. During the past three decades, he has maintained a self-described "momentum" that has fueled both his work as an educator and his own art. 
"Throughout my life and my career, I have had some incredible teachers and mentors who have had a major influence on me," says Hrehov. "They helped me discover and develop a natural curiosity that is so important in finding your way as an artist."
One of those mentors was painter Will Barnet, who influenced generations of artists, including Mark Rothko, during his time at the Art Students League in New York. Barnet painted until the last day of his life at the age of 101.
"Will was at my last show in New York. And at 101, he was still giving me constructive critiques," says Hrehov. "I'd like to be like him."
Hrehov feels a responsibility to help his own students in their journey to find and express their talent and style. He's up front with them that earning a B.A. or a B.F.A., perhaps going on to graduate school, and making art is a marathon. They have to be in it for the long haul, and they have to be ready to face obstacles along the way. 
"It's a privilege to be able to do it," he says. "To be successful, they have to work hard and have an inner will and a belief that it's possible. I love opening up a world of possibility for them."
That passion is evident not just in his teaching but in his own work. While he doesn't necessarily like labels, he says others have described his style of painting as Magic Realism. So, when the opportunity came to enter a juried competition for the prestigious Recharge New Surrealist Prize awarded by the New York Foundation for the Arts, he surmised that New Surrealism might be a good fit for him. 
Indeed, it was. In November he was awarded the prize—selected from a highly competitive pool of more than 450 artists from across the United States. 
"An award like this is an indicator to keep moving forward," says Hrehov. "It adds the fuel that keeps the momentum going."
Next up for Hrehov is a joint exhibition in March with fellow faculty member Seth Green, assistant professor of ceramics, at First Presbyterian Church in Fort Wayne, and a show at Art Link in October that includes pieces evocative of "The Nocturne."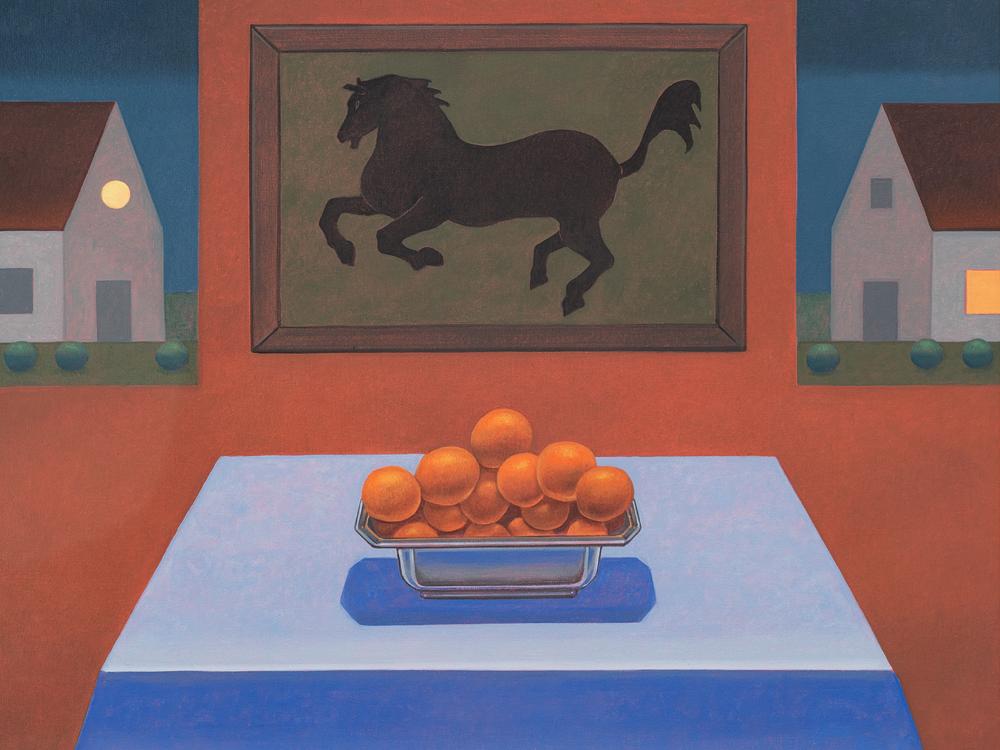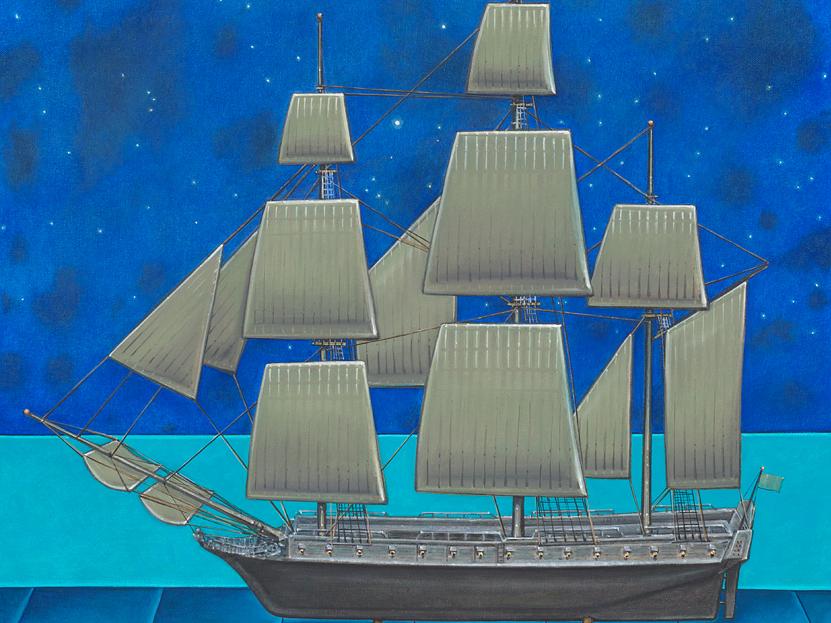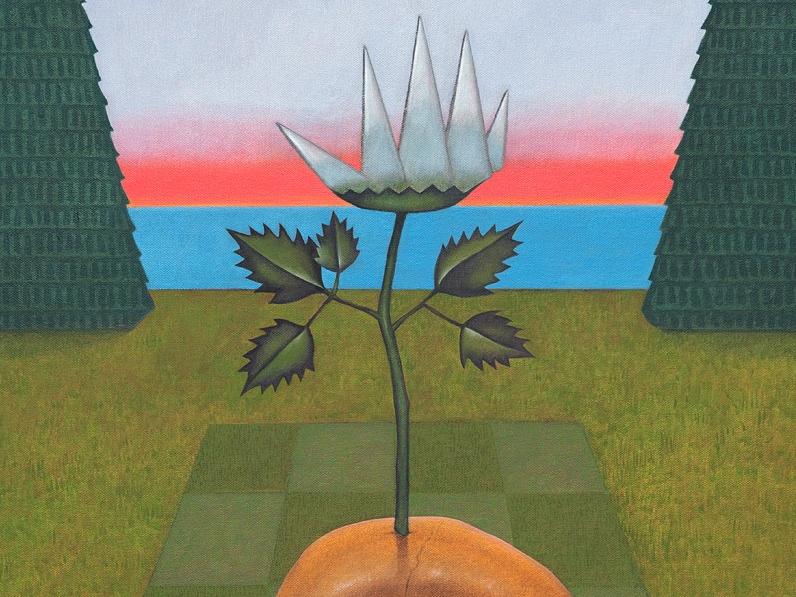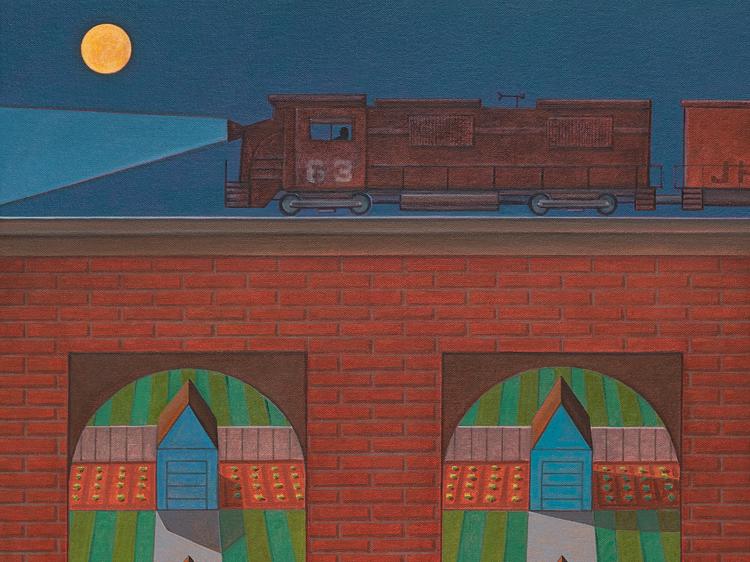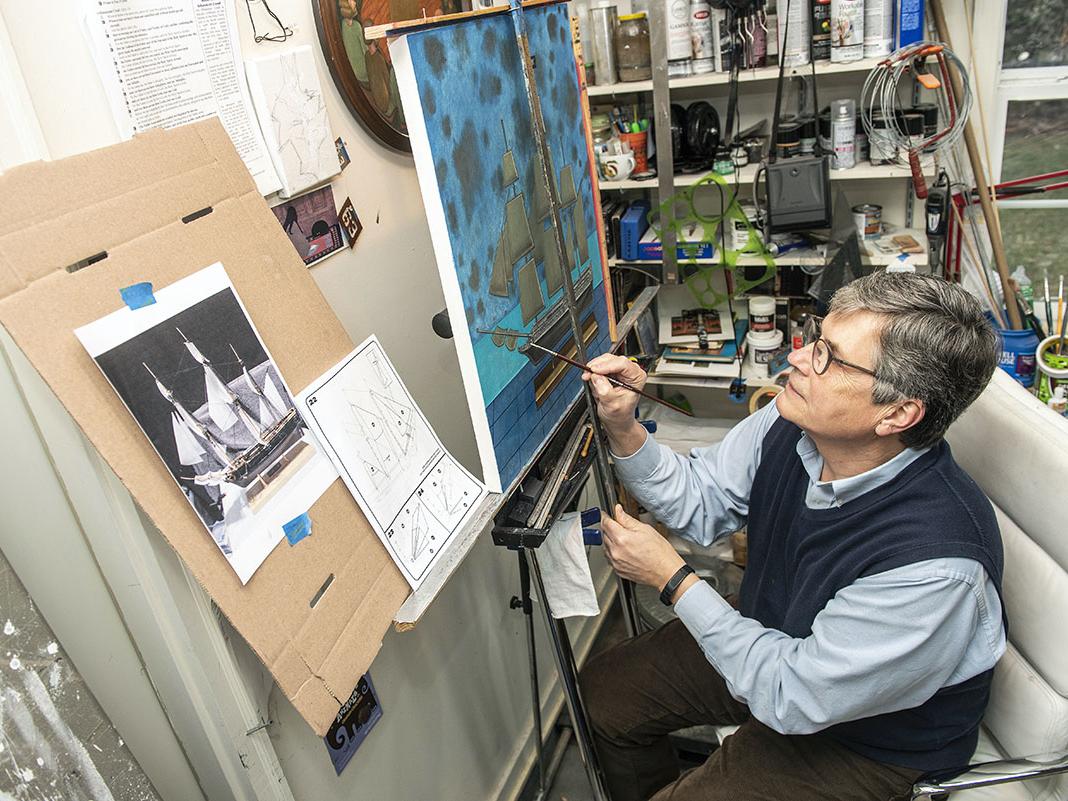 John Hrehov's "Blackhorse," photo credit: Christopher Crawford
"Night Crossing," oil on canvas on panel, 2022
John Hrehov's "Pirate Grave," 2021, photo credit: Christopher Crawford
John Hrehov's Midnight Train, 2021, photo credit: Cristopher Crawford
John Hrehov works on "Night Crossing" in his studio.