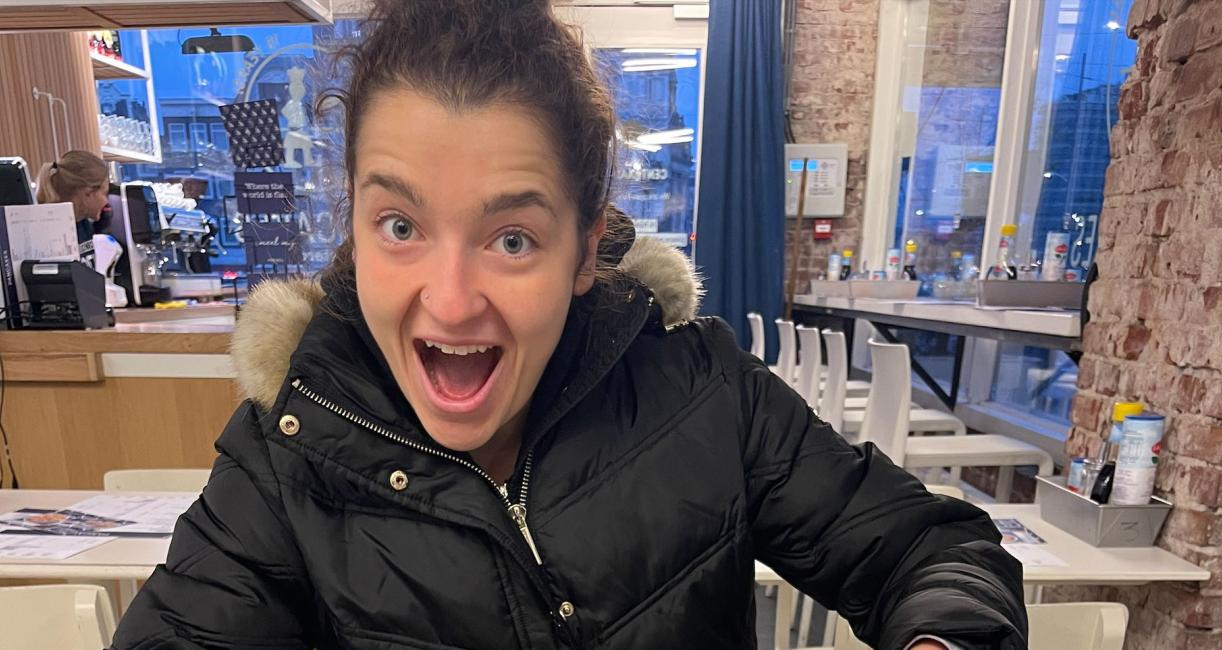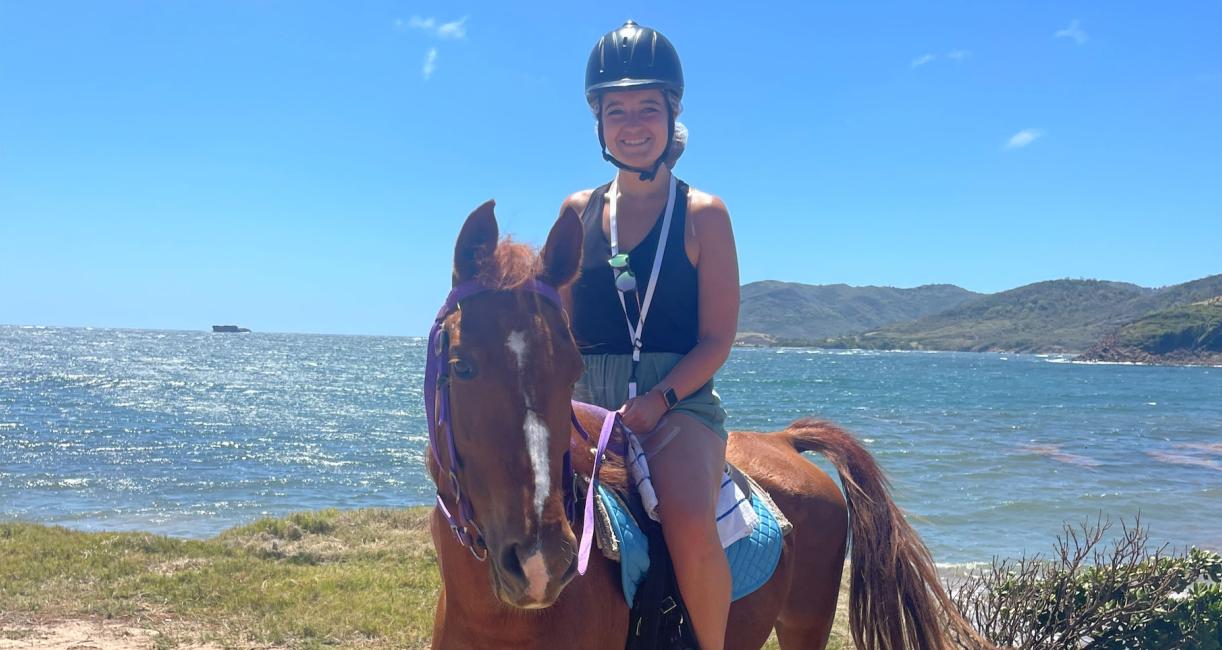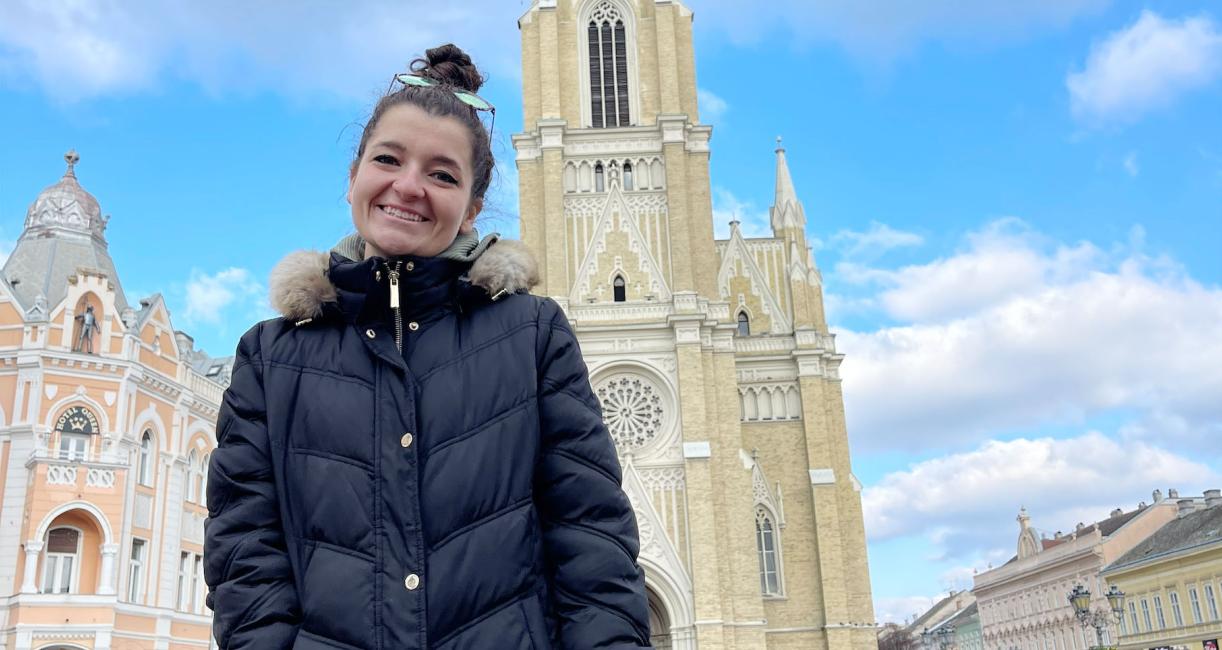 Degree helps recent PFW grad open world of opportunity
By Blake Sebring
July 6, 2023
Remember the old saying about making assumptions? Triple that when talking about hospitality and tourism management majors.
Most do not just aspire to become concierges or stand behind a hotel desk helping everyone check in. They are also not limited by the stereotypes that may come to mind. There are countless options—some very exciting—as Purdue University Fort Wayne alumna Maddy Book, B.S. '22, is showing.
A year after graduation, the Fort Wayne native works for Maritz Global Events of St. Louis as a travel director, which often involves going onsite for corporate events and executing plans made by the event planning team. And Book handles ALL the details, including food and beverages, excursions, and hotel rooms. 
Since she started in October, her travel locations have included Seattle, San Francisco, and Miami domestically, and The Bahamas, St. Lucia, and Jamaica internationally. She's also spending July and part of August in the small European country of Malta. After that, she's going on a three-week cruise of the Mediterranean and Adriatic seas with stops in Spain, Italy, France, Croatia, Albania, Montenegro, and Malta.
"I would say that St. Lucia was probably my favorite destination thus far," Book said. "Not only was it just a gorgeous island oasis, but I was there for over seven weeks—so I had the opportunity to make friends and really get familiar with the area. Everyone there just made it feel like a second home."
Her position guarantees she'll be traveling at least 250 days a year, and Book is constantly on call and rarely home in Fort Wayne. Sometimes she gets as little as three hours before her next flight.
"The travel is obviously the main benefit of this position," Book said. "I mean, what other job allows you to travel so much and pay you at the same time? On some programs, we get to meet some VIP clientele, which has been so cool! I also have the opportunity to have amazing local cuisine and coffee. That's just one of the many perks."
In other words, though she's already graduated, Book's education continues.
"I just have come to appreciate the difference between cultures when I have gone abroad," she said. "Through travel experiences, you learn a different level of respect and love for other people and places, and I feel like I continue to learn. I also have an even greater appreciation for where I have come from and how grateful I am to live in America."
As she was growing up, Book's parents instilled a love of travel and adventure into her, investing in experiences over material items. The only thing she knew about picking a major or a career is that she wanted to travel, so she enrolled at PFW to study hospitality and tourism management.
"I studied alongside students who wanted to be chefs, nutritionists, general managers, restaurateurs, event planners, and marketing specialists," Book said. "The possibilities are endless."
Before deciding on her major, Book didn't have a vision of what a career could look like, but she met a Maritz executive on a trip to Hawaii who explained some options. Book said she got a personalized educational experience at PFW and credited faculty members Heiak Park, Hong Soon Kim, Alanna Olah, and Linda Lolkus for sharing their time and energy with her. They continue to encourage her, Book said.
After graduation, Book reached out to her Maritz contact, and her current position opened.
"I feel like when I describe my job to someone not in the hospitality industry, they think that my job is all fun and games," Book said. "Yes, I get to go to these amazing places, but I am still working. I could have 15 to 17-hour days. I have had programs where I haven't left a convention center; however, I find there may be one con for every 99 pros.
"I encourage everyone to explore. Leave your comfort zone and try something new. You never know what you will discover."