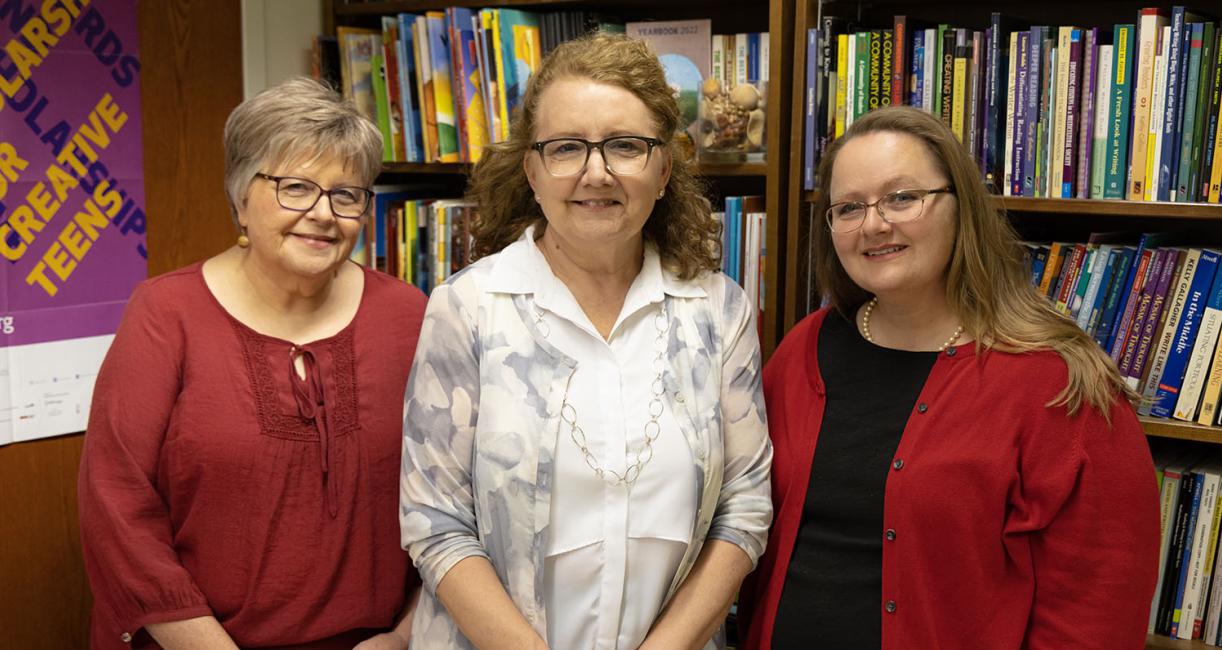 Appleseed Writing Project celebrating 20 years on campus
By Blake Sebring
June 15, 2023
Sometimes seeing their first byline helps a writer fall in love with the craft. Celebrating its 20th anniversary, Purdue University Fort Wayne's Appleseed Writing Project helps even more. 
An offshoot of a national, 180-site program that started in the 1970s, PFW began the local version in 2003, continually co-sponsored by the Department of English and Linguistics. A teachers camp was offered the first year the Appleseed Writing Project was hosted on campus and expanded the next year with a student camp.
PFW's Karol Dehr, a continuing lecturer in the Department of English and Linguistics; Cheu-Jey Lee, a Department of Teacher Education professor; and Terry Springer, a retired Northrop High School teacher, serve as program directors. Retired Towles Middle School teacher Cheri Pruitt and West Noble High School teacher Amy Dreibelbis serve as youth camp coordinators. Springer has been with the program since its inception; Dehr joined in 2004, Pruitt in 2007, Lee in 2014, and Driebelbis in 2016.
Though they continue as program consultants, Dehr, Springer, Pruitt, and Lee are leaving their positions at summer's end, with Sarah Sandman, a senior lecturer, and Kate White, an associate professor—both from the Department of English and Linguistics—transitioning in.
The program for teachers focuses on supporting and encouraging educators to engage students as life-long learners and critical thinkers who achieve academic and personal success in a digital, interconnected world. Students explore several kinds of writing, including poetry, fiction, and song lyrics, along with their own choices.
While her daughter was taking part in 2015, Driebelbis attended an open house and asked about the possibility of a high school camp. Pruitt explained someone needed to teach it, and Driebelbis volunteered the next year. She loves the program, saying it made her a better teacher.
"It's transformative," Driebelbis said.
The three camps annually attract around 50 students, with some returning each summer.
"We see comfort, levels of joy," Pruitt said. "When they can tell we're getting ready to turn them loose with the notebook, we can see their pencils come up, and they are ready to go."
As students' love of writing grows, it's normal to see them write to or past the end of each session, or come back the next day with pages they composed at home the night before.
At the end of the two weeks, students are presented with an anthology containing their best efforts, which is sometimes the first byline for many. Because the stories can be so personal and powerful, Dehr said some entries are difficult to read.
"We believe we are one of the best-kept secrets on campus," Dehr said. "A lot of people have heard of us, but until you go through it, it's hard to explain what we do. Once they are immersed in it, it's like, 'Oh, I get it now!' With the kids, it's just the idea of, 'Give us a shot, it's encouraging, and you'll have fun writing.'"
This year's teachers camp for instructors from kindergarten through college will be July 18–19 with a cost of $75, which includes the book "Unearthing Joy."